Cars
E-Bike Manufacturers: Who is Mustache Bikes?
We caught up with Mustache Bikes' Greg Sand at a press event and chatted to him about his company. The co-founder of the French e-bike brand spoke to us about entering the German pedelec market and his brand philosophy.

Which mustache pedelec is your most important model?
Clearly the Lundi with its special design and mustache handlebars. The technology is also unique, for example, there are chambers inside the square down tube that provide a high degree of rigidity. It is also very comfortable and the one size fits all from 1.60 to 1.90 meters.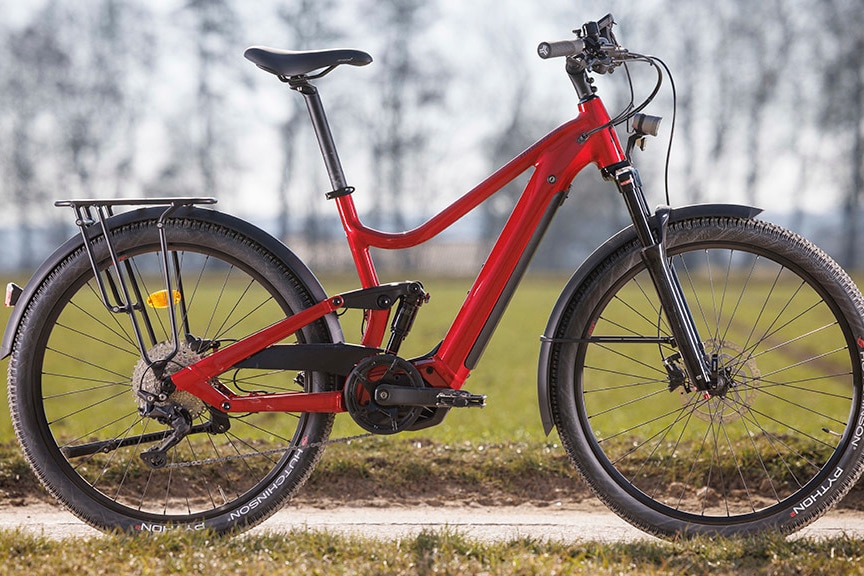 Which e-bike category is most important to Mustache: e-mountain bikes or city pedelecs?
That's pretty much balanced. And between the two categories we still have the X-Road, which is now the largest product family.

Who is the typical Mustache customer?
The range is quite wide: the average customer is getting a little bit younger every year, we now speak to many between 30 and 35. Most are between 45 and 65. Riding an e-bike will be of particular interest to everyone who commutes, i.e. cycles to work. We have many big city dwellers among our customers who will probably never own a car.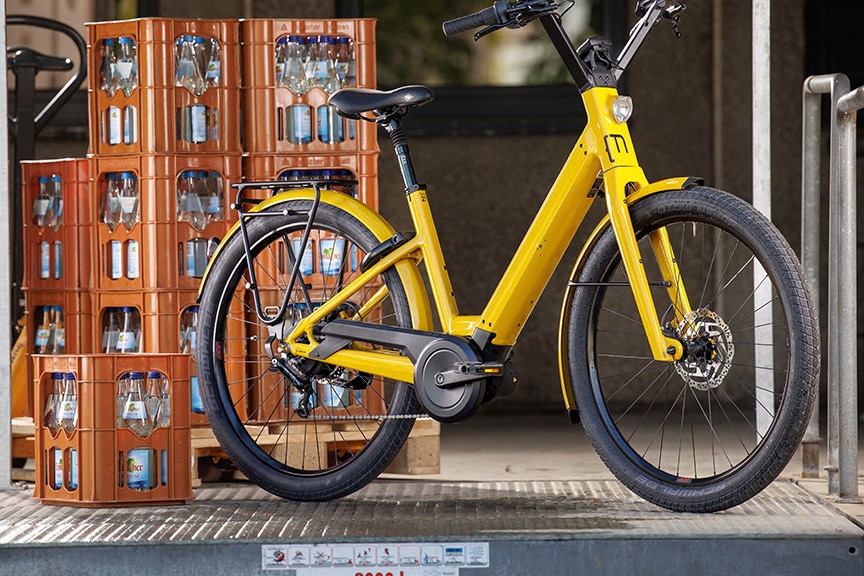 With Mustache Bikes you are now appearing more and more in Germany. What is special about the German e-bike market?
On the German market, you pay a lot of attention to specifications. Most customers compare models by comparing specifications: motor, battery size, and so on. But we also have dealers in Germany who share our philosophy and appreciate what makes a good e-bike: the geometry, the rigidity; what you don't see just by looking at a bike. Factors that make a bike really good.

However, there is a great need for an explanation for this.
We have created our own training department, to which more and more dealers are inviting. The biggest challenge is getting people to understand our message. The end customer should understand what makes our bikes so unique. In principle, most e-bikes in the premium segment have the same motors and batteries from Bosch. Our job is to work on the bike and excel there.

Is it more difficult to sell e-bikes in Germany than in France?
France is our home market and when we started it was very small. We grew with the market, so that was probably easier. Today, of course, we have to fight harder because everyone is represented on the German market. But the dealers like working with us because we work very differently from our competitors, it's not just about technology. A Bosch manager once said: "Moustache is French design with German technology."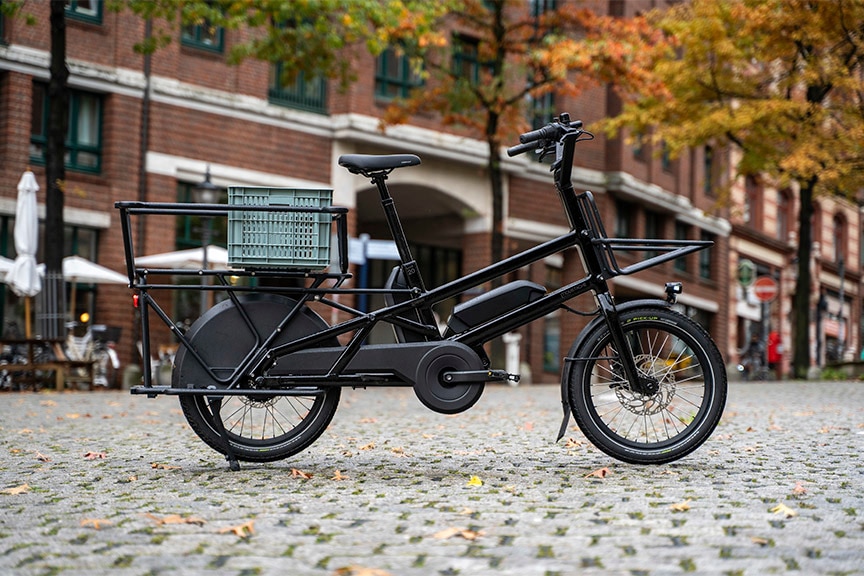 "Exclusively e-bike motors from Bosch"


To what extent is it easier to start as a pure e-bike company and not have any normal bikes in the range?
It wasn't easy at first, there were practically no e-bikes in France. This makes it easier to follow your own path. You don't have to split the people in the company and in production. It was crucial that we only decided on Bosch early on, we were the first company to bring Bosch e-bike motors onto the French market.

Was it easy to convince Bosch to work together?
In the beginning, in 2010, they didn't want to work with us. A year later they approached us and we got the chance to present the Mustache project in Reutlingen to the assembled management. At the end of the presentation there was a big round of applause and we realized that we share the same vision of e-bikes. We were two guys with a prototype and a powerpoint presentation. Today, of course, we are much larger, but our vision and strategy have remained the same.

What is Mustache doing to protect against delivery issues?
We try to do as much as possible in-house, for example we bought machines for lacing wheels. Ultimately, however, we work in a globalized industry and the corona pandemic has revealed the weaknesses and dependencies. We're working on it, but it will be years before we have certain suppliers and industries in Europe. In addition, of course, we try to waste as little as possible, especially when it comes to packaging.

What e-bike trends do you see in the coming years?
SUV e-bikes are clearly the biggest trend, funnily enough it's just like SUV cars: They're all-terrain, but they're used in the city. In addition, e-cargo bikes are on the rise and I also believe that easy-to-use city pedelecs are an important topic. Simply e-bikes with a lot of integration without many controls or other bells and whistles.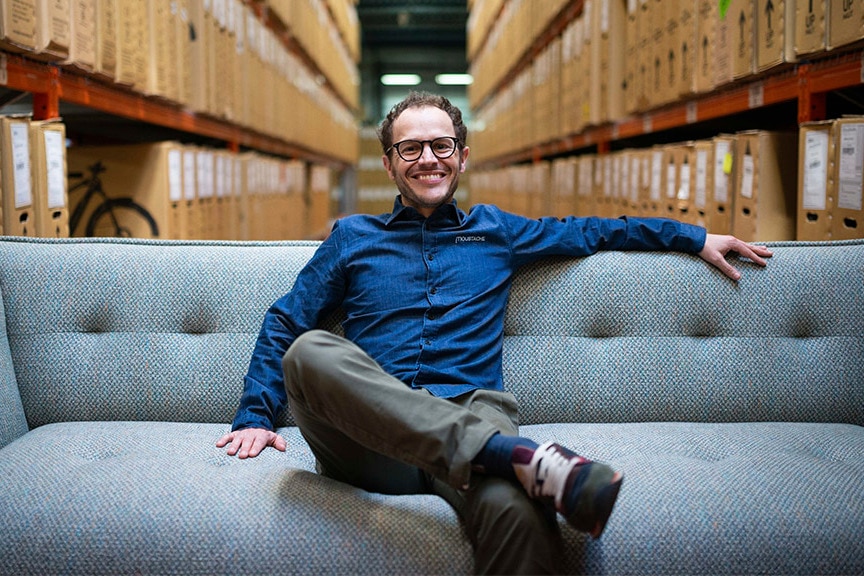 This is the e-bike company Mustache Bikes

Mustache Bikes was founded in 2010 by Greg Sand and his partner Manu Antonot. The company is based near the Vosges, where the employees (now almost 160) and the two company founders are rooted. The name Mustache Bikes is derived from the unique handlebar shape, which is reminiscent of a mustache (French: mustache). The company exclusively manufactures e-bikes (as well as a non-motorized children's bike), the range includes 69 pedelecs from the areas of trekking, MTB, gravel, city and cargo. The company writes about its vision of an e-bike: "We have a precise vision on the subject of e-bikes. A very individual, contemporary, qualitative and innovative vision. The user is at the center of all our considerations. We have the irrepressible Urge to produce e-bikes that perfectly combine design, comfort and ergonomics and thus offer real added value."