Cars
E-car charging stations: too few charging points for too many e-cars
The expansion of the charging infrastructure for e-cars and plug-in hybrids in Germany is progressing, but is still well behind demand. At the beginning of 2022, the Federal Network Agency reported exactly 52,203 publicly accessible charging points for electric vehicles, of which 44,486 are normal charging points (AC) and 7717 are fast charging points (DC).
These are currently the best electric cars
Selected products in tabular overview

| | | |
| --- | --- | --- |
| BMW iX | RRP from EUR 77,300, savings: up to EUR 13,386 | |
| Kia EV6 | RRP from EUR 44,990, savings: up to EUR 14,069 / in leasing from EUR 239 | |
| Mercedes EQS | RRP from EUR 97,807, savings: up to EUR 6,152 | |
| Hyundai Ioniq 5 | RRP from EUR 41,900, savings: up to EUR 12,594 / leasing from EUR 299 | |
| Audi Q4 e-tron | RRP from EUR 41,900, savings: up to EUR 12,420 / best leasing price: EUR 89 | |
| Skoda Enyaq iV | RRP from EUR 34,600, savings: up to EUR 11,584 / in leasing from EUR 233 | |
| Mazda MX-30 | RRP from EUR 34,490, savings: up to EUR 13,419 / in leasing from EUR 197 | |
| Smart EQ for two | RRP from EUR 21,940, savings: up to EUR 11,430 / in leasing from EUR 60 | |
| Tesla Model 3 | RRP from EUR 46,560; Savings of up to EUR 7975 / in leasing from EUR 275.00 | |
| Opel Corsa-e | RRP from EUR 30,400; Savings: up to EUR 12,281.00 | |
| Volvo XC40 Recharge | RRP from EUR 48,650; Savings: up to EUR 9570.00 | |
These are all public charging points that have completed the Federal Network Agency's notification procedure and are published on the Internet. So the actual number is a bit higher, Tesla's superchargers, for example, do not appear here (to the charging station map).
The number of e-cars is growing three times as fast
However, this notice does not change the lack of public charging stations (a station can have several charging points). This not only exists, it even continues to grow. According to figures from the Federal Motor Transport Authority (KBA) and the Federal Network Agency, the number of vehicles increased almost six-fold in 2021 and 2020, while the number of charging points almost doubled.
23 e-cars on one charging point
Instead of 8 electric cars, 23 vehicles would now have to share a public charging point. That is also well below the original EU target of one charging point for every 10 electric cars. According to KfW chief economist Fritzi Köhler-Geib, this trend could become a problem for the practicability of electromobility.
Study: Promote charging infrastructure in metropolitan areas
The main reason for this misery: charging stations or even entire charging parks often cannot (yet) be operated economically. The so-called Charpe Point Operators (CPO), i.e. the charging station operators, are therefore reluctant to expand.
A solution to this overall problem has now been shown by a study by the state KfW development bank (to the PDF). Accordingly, instead of a uniform, nationwide expansion, the charging infrastructure in conurbations should be promoted.
What are CPO, MSP and charging stations?
What is behind the terms CPO, MSP and charging station?


CPO: "Charge Point Operator" = operator of charging stations – MSP: "Mobility Service Provider" = service for charging via card/app at stations of various CPOs – charging station: Device for supplying e-cars with electricity (usually with several charging points)
In big cities, charging at home is less common

There, according to the special evaluation of the KfW energy transition barometer, higher usage rates can be expected with a further increase in the number of electric vehicles. To put it more simply: where many people live, more e-cars will probably be bought and charging stations used more frequently.
Especially since – another finding of the study – e-cars in independent cities, i.e. densely populated areas, have less private parking space and are therefore charged at home less frequently.
VDA ranking shows shortage of charging stations

In March 2022, the German Association of the Automotive Industry (VDA) called for state "booster funding" of 5 billion euros in its master plan for charging infrastructure 2.0, which should flow into public and private charging points. In October 2021, the VDA once again complained about the inadequate charging infrastructure in Germany in its e-charging network ranking.
At that time, with exactly 48,717 public charging points (7053 DC) in Germany, an average of around 21 registered e-vehicles had to share a charging connection. In April 2021 there were only around 17 Stromer.
15 million target increases the expansion pressure

VDA President Hildegard Müller emphasized: "The ambitious goals of the new federal government – up to 15 million electric vehicles by 2030 – increase the pressure on the expansion of the charging infrastructure." Means: The state has to step on the gas.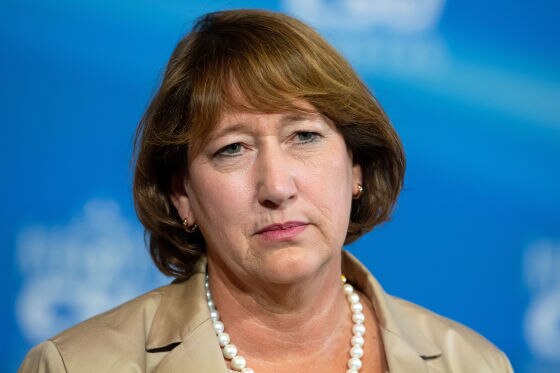 Only about 250 new charging points are built across Germany every week. However, if the 15 million e-car target is to be reached, we would need around 2,000 new charging stations per week so that by 2030 only 15 cars would have to share a socket.
In "Spiegel", Müller also suggested a top meeting of the branches involved, from petrol station and parking lot operators to the building industry and energy suppliers to the municipalities, in order to develop a "concrete plan" for accelerated expansion.

Saxony at the top, Hessen is at the bottom
In the federal state of Saxony, the shortest traffic jams occur at the charging station. The so-called T-value here is 13.1 (as of October 1, 2021). The T-value indicates how many electric cars have to share a publicly accessible charging point. More than twice as many cars, namely almost 28 e-cars, come to a charging station in Hesse. This puts the state at the bottom of the ranking.

Only six cars per socket in Salzgitter

At the level of the federal states, Saxony leads, while at the level of the cities and districts, the city of Salzgitter in Lower Saxony is at the top of the ranking. Here, just six e-cars share a charging station. The districts of Saale-Orla and Uckermark follow. The T-value here is 6.4.
Charging network ranking: T-value federal states October 2021

Interesting: The district of Peine comes in third from last, only a good 30 kilometers away from the leader, Salzgitter. The rural district of Neunkirchen in Saarland takes the penultimate place. More than 70 vehicles have to share a charging station here.
It looks particularly bad in the city of Offenbach am Main. There is a huge backlog at the charging stations: 95 e-cars have to share one charging point. You can see how your state is performing in the table above.