Cars
E-Car: What beginners should know when charging an electric car
Andreas, would you please show me how fast charging works?" Dog friend Barbara now drives a Kia EV6, she likes it, but the dealer didn't explain (almost) anything to her. We did fast charging with her for the first time with 230 kW. Barbara: "That It was easy!" All tips for Barbara – here for you too.
1. I bought an electric car for the first time. Which card do I need?
Many manufacturers have their own charging cards, mostly with very good coverage. I don't have an electric car of my own, but I do have two charging cards: "Charge" from TankE GmbH and the ADAC charging card. I get along with both of them abroad.
2. What is the best loading app?
The colleagues from COMPUTER BILD say: "Mercedes Me" is the best manufacturer app. Stiftung Warentest puts the "EnBW mobility+" app ahead of the free providers. Such an app navigates to the column and regulates the payment.
3. How much does it cost to charge the e-car?
It's cheapest at home at the wall box, at around 35 cents per kWh, depending on the contract. I pay 42 cents with the ADAC card at the 11 kW charging station, 48 at the EnBW fast charging station, 52 at others, and 79 cents at Ionity. If you often charge on the go, take a card with a basic fee, where the kilowatt hours are cheaper.
E-car only with a fixed charging station
4. Where do I charge my electric car?
I'm conservative and advise my friends: only buy an e-car if you have a fixed charging station, wall box at home or in the office. As a rule, we only drive 15,000 km a year, fast charging on the go is the exception. And please come home empty, only load there! I don't have a wall box, I charge the 11 kW charger in Hamburg from time to time, and have to leave after two hours. Until then I only have electricity for 70 km – annoying.
5. Do I need my own cable on the column?
Yes and no. In the city, the 11 kW column does not have its own cable, so bring one with you. Each charging station from 50 kW has its own, thicker cable, just connect it to the car and charge. I always do it like this: cable in, card in front of the reader, car recognized. To end, put the card back in front of the reader, loading is complete.
Three different plugs at the charging stations
6. What different plugs are there?
There are three different plugs on our charging stations. 1. Fast loaders (with "double head") are called CCS. 2. With a type 2 plug, we charge up to 22 kW at the wall box. 3. CHAdeMO is a Japanese invention, loads Toyota, Mitsubishi and Co.
7. How long does it take for the e-car to be full?
A Kia EV6 charges with up to 230 kW, takes 18 minutes from 10 to 80 percent. A VW ID.3 creates 125 kW, takes a quarter of an hour longer. At home, both charge fully in around seven hours with 11 kW.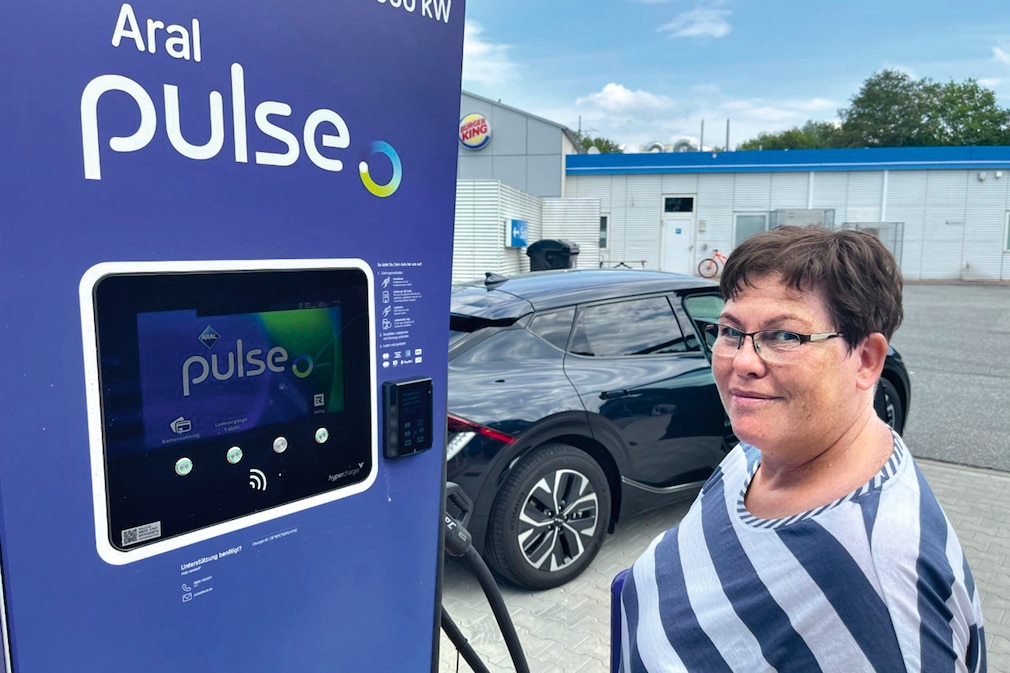 8. Should I always fully charge my car?
Barbara (photo) has limited her Kia to 80 percent battery capacity to protect the battery. This is exactly what we recommend: Do not charge more than 80 percent in everyday life; at the fast charging station also for reasons of time. Most cars "fill up" at breakneck speed up to 80 percent, after that it gets tough. It is better to charge once more than always for too long.
It's always worth charging

9. Is it worth loading for a short time?
E-car drivers always charge where they are. Or to put it another way: I recently had a bank appointment, 400 meters away is a 50 kW column. During the half hour that I spent in the bank, my car was charging – after that the battery had another 150 kilometers on it. (Here you can charge your e-car while shopping or eating)

10. How do I find the right charging station on the road?
Don't trust your car navigation system, it's not always up to date. The reason: new columns are added every day. Neither the Kia EV6 nor the BMW iX3 nor the Porsche Taycan knew the cool, new charging park from EnBW (16 columns, each with 350 kW) on the A7 near Bispingen. But the app! I use the Kia Charge app, where I can enter where I want to go and how fast I want to charge. Colleagues swear by the VW Elli app. Just test for yourself what you like!