Cars
E-cars: according to a US study, they are already better for the climate
E-cars were not just THE subject of IAA 2021, they are also the subject of many round tables and many private discussions. The last argument is mostly: But that Manufacturing the Batteries is much dirtier, the whole CO2–invoice not true, you talk to yourselves about e-cars.
This argument is now dropped. E-cars are in theirs Climate bill, so the Greenhouse gas emissions, already significantly better than diesel and gasoline. Your balance sheet has developed and is very positive until 2030 even more advantageous. The study was sent by the non-governmental organization ICCT, the International Council on Clean Transportation. This is the US organization that does the VW–Diesel scandal rather inadvertently revealed ("We thought the cars were clean").
For the study, the experts looked at the compact car class over its entire service life, the emissions from the production of vehicles and batteries included disposal of the vehicle.
E-cars are responsible for up to 81 percent fewer emissions than combustion engines

Result: The Life cycle–Emissions of the BEVs (purely battery-electric cars) newly registered in Europe are already in the compact class 66 until 69 percent lower than for comparable new combustion cars. Because of the steadily improving Electricity mixes this increases Emission advantage for new vehicles by 2030 to around 74 to 77 percent. If they are operated entirely with electricity from renewable energies, BEVs achieve up to 81 percent lower life cycle emissions than combustion vehicles.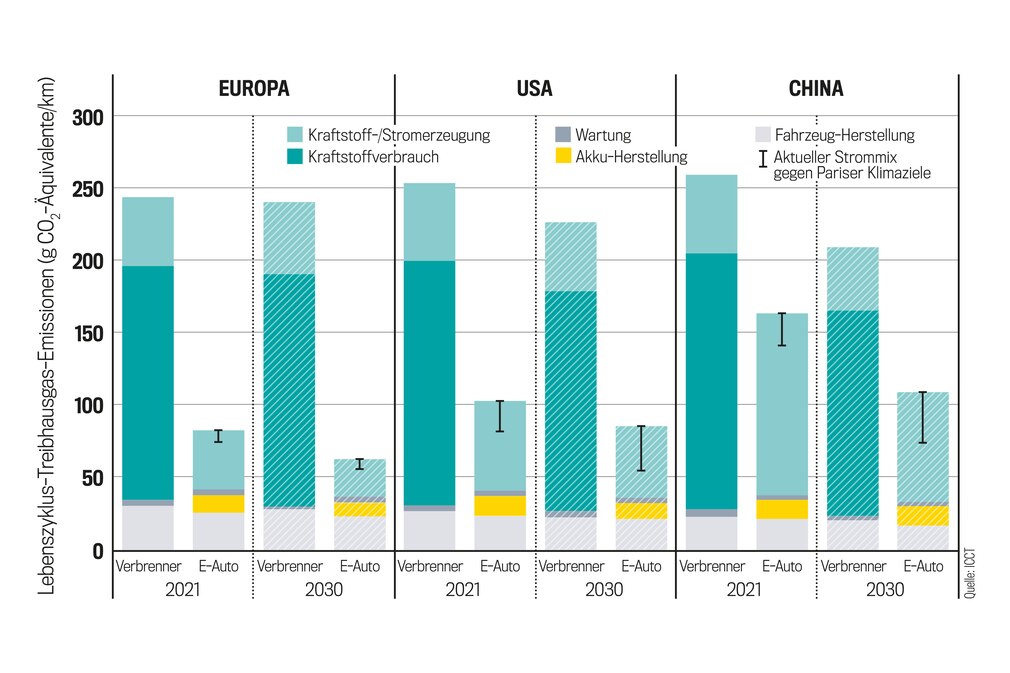 E-fuels make too little contribution to decarbonization

and still more says the study: In real day-to-day operations it is Fuel consumption from Plug-in hybrids (PHEV, AUTO BILD proves it every week) many times higher than the official consumption values. at natural gas (CNG) emissions can even be higher than those of gasoline and diesel vehicles. The usual admixture of Biofuel hardly reduces emissions from gasoline, diesel and CNG vehicles – not even when using biofuels waste– and residue-based Raw materials would displace the currently widely used palm oil by 2030. Synthetic Fuels (E-Fuels) are very high Production costs connected and can not essential contribute to the decarbonization of the fuel mix in road traffic. Conclusion of the US experts: the permit new cars with internal combustion engines in the EU should be in the timeframe from 2030 to 2035 leak.