Cars
E-license plate: This is how you get the sign, these are the advantages
Electric car and plug-in hybrid owners can get one special license plate Apply with an "E" at the end and take advantage of the advantages in road traffic. The regulation for the E-license plate also applies to Season license plates and change license plates. In some places, drivers of cars are allowed to use them E license plate Park free of charge, charge for free or drive in the bus lane – but only if the respective Commune has created the prerequisites for this on site. Causing obligation the "E" license plate is not.
This has been made possible since 2015 by the Electromobility Act (short: EmoG). Since then there has been the E-mark. The federal government wanted to use it to additionally promote the acquisition of electrified vehicles. The Electromobility Act allows municipalities to issue special regulations for vehicles with no local or very low emissions. However, it does not stipulate that these rules have to be enacted – nor exactly which ones.

Who gets the E-license plate?

Next to purely battery electric vehicles and those with Fuel cell According to EmoG, "externally chargeable" hybrid cars (Plug-in hybrids, PHEVs) are provided with an E-label if they either emit a maximum of 50 grams of CO2 per kilometer or at least 40 kilometers in fully electric operation create. Vehicles that were registered for the first time before January 1, 2018 must be able to drive 30 kilometers purely electrically. Whether a vehicle can get the E-license also depends on the Vehicle class away. It must be either a car, a mobile home (both vehicle class M1), a delivery van up to 3.5 tons (class N1), a motorcycle (class L3e and L4e), a trike (L5e) or a quad (L7e). Class N2 vans only get the license plate if they are allowed to be driven with a class B driving license with a gross vehicle weight of up to 4250 kilograms.
Where do I get the E-license plate?

Holders can use the E-mark in the Admission Office apply for. As with every vehicle, registration certificates 1 and 2 are required, proof of insurance (eVB number), proof of the passed HU, identity card and – if available – the old number plates. If the registration office requires proof that the car meets the requirements of the EmoG, this is done via data confirmation or can be requested from the manufacturer. An E-label can be used with a New registration as well as one existing approval be requested. At first glance it might seem absurd, but a car with an e-license also needs one Environmental badge. That's what the E label is for unlimited valid.
For the E-mark, the registration office requires a Admission fee. In addition there are the costs for the license plates and, if necessary, the obolus for it Desired license plate.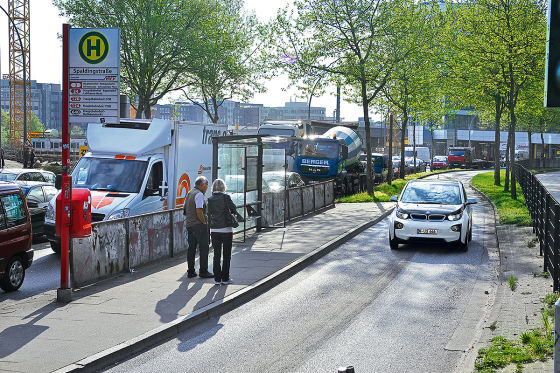 These are the advantages of the E label

The E-license plate is in many places different legal systems based on, a patchwork quilt was created. The municipalities can grant these privileges:

• Park cheaper or free of charge in public parking areas
• the use of special lanes such as bus lanes
• No validity of access restrictions or driving bans
• Free charging at local municipal utilities

Free or discounted parking spaces are usually specially marked. Or the rule applies to an entire region. In addition to the municipalities, some also offer Supermarkets the possibility of charging the e-car while shopping.
Here are some regional examples of privileges that can be enjoyed with the E-license plate on the car:

Advantages for e-cars in Berlin
In Berlin the advantages are rather meager. E-cars are allowed to park free of charge at public charging stations while they are charging, otherwise not.
Advantages for e-cars in Dortmund
Vehicles with the E-license plate have been allowed to use a few bus lanes since 2017. However, the routes are outside the center. You can park for free at a total of 18 locations.

Advantages for e-cars in Düsseldorf
Two "environmental lanes" are being created in Düsseldorf for test purposes, which, in addition to bicycles, buses and taxis, can also be used by electric vehicles.
Advantages for e-cars in Essen
In Essen (as in Karlsruhe) it is allowed for e-cars to use the bus lanes on designated road sections. E-drivers are also allowed to drive on some streets that are closed to normal car traffic.
Advantages for e-cars in Frankfurt
Free parking spaces at charging stations are reserved for electric cars in Frankfurt, regardless of the charging process.
Advantages for e-cars in Hamburg
In the Hanseatic City of Hamburg, e-cars with a parking disc can be parked free of charge in all parking spaces with parking ticket machines until the end of the maximum parking period. Between 8 p.m. and 9 a.m. this is unlimited and without a parking disc.
Advantages for e-cars in Cologne
In Cologne, e-cars can park free of charge at a charging station for the duration of the charging process. The corresponding parking spaces are signposted.

Advantages for e-cars in Leipzig
Parking for four hours at a charging station is free in Leipzig. But there must be a parking disc in the car.
Advantages for e-cars in Munich
Between 8 a.m. and 8 p.m., electric vehicles can be parked at a charging station free of charge for a maximum of four hours if they are connected. There is no fundamental, unlimited exemption from parking fees.

Advantages for e-cars in Stuttgart
Electric car drivers are allowed to park their vehicle with an E-license plate free of charge in publicly managed, otherwise chargeable parking lots and in residential parking areas.
There is also criticism of the E license plate

In addition, there are numerous other smaller cities in which certain privileges apply to vehicles with an E-license plate. But what is allowed in one municipality can be done in the next Administrative offense mean. The e-car driver should therefore obtain detailed information. In addition, there are other reasons why the E-mark controversial is. Environmental groups criticize that too eligible cars even large-volume plug-in hybrid vehicles count that meet the required range in electric operation, but consume a lot of fuel in combustion mode.