Cars
Eco tires from Continental for the transport industry
Tires are of particular importance for the commercial vehicles of the future. Manufacturer Continental presents various solutions for trucks and trailers of the near future.
At the home fair in Garbsen, the Hanoverian is showing the Conti Urban, a concept tire that was specially developed for electrified bus and delivery traffic. The tire of the future, which is now undergoing final testing, is characterized by a high proportion of renewable and recycled materials.
The Conti Urban can also be retreaded
Like most commercial vehicle tires from Continental, the low-noise Conti Urban can also be retreaded. After a one-off renewal, the recycled content increases from 50 to more than 90 percent. New life is breathed into an intact tire carcass by applying a different tread.
The tread of the Conti Urban contains 68 percent renewable materials such as rapeseed oil or silicate obtained from the ash of rice husks.
A tire prototype also premiered at the IAA Transportation, the properties of which were specially designed for trailers with electric drive axles. Continental is a development partner for the Trailer Dynamics concept, which aims to hybridize tractor units with an electrically powered trailer and thus reduce their CO2– reduce emissions.
Efficient Pro Gen 3+ particularly energy efficient
The tread pattern of the prototype is particularly robust and is equipped with deep traction elements such as sipes for high performance over the tire's lifetime. In addition, a special tread compound ensures a balanced combination of traction and mileage.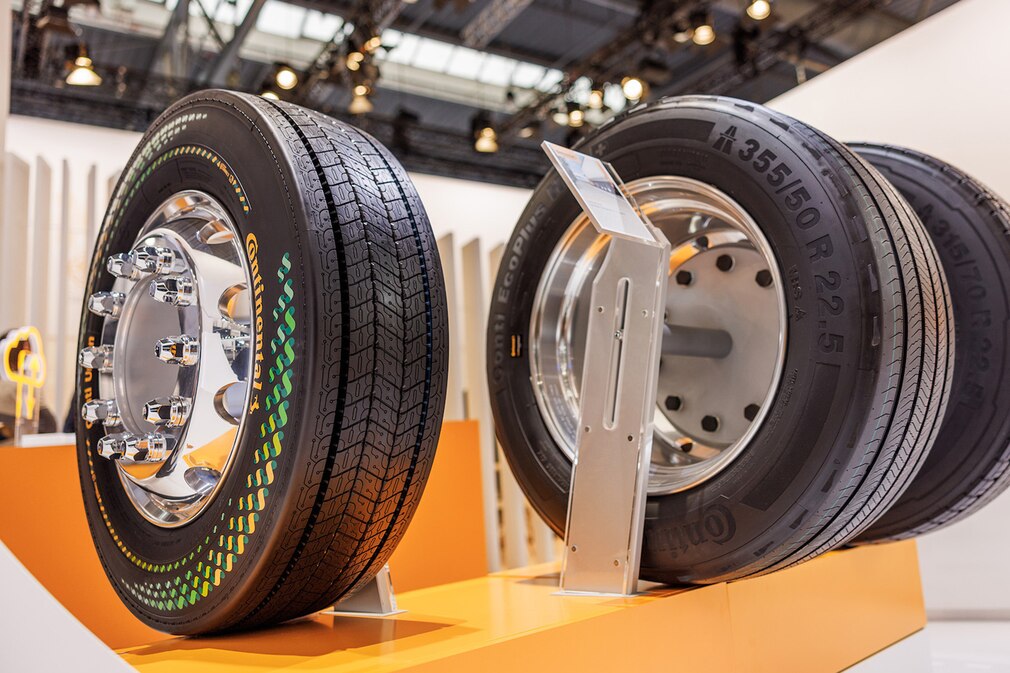 A wide variety of tires can be monitored by the digital tire management system Conti Connect 2.0, which offers fleet operators permanent condition monitoring and thus enables fuel savings. By monitoring, premature tire changes and unplanned downtimes can be avoided.
The heart of the functionality of Conti Connect is the tire sensor, which transmits the pressure and temperature from inside the tire and can also record the mileage.
Depending on the application, it transmits its information via radio frequency or Bluetooth. The data-supported tire inspection and the reading of data on site is made possible by an app that is available for all common smartphone operating systems.