Cars
Electric Brands Xbus: The electric pickup should come in 2022
Fingers crossed that this idea works out. The Xbus is not a fancy show car from far away Silicon Valley, but an idea from: Itzehoe. Never heard? The town is located in Schleswig-Holstein and has recently become the headquarters of a start-up that wants to build a modular, lightweight multi-purpose bus.
Angry gossips say it looks like a former Eastern Bloc van. We think it's been a long time since a car has smiled at us in such a friendly way. No fierce LED slits, but googly eyes and child scheme. A sympathizer. There should be the feel-good bus as a pack donkey for logisticians, craftsmen's car, as a multi-seater for families. And as a camper. The clever idea: depending on the intended use, two or three people can change the modules that the Xbus piggybacks on.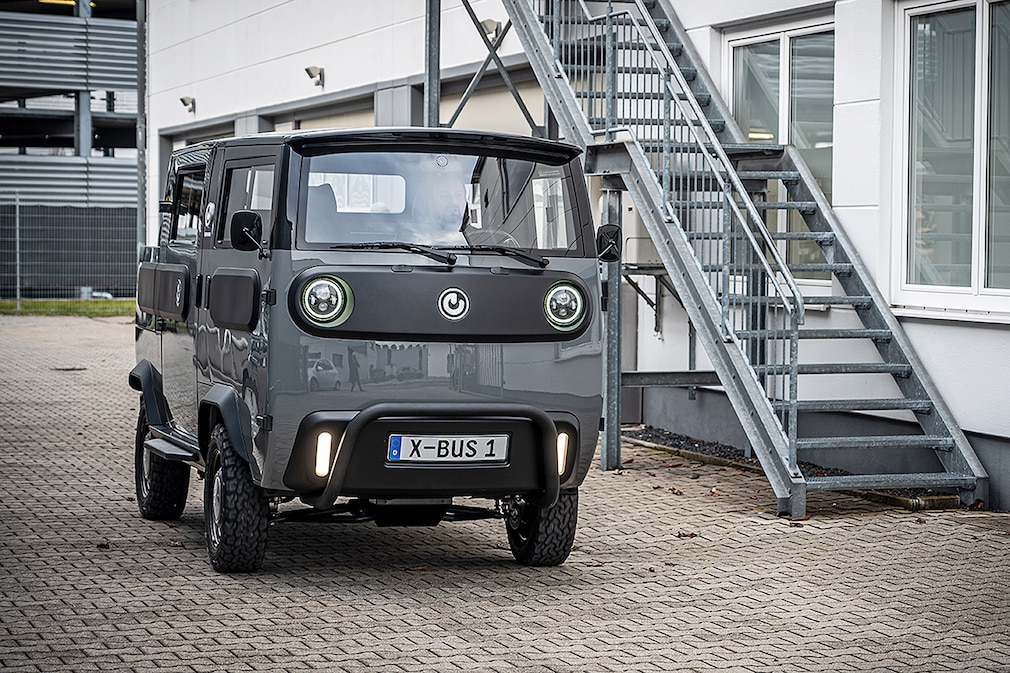 The Xbus belongs to the light vehicle class
"Don't call it a car," says Martin Henne. The 43-year-old popular figure is the boss of the popular figure. And also explains straight away why his baby doesn't want to and won't be a Bulli competitor. "The Xbus belongs to the light vehicle class L7e-B2." In other words, it's in the same league as a Renault Twizy or a Microlino (the Isetta remake from Switzerland).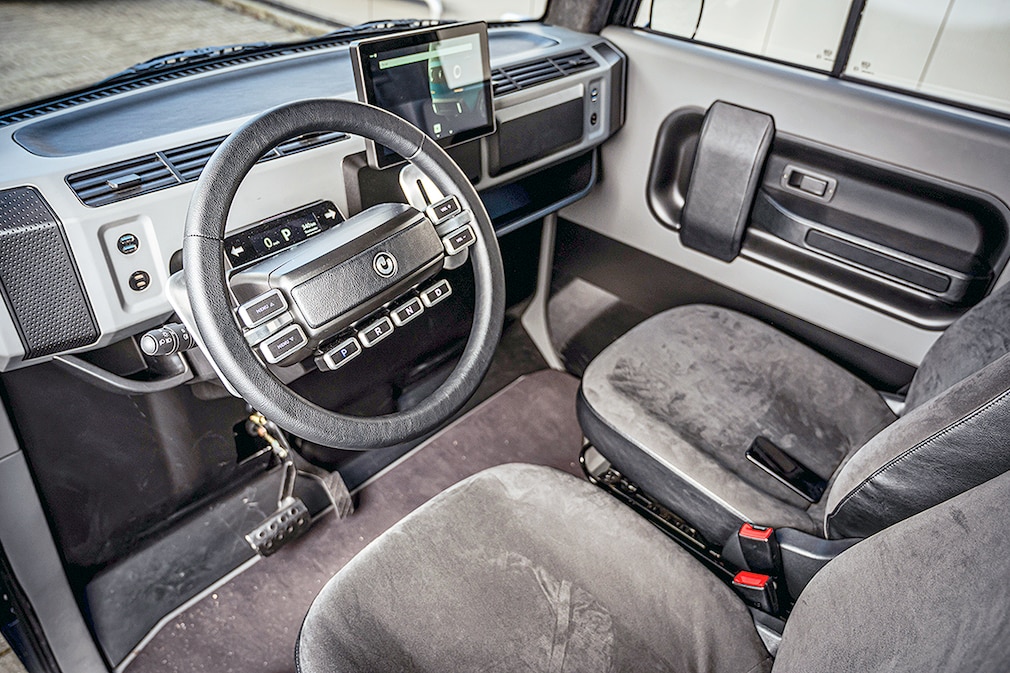 The price list starts at less than 18,000 euros

The base module of the Xbus should only weigh around 500 kilos. It is powered by electric motors on the wheels, the range should be around 200 kilometers, with a large battery even 600 kilometers. The maximum speed is 100. It can be charged at the household socket or, for an additional charge, with the 11 kW Type 2 fast charging system. And with solar cells on the roof as standard. One
air conditioning
costs extra, airbags will probably not exist at all. After all, the start-up promises
crash tests
even if they are not mandatory in this vehicle class.
15 kW (20 hp) continuous power, 56 kW (76 hp) maximum power
exchangeable lithium battery packs of 1.25 kWh each, standard 10 kWh, max. 30 kWh
approx. 500 kg without structure/module
The simple technology ensures manageable prices: 17,380 euros for the base, the camper is just under 30,000 euros. There will be a normal and an off-road version. Both are almost four meters short and around 1.65 meters wide.
all wheel drive
is standard in each case, the continuous output of the four wheel hub motors is 20
PS, briefly 76 PS
.
Variability is the great strength of the Xbus

Martin Henne promises that the Xbus can carry between 800 and 1100 kilos, depending on the structure. Eight superstructures are available, and there should even be a tipper. And if you want to go on holiday with the Xbus, you have two sleeping places in the camping attachment as well as a mini-kitchen with a sink, refrigerator and hotplate. Henne wants to deliver the first vehicles this year. It is said that there are already over 15,000 orders, including around 5,000 from private customers who have already paid in advance. And 600 car dealers were just waiting for things to finally get going. They should also take care of the service.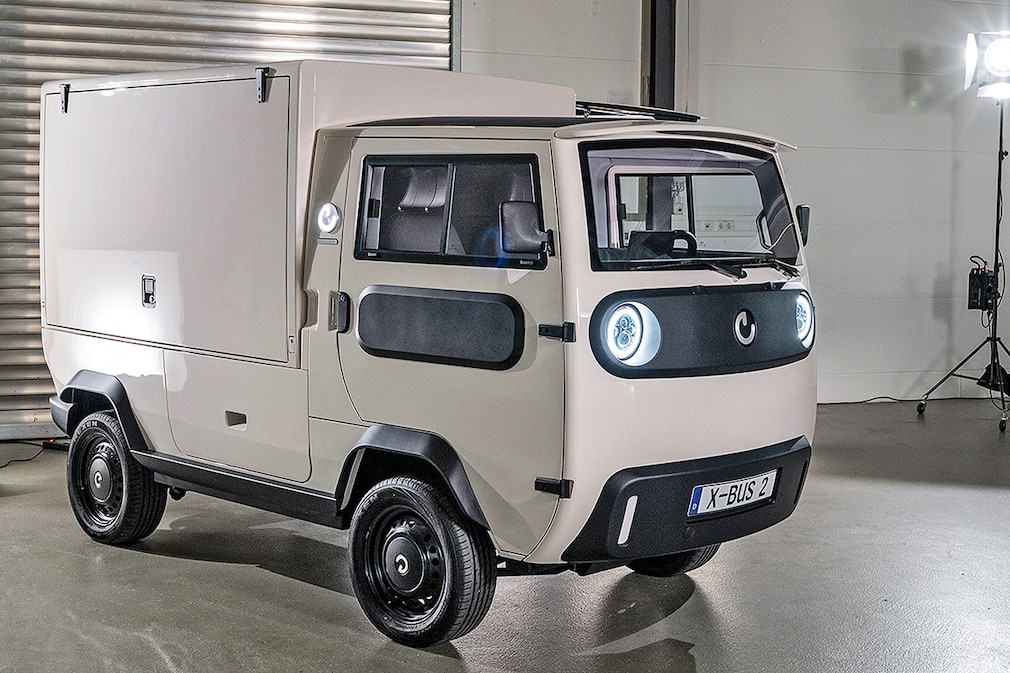 The plans appear ambitious. Three years of development are now in the Xbus. It's already driving, but these are still two prototypes that were handcrafted near Ingolstadt – and where parts from other vehicles are still used, in this case from old VW buses. the one one Pick up with double cab, the other one vans with 6000 liter box.
Recycling ensures environmental friendliness

"We are currently building a supply chain," says Henne. So far it has been said that production should take place in Itzehoe. In the meantime, the statement is only: "Somewhere in Germany." Screwing it together should be as simple as the vehicle itself. "We're not building a car factory, we're building an assembly shop," says Henne. An experienced contract manufacturer will take care of that. The goal: "You can buy, lease or subscribe to the Xbus," says Henne. After 10,000 kilometers it is climate neutral. And at the very end it is recycled, which is 98 percent possible.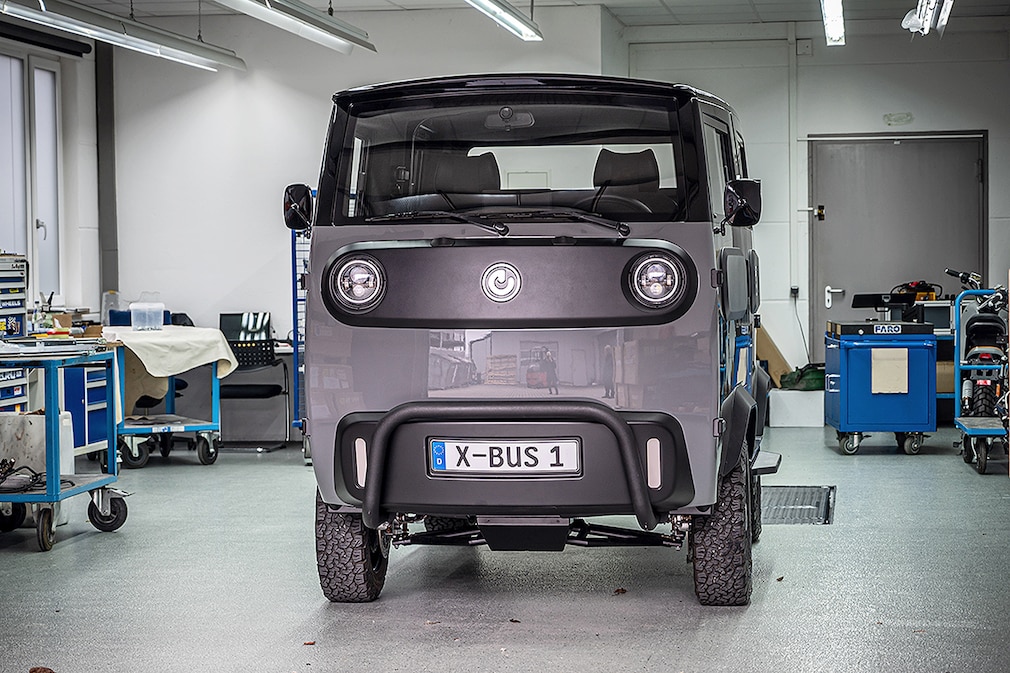 At the end of 2021, Henne and his colleagues went on an advertising road trip through Europe. Düsseldorf, Frankfurt, Milan, Paris, Nice. Oh yes, and Itzehoe. The interested customers? "With the Xbus we can also reach a lot of young people who have not yet thought about buying their own car." Why? Therefore: "He is sustainable, cool, emotional." And so are four USB sockets and the 10.2-inch display Apple CarPlay and Android Auto always on board.
The Xbus is just the beginning

For the parent company of the Xbus, Electric Brands, the vehicle is just the beginning. In the medium term, further mobility solutions are to be added. The way to get from A to B is changing, says Henne. Therefore, car dealers would also like to include the Xbus in their range. "They have to change too." At the end you want to cuddle the Xbus and wish it all the best. That's not possible with Mr. Henne because of Corona.