Cars
Electric car: these five electric cars are really suitable for long distances
The range always plays an important role in 2019 when someone wants to cover long distances with their electric car. But is that all? A huge battery from which you can get many kilometers is of little use if it takes a long time to charge. So what about loading speed? How many kilometers can current e-cars "refuel" in what time?

In addition, the manufacturers specify the ranges of their vehicles according to the WLTP cycle. Better than NEDC, but the test still takes place under laboratory conditions. AUTO BILD tests the energy consumption on the road, regardless of the drive concept. The realistic test range is calculated from the test consumption, i.e. the number of kilometers that are actually in the tank or battery.
How big is the range of e-cars really?

Reason enough to compare the different numbers. Here are five current cars with battery-electric drives that, according to the manufacturer, have impressive ranges. We show how many kilometers of range are left in the test at AUTO BILD. And we say what loading speed the ADAC recently measured for these five cars.
One of the vehicles is one of the currently best electric cars:

Selected products in tabular overview

| | | |
| --- | --- | --- |
| BMW iX | RRP from EUR 77,300, savings: up to EUR 14,159 | |
| Kia EV6 | RRP from EUR 44,990, savings: up to EUR 14,069 / in leasing from EUR 239 | |
| Mercedes EQS | RRP from EUR 97,807, savings: up to EUR 6,152 | |
| Hyundai Ioniq 5 | RRP from EUR 41,900, savings: up to EUR 12,594 / leasing from EUR 299 | |
| Audi Q4 e-tron | RRP from EUR 41,900, savings: up to EUR 12,420 / best leasing price: EUR 89 | |
| Skoda Enyaq iV | RRP from EUR 34,600, savings: up to EUR 12,390 / in leasing from EUR 233 | |
| Mazda MX-30 | RRP from EUR 34,490, savings: up to EUR 12,756 / in leasing from EUR 197 | |
| Smart EQ for two | RRP from EUR 21,940, savings: up to EUR 11,430 / in leasing from EUR 60 | |
| Tesla Model 3 | RRP from EUR 46,560; Savings of up to EUR 9570 / in leasing from EUR 275.00 | |
1. Audi e-tron 55 quattro
The number one candidate is the Audi e-tron 55 quattro. Put simply, the ring bearer is an electric Q7. 4.90 meters long and 1.62 meters high show that it is anything but a small car. The 408 hp of the e-tron 55 quattro version energetically attack all four wheels. 660 to 1725 liters of luggage fit in the trunk, equipment is available in abundance on request.

The Audi charges a range of more than 300 kilometers in 30 minutes

The range according to the WLTP standard is specified by the manufacturer as 436 kilometers. On the AUTO BILD test track, the Audi 2019 consumed 32.7 kWh of electricity. This results in a road range of 290 kilometers. According to ADAC, the Audi can charge a maximum of 150 kW in ten minutes for a range of 113 kilometers. In 20 minutes he covers 216 kilometers, in half an hour he reaches an additional 305 kilometers. Prices start at 81,500 euros.

2.Hyundai Ioniq 5
The Ioniq 5 is the first representative of Hyundai's new e-brand and comes with 800-volt technology and optional all-wheel drive. As far as its dimensions are concerned, it is directly comparable to the VW ID.4. The Korean crossover comfortably seats four passengers. This is not least due to the airy design of the interior. Technology fans should be happy about details such as the optional solar cells in the roof.
264 kilometers range on the road for the Hyundai

With a length of 4.64 meters, the Korean is also not a small car. A 58 kWh battery with a range of just under 400 kilometers and a battery with a capacity of 72.6 kilowatt hours are available. In the test at AUTO BILD, an Ioniq 5 with a 72.6 kWh battery and all-wheel drive consumed 27.4 kWh of electricity. This results in a realistic range of 264 kilometers (WLTP value: 430 km). According to the ADAC, the Ioniq 5 charges enough electricity for a range of 183 kilometers in ten minutes with a maximum of 220 kW. In 20 minutes it is energy for 307, in half an hour for 351 kilometers. Price: from 41,900 euros.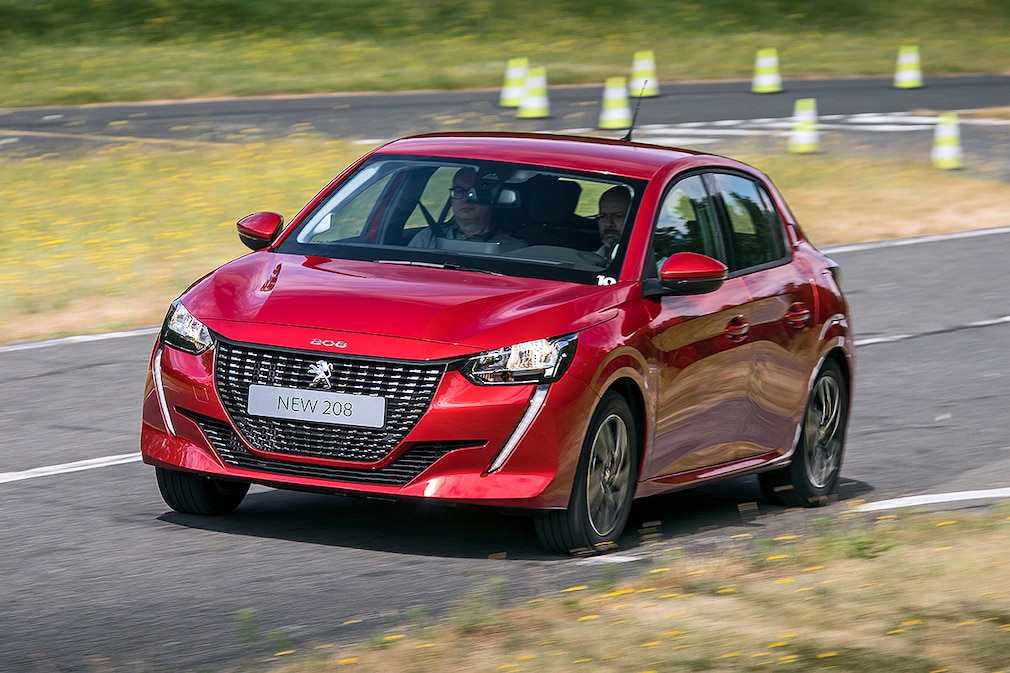 3. Peugeot e-208 GT
The most powerful Peugeot 208 of the second generation roams electrically from A to B. The e-208 delivers a whopping 136 hp and is therefore more luxurious than the combustion engine siblings. When driving, everything is as usual: get in, engage gear D and off you go. The electric 208 whizzes from 0 to a hundred in 8.1 seconds. 260 Nm of maximum torque make the little Frenchman very confident.
The Peugeot charges electricity for 205 kilometers in 30 minutes

Peugeot puts the range determined by WLTP at 362 kilometers. But this number melts away when you tease out the full power of the electric motor. In a test by AUTO BILD, a technically largely identical Opel Corsa-e consumed 18.3 kWh. Assuming that, the Opel has a range of 273 kilometers on the road. When checking the charging capacity, the ADAC found out that the e-208 charges electricity for 85 kilometers in ten minutes. He needs 20 minutes for 157 kilometers and half an hour for 205 kilometers. The French charge with a maximum of 100 kW. Prices start at 31,950 euros for the Peugeot e-208 Active.
4.Porsche Taycan 4S
The Porsche Taycan 4S delivers a maximum of 530 hp and is said to have a range of up to 407 kilometers according to WLTP. The light blue specimen in the photo has been on the road for more than 100,000 kilometers in an endurance test at AUTO BILD and above all causes one thing: a stir! Hardly any other car is addressed more openly to the editors: How does it drive? How many kilometers does he manage in one go? What does it cost?

Of the specified range of 407 kilometers, around 330 kilometers have proven to be realistic in everyday use. The handling is typical of Porsche: agile, grippy, precise and just damn fast. The Taycan can do this comfortably. In the consumption round in the AUTO BILD test, a Taycan Turbo S consumed 29.4 kWh of energy. This results in a range of 285 kilometers. The ADAC has measured that the Porsche needs ten minutes to charge electricity for 203 kilometers. In 20 minutes it draws enough energy for 310 additional kilometers, in half an hour it is 345. The Taycan currently charges with a maximum of 270 kW. Price: from 106,487 euros.

5. VW ID.4
The first electric SUV from VW is called ID.4. The VW, including the editors on board, easily weighs more than 2.2 tons and can therefore be described as a real Trumm car. But the ID.4 can be very practical and, for example, drives up with roof rails and a trailer hitch. During the ongoing semiconductor crisis, the ID.4 Pure Performance forms the base model. It has 170 hp and costs at least 38,915 euros (before deducting the environmental bonus).
Electricity for a range of 254 kilometers in 30 minutes

The 52 kWh battery of this ID.4 should have a range of up to 346 kilometers. In the AUTO BILD test, an ID.4 with rear-wheel drive and a 77-kWh battery consumed 21.5 kWh. That stands for a realistic range of 358 kilometers. The ADAC states that an ID.4 can charge electricity for 105 kilometers in ten minutes. In 20 minutes there is energy for 190 kilometers, in half an hour juice for 254. Depending on the battery, the ID.4 charges with 50 to 132 kW.