Cars
Electromobility: This is how fast charging is in Germany
These are the best electric cars
Selected products in tabular overview

| | | |
| --- | --- | --- |
| BMW iX | RRP from EUR 77,300, savings: up to EUR 13,386 | |
| Kia Niro EV | RRP from EUR 47,590, savings of up to EUR 11,164 | |
| Kia EV6 | RRP from EUR 44,990, savings: up to EUR 14,069 / in leasing from EUR 274 | |
| Mercedes EQS | RRP from EUR 97,807, savings: up to EUR 6,152 | |
| Hyundai Ioniq 5 | RRP from EUR 41,900, savings: up to EUR 12,280 / leasing from EUR 234 | |
| Audi Q4 e-tron | RRP from EUR 41,900, savings: up to EUR 12,420 / best leasing price: EUR 89 | |
| Skoda Enyaq iV | RRP from EUR 34,600, savings: up to EUR 11,584 / best leasing price EUR 124 | |
| Mazda MX-30 | RRP from EUR 34,490, savings: up to EUR 13,035 / in leasing from EUR 90 | |
| Opel Corsa-e | RRP from EUR 30,400; Savings: up to EUR 11,920.00 | |
| Smart EQ for two | RRP from EUR 21,940, savings: up to EUR 8,240 / in leasing from EUR 77 | |
| Tesla Model 3 | RRP from EUR 46,560; Savings: up to EUR 7,975 / best leasing price EUR 289.00 | |
| Toyota bZ4X | RRP from EUR 47,490; Savings: up to EUR 10,520.00 | |
| Volvo XC40 Recharge | MSRP from EUR 48,650; Savings: up to EUR 9570.00 | |
Because of the importance of short charging times, many large car manufacturers, but also well-known and regional electricity providers, offer charging points for quick charging (here is an overview of all charging tariffs). In total, exactly 9918 such fast charging points (53,652 normal charging points) were reported to the Federal Network Agency as being in operation as of July 1, 2022. Depending on the operator, up to 350 kW charging power is available. Theoretically, refueling stops of a few minutes are possible, which come very close to a classic tapping process.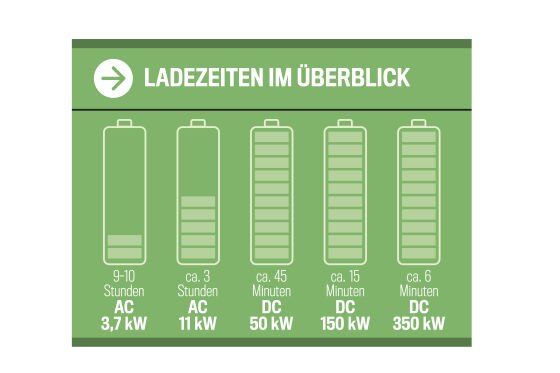 EnBW with the largest fast charging network in Germany
According to its own information, EnBW operates the largest fast charging network in Germany with more than 700 locations nationwide. In total, the Baden-Württemberg energy giant offers around 300,000 charging points in 17 European countries.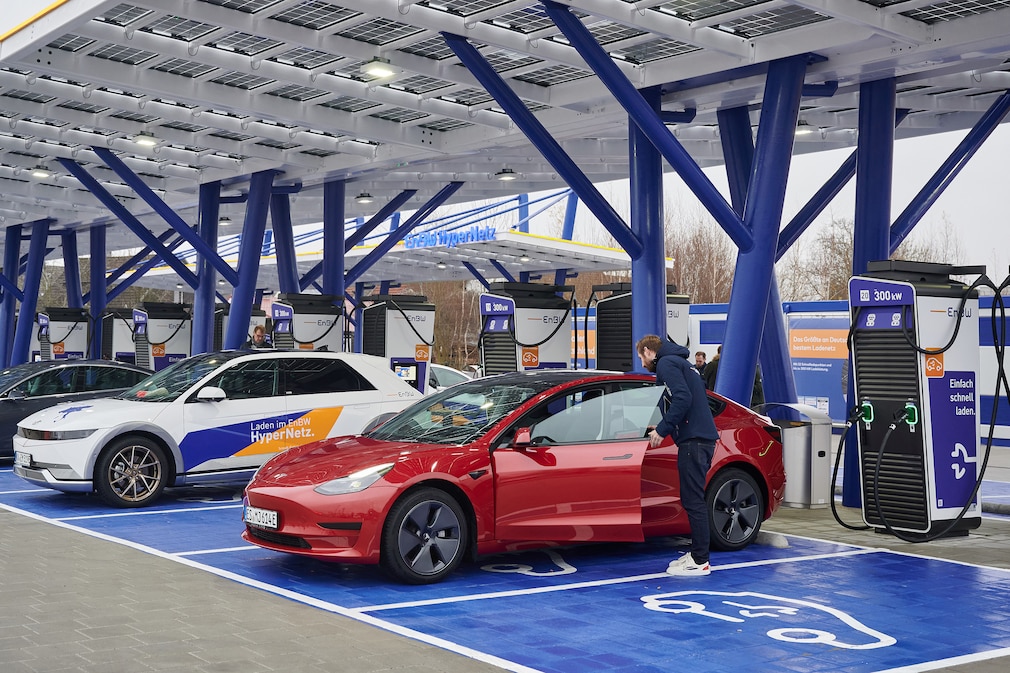 In mid-December 2021, the largest fast-charging park to date was added at the Kamener Kreuz. 52 vehicles can be charged at the same time at Germany's number one transport hub – using 100% green electricity with an output of up to 300 kilowatts. Depending on the vehicle, a range of up to 100 kilometers can be charged in just five minutes. By 2025, it should be possible to charge e-cars quickly at 2,500 EnBW charging stations across Germany alone.

Ionity network with VW, Mercedes, BMW

The German car manufacturers Volkswagen (VW, Audi, Porsche and Skoda), Mercedes and BMW (with Mini) together with Ford founded the joint venture Ionity to set up their own fast charging network, and the Hyundai Motor Group (Hyundai, Kia) has been involved since autumn 2020 involved. The joint venture equips long-distance travel routes in northern, central and southern Europe with HPC chargers.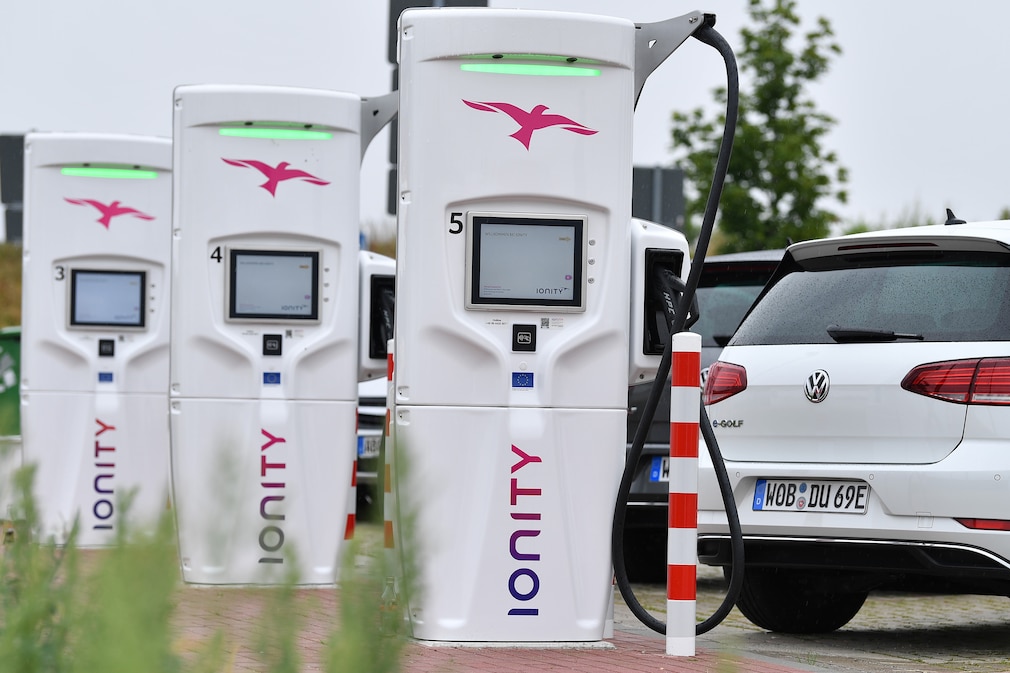 By the end of 2021, the goal of 400 charging parks with an average of six charging points was reached. In August 2022, 1864 HPC charging stations were in operation at 428 locations and 37 additional parks were under construction. Ionity uses the European CCS standard and promises charging capacities of up to 350 kW – even if two vehicles are connected to one charging station. According to the company, this makes it possible to charge 50 kWh in nine minutes.
Charging with Ionity can be pretty expensive

However, the hefty price of 79 cents per kWh of electricity for non-contract customers is a deterrent. At some charging stations, you can also pay by Plug&Charge, i.e. simply by connecting the plug.
Volkswagen is building a fast charging network together with BP
VW has also teamed up with the energy company BP to promote the construction of fast charging stations. The first charging station is in Düsseldorf and has already been put into operation. Within the next two years, 4,000 more are to be built in Germany and Great Britain. By the end of 2024 there could be 8,000 charging points across Europe.
The special feature: The 150 kW Flexpole charging stations from VW have an integrated battery storage system and can be connected to the low-voltage grid according to the manufacturer. A currently rare transformer (see below) and costly construction work are not necessary. Maximum charging is 150 kW. Depending on the car, a range of up to 160 kilometers can be reached in ten minutes.
The locations of the chargers are integrated into the navigation systems of the e-cars from the VW Group. Any other e-mobilist can use the stations as part of the BP or Aral Pulse network.

Fastned diligently builds its own charging stations on motorways

The Dutch provider Fastned operates charging stations at 38 locations in Germany and 210 throughout Europe. According to Fastned, it is the largest operator of fast charging stations in its home market.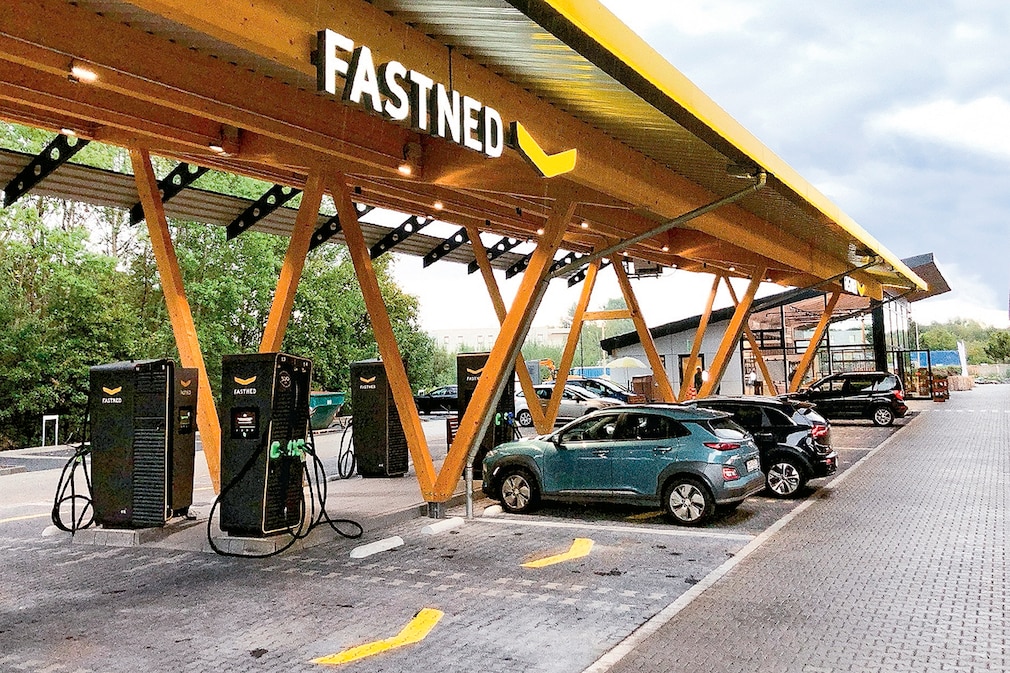 In addition to charging e-cars, the focus of the expansion plans is the convenience of travelers: The charging points should be covered and look like modern gas stations, and there are often fast food restaurants nearby.
Tesla Supercharger: more than 100 locations in Germany

Tesla is far ahead. The e-car pioneer from the USA offers 1688 fast-charging connections throughout Germany. However, most charging points are still reserved for Tesla drivers; The supercharger network is only slowly opening up to vehicles from other brands.
However, in April 2022, Tesla in Germany increased prices again within a few months to at least 50 cents per kilowatt hour. Some users also report 52 cents/kWh on teslamag.de. According to the Americans, they have already set up a network of 30,000 superchargers with a maximum charging rate of 250 kW at around 3,000 locations worldwide.
Aral pulse with more than 700 charging points

With Aral pulse, Aral can already boast more than 700 ultra-fast charging points and thus an impressive range in Germany. Thanks to Plug&Charge technology, paying after charging is very easy and convenient.

Missing transformers slow down the expansion

Overall, however, the expansion of the fast charging network in Germany has recently stalled somewhat – due to a lack of transformers. According to a report in the "Handelsblatt" in April 2022, the delivery time for substations across manufacturers was at least one year. The main reasons are the high demand, the low availability of copper raw materials and the general supply bottlenecks in numerous industrial sectors.
1000 promoted fast chargers with a price cap

The federal government is funding public fast charging with a total of two billion euros via its national infrastructure control center. The so-called Germany network is to be in place by the end of 2023: charging stations with a total of around 10,000 DC charging points at more than 1000 locations, 200 of them on motorways.
Companies were able to apply for set-up and operation by drawing lots, and more than 400 applications to participate were submitted. The federal government provides financial support and initially collects the majority of the income for eight years. According to the former Minister of Transport Andreas Scheuer (CSU), e-car drivers should be able to reach the nearest fast charging station in ten minutes in the future.
Up to 300 kW charging power must be possible

Even more important for the consumer: charging capacities of up to 300 kW must be possible on site. The price per kilowatt hour of charging current should be a maximum of 44 cents, but according to the tender this is a "breathing upper price limit" that can be adjusted to inflation and price developments on the electricity market.