Cars
Elegant Toyota Camry as a used car particularly cheap
In the USA, the Toyota Camry is one of the brand's bestsellers. In Germany, on the other hand, the current, eighth generation of the elegant luxury sedan was withdrawn from sale after just two years – the number of new registrations did not meet expectations.

But with a bit of luck, the full hybrid sedan will still work out in a roundabout way. In view of the low number of new car purchases from 2019 to 2021, there are only a few copies to be found on the used car market – but they are impressive.
In the rarest cases you have to make compromises in terms of equipment with the used Camry. This is also shown by this model, which was ordered in the top equipment "Executive" at the time.
Toyota Camry with less than 15,000 km on the clock

The offered Toyota Camry 2.5 Hybrid Executive has the subtle exterior color "Graphite Pearl" and has only been driven 14,746 kilometers in the three years since it was first registered in June 2019. The number of previous owners is not specified.
Against the background of the low mileage and the general reliability of Toyota models, this should be of secondary importance when making a purchase decision.
The Camry is – typically Toyota – equipped with a full hybrid drive train. The 2.5 liter four-cylinder petrol engine is supported by an 88 kW electric motor. The total system output is 218 hp (160 kW). In this variant, the Camry masters the sprint from 0 to 100 km/h in 8.3 seconds and has a maximum speed of 180 km/h.
Economical and rare used car

If you rein in your gas foot a little, you can reduce the consumption of the hybrid Camry to less than five liters in everyday life. And that with a limousine weighing around 1.6 tons, which is equipped with almost everything your heart desires!
The Camry Executive offered here comes with LED headlights, automatic climate control, touchscreen navigation, heated seats and leather interior. As usual with Toyota, many assistance systems should not be missing.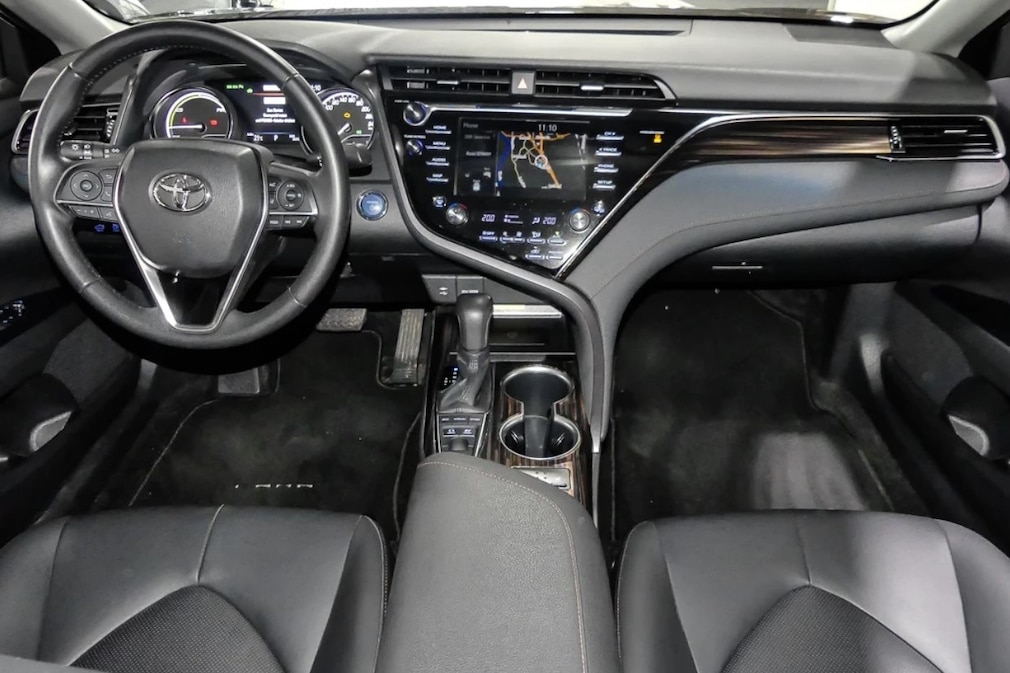 Although the Camry is rather exotic in Germany and the few freely available models are in demand, there are sometimes real bargains. The Toyota Camry offered here is available for pick-up in Düsseldorf (AutoLevy) for a low price of 30,990 euros.
For comparison: According to the price list, the hybrid sedan cost more than 42,000 euros as a new executive. As a special treat, the dealer gives a five-year guarantee on the most important components of the Toyota.