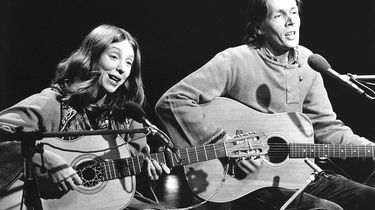 Folk song duo Elly and Rikkert last played Friday after a career of 50 years. This went differently than planned due to the corona crisis.
The farewell tour could not be completed and moving was not an option because of Rikkert's health. Therefore, the duo decided to keep the performance online via a live stream. That turned out to be a great success.
The last performance of Elly and Rikkert
"It was very strange," said 74-year-old Elly Zuiderveld-Nieman on Saturday in the NOS Radio 1 News. Together with Rikkert (73) she now sang the audience via a livestream on the internet. "Especially with the first two songs I thought for a moment: how do we get through the evening? But we just imagined the people watching. Sometimes I had certain people in mind, and then it went well again. And of course there was a great crew that we could watch from time to time. "
Many artists and concert halls are forced by the corona crisis to find more original ways of performing and connecting with fans, such as the Ziggo Dome.
Many "heartwarming" messages after concert
Elly doesn't know exactly how many people watched, but she and her husband were flooded with sweet messages afterwards. "We are still watching them all. It is heartwarming and moving. Really overwhelming and very nice. "
Fans also expressed their admiration and thanks on Twitter for the life's work and memorable farewell to Elly and Rikkert.
Tonight Elly & Rikkert say goodbye to the stage. A memorable moment. Even though the room is necessarily empty tonight, let's give them a standing ovation from our living rooms. Great respect for these beautiful people and artists ???

– Matthijn Buwalda (@matthijnbuwalda) May 15, 2020
The day Elly and Rikkert stops. A wonderful phenomenon and the soundtrack of childhood. Thanks, @EllyElrik

– Samuel Gerrets (@sgerrets) May 15, 2020
It is a pity that there was no audience at the last performance. "But Rikkert's health didn't allow it anymore," says Elly. His situation, she says, is "too uncertain" to do it in six months or a year. "I'm not saying it's all over, but it was too uncertain so we chose this."
Duo Elly and Rikkert have been a household name for over 50 years
The couple Elly and Rikkert married in 1968 and became known in the hippie scene during the 1970s with their songs for children and adults. Their best known hit is The gumball tree from October 1971.
In 1976 the couple converted to Christianity. After this they performed during EO youth days. They also made more socially engaged songs.
In 2013, Elly and Rikkert celebrated their 45th anniversary as a duo in Carré, which was broadcast by Omroep Max. They performed with the Metropole Orchestra. A recording of this concert was broadcast on April 12, 2013 by Omroep MAX.
With their show "50 years of beauty", they last toured more than twenty theaters in the Netherlands and three in Belgium with their friends and musicians.
Fortunately, other artists are not yet ready to say goodbye. One of the best-known and best-loved girl bands in pop history, the Spice Girls, are even planning new concerts.