Cars
Extreme E: Abt-Cupra: Commitment to Extreme E 2022
With the Rosberg team, a German team could become the first Extreme E champions at the weekend in southern England. But there is also a second German racing team involved – Abt Sportsline, with the support of the Seat offshoot Cupra. And with a German driver at the start.
Jutta Kleinschmidt (59), to this day the only winner of the Dakar Rally, is Mattias Ekström's (43) teammate. It was already convincing when it was first used in Senegal: "We were in her terrain, in the sand, in which she has already unwound so many kilometers," remembers Abt-CEO Thomas Biermaier. "But we were still surprised because it was really fast right away. In the first qualifying she braked 15 meters later than Mattias on lap one. That takes courage. We are glad that she is with us, she brings a lot of experience to the team – and also a lot of joy. "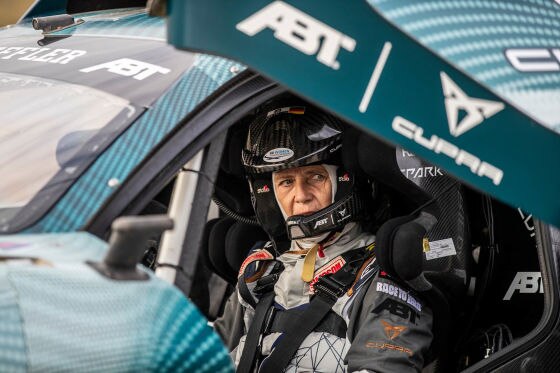 Together, Kleinschmidt and Ekström made it onto the podium in the last race in Sardinia – now third place in the overall standings is still possible. Abbot Cupra (83 points) fights against Andretti United (93 points) and the JBXE team (92 points) of ex-Formula 1 world champion Jenson Button. Biermaier: "Victory in the final is our goal!"

Hürtgen accident at the beginning of the season a shock
The season balance before the last race was mixed: "It was the expected great adventure that everyone got involved in," summarized Biermaier. "For us as a team it was a mixed year with problems on the first three race weekends that we hadn't wished for. First Claudia Hürtgen's accident, then we made mistakes as a team and in the third race we had technical problems. The first time we got through without any problems was Sardinia – and that's when we got on the podium. "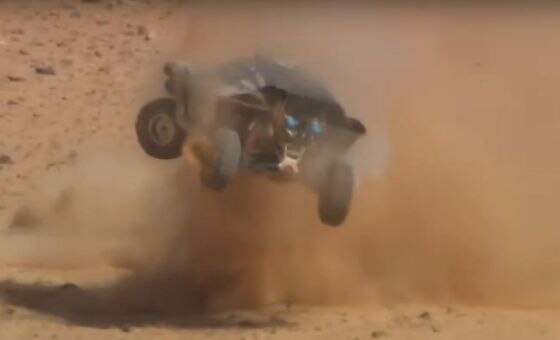 The excitement of the year: Claudia Hürtgen's mega-crash, Kleinschmidt's predecessor, at the start in Saudi Arabia. Biermaier: "First of all, we were happy that nothing happened to Claudia – that was the most important thing. She got away with it relatively lightly. That showed that the cars are safe. But there were two huge losses on Saturday and Sunday – we already said: If this continues, we will run out of money. For Extreme E, however, it was positive action. The video is still the one with the most clicks. "
In 2022, Abt-Cupra wants to dive into calmer waters. "In terms of sport, we have not yet achieved the success we wished for. Just stopping is not our mentality, "said Biermaier. "We definitely want to start a second year together and of course we also believe in the abilities of Alejandro Agag (series director, editor). That's why we want to push the project forward together and develop a beautiful product. "
Will the Kleinschmidt / Ekström duo stay behind the wheel? Biermaier: "We'll say something about the drivers in January and I think we'll be well positioned there again."
Abt-Cupra is committed to Extreme E
Biermaier, however, appreciates the Swede's qualities: "Mattias is incredibly important. He's always someone who pushes the team, brings the team forward, also challenges the team, puts his finger in the wound. He's terrific there, which is why he was an important team player in this project from the start. "
Biermaier definitely has one wish for 2022: "The vehicle should be more robust. Everyone has had their problems with it, whether Rosberg or Ganassi – and that has to be turned off. But that's normal. I still remember Formula E, there were also some weak points in the standard cars in the first year. This is a learning process that we have to go through together with Extreme E. "

Technical data of the Extreme-E unit vehicle "Odyssey 21"
Maximum power: 400kW / 544 PS
Top speed: 200 km / h
Drive: 2 electric motors (one each on the front and rear axles)
Acceleration 0-100 km / h: 4.5 seconds
Torque: 920 NM
Battery capacity: 55 kWh
Weight: 1650 kg
Championship stand
RosbergXRacing (Johan Kristofferson, Molly Taylor): 129 points
X44 (Sébastien Loeb, Cristina Gutierrez): 113 points
Andretti United Extreme E (Timmy Hansen, Catie Munnings): 93 points
JBXE Racing (Mikaela Ahlin-Kottulinsky, Kevin Hansen): 92 points
Abbot Cupra XE (Jutta Kleinschmidt, Mattias Ekström): 83 points
Acciona Sainz XE Team (Carlos Sainz, Laia Sanz): 78 points
Segi TV Chip Ganassi Racing (Kyle Le Duc, Sara Price): 63 points
Veloce Racing (Jamie Chadwick, Lance Woolridge): 60 points
Xite Energy Racing (Oliver Bennett, Christine Giampaoli Zonca): 55 points
TV tip
ProSieben Maxx and ran.de will broadcast the Extreme E finals live on December 19 from 1 p.m.