Cars
Extreme E: Does this woman make Rosberg a champion?
In 2016, Nico Rosberg resigned as world champion in Formula 1. Now he could become a master maker – as the owner of the Rosberg Extreme E team. Johan Kristoffersson and his teammate Molly Taylor (33) are leaders in the final this weekend (Sunday live from 1 p.m. on ProSieben MAXX) in England.
In the electric rally championship, a woman is a must as a driver. So it was important for Rosberg to find a good wife in advance. He came across Molly Taylor. No wonder: in 2016 she won the Australian rally championship, 17 times she has even competed in the rally world championship. And: It comes from a rally dynasty. Her father Mark Taylor was just as much a rally driver as her mother Coral Taylor, who also won the Australian Rally Championship three times as a co-driver together with her father Norm Fritter.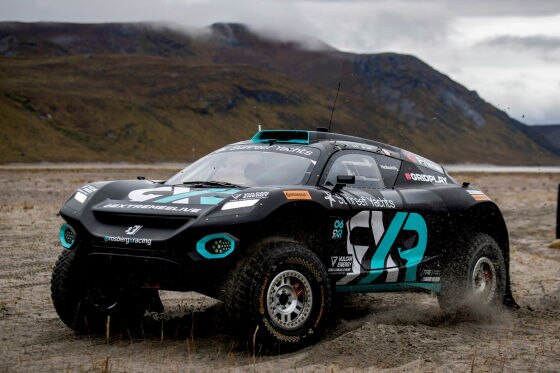 For Rosberg it was clear: "I really wanted her. I even wrote to her personally using the contact form on her homepage. "
Confusion about Rosberg mail
But that didn't go down well at first. "I thought it was a joke," recalls Molly Taylor in an interview with ABMS. "I thought someone else pretended to be Nico." She still sent an answer: "I answered him, but the answer was very short because I wasn't sure whether it was him. But I answered in case it was him. "
Molly Taylor is 33 years old. For her, Extreme E is the greatest opportunity of her career. "Shows like this give us women the opportunity to get into public," says Taylor. "It's important to get more young girls into rallying."
She herself already had a role model through her mother. Molly: "I never realized that when I was little. But that's important. I wouldn't call myself a role model now, but there are already some young women in rallying in Australia. "
More women in rallying
Equality is the one thing she likes about Extreme E. The other is the fight for more sustainability. Taylor: "We're driving the technology of the future here. It's nice to be part of this development. "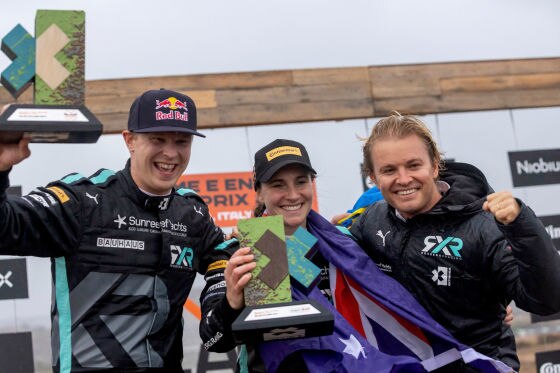 Then there is the driving pleasure. The comparison with the Rallye3 cars with which she was on the road in the World Rally Championship in 2021 is as follows for Taylor: "The Extreme E-cars drive differently because they are off-road vehicles. That's the biggest difference. Then of course there is the electric motor. In any case, they are a lot of fun. "
Molly Taylor is an Australian rally driver, Rosberg is a German Formula 1 star. Now the two are working together. "It's really surreal for me," describes the 33-year-old. "Especially with my rally background, it was never conceivable for me that something like this would be possible. But it's cool to see his experience in Formula 1 and how passionate he is for the sport. "
Rosberg can also actively help her to become better: "In Formula 1, you learn to read data and pay attention to details. In the end, however, that is important in every racing series. "
With Formula 1 know-how and rally experience, the Extreme E title could work this weekend.

Technical data of the Extreme-E unit vehicle "Odyssey 21"
Maximum power: 400kW / 544 PS
Top speed: 200 km / h
Drive: 2 electric motors (one each on the front and rear axles)
Acceleration 0-100 km / h: 4.5 seconds
Torque: 920 NM
Battery capacity: 55 kWh
Weight: 1650 kg
Championship level:
RosbergXRacing (Johan Kristofferson, Molly Taylor): 129 points
X44 (Sébastien Loeb, Cristina Gutierrez): 113 points
Andretti United Extreme E (Timmy Hansen, Catie Munnings): 93 points
JBXE Racing (Mikaela Ahlin-Kottulinsky, Kevin Hansen): 92 points
Abbot Cupra XE (Jutta Kleinschmidt, Mattias Ekström): 83 points
Acciona Sainz XE Team (Carlos Sainz, Laia Sanz): 78 points
Segi TV Chip Ganassi Racing (Kyle Le Duc, Sara Price): 63 points
Veloce Racing (Jamie Chadwick, Lance Woolridge): 60 points
Xite Energy Racing (Oliver Bennett, Christine Giampaoli Zonca): 55 points

TV tip
ProSieben Maxx and ran.de will broadcast the Extreme E finals live on December 19 from 1 p.m.