Cars
Extreme E – Ekström: Electro titles the perfect preparation
Extreme E will be visiting Sardinia next weekend with a freshly qualified electrician on the island of XPrix (Sunday, from 4 p.m. Pro 7 Maxx): Mattias Ekström was crowned the first ETCR (Electric Touring Car Racing) champion last weekend.
Ekström is now an absolute fan of electric racing cars. "I like all fast cars, regardless of which engine is installed in the rear. The main thing is that they are fast, "says the 43-year-old.
The ex-DTM champion naturally wants to take the ETCR title boost to Extreme E. But that will be difficult: The ETCR is a touring car series, with 680 hp and 1,800 kilograms of standard cars for the circuit. Ekström's special discipline from glorious DTM times.
The Extreme E is an off-road championship with a maximum of 544 hp and 1650 kilograms of electric SUVs. Ekström has long been driving marathon rallies like the Dakar and will also be part of the Audi team there in 2022.
"Even if the series and cars are different, it is still a perfect preparation for Extreme E, because I stay in competition mode practically non-stop and keep my adrenaline high," says Ekström, who is currently with racing partner Jutta Kleinschmidt is on championship rank six. "We are definitely ready for champagne and a nice trophy. Our car is fast, Jutta and I have fun together. There are still two races and two wins to go. "
Before the penultimate round of the season, the teams of two Formula 1 world champions compete for the championship: Nico Rosberg's Rosberg X Racing team (93 points) and Lewis Hamilton's X44 (84 points).
The title is also decided by two women. In addition to rallycross world champion Johan Kristoffersson, Molly Taylor drives for the Rosberg team, while Hamilton and rally record champion Sébastien Loeb relies on Cristina Gutiérrez.
Both women are absolute rally greats. Taylor became Australian Rally Champion in 2016 and also took part in three rounds of the World Rally Championship in 2021 – since 2011 she has made 17 WRC appearances. Her father Mark Taylor was just as much a rally driver as her mother Coral Taylor, who also won the Australian Rally Championship three times as a co-driver with her father Norm Fritter.
So the 33-year-old is one of the best women on the rally scene. "So I really wanted her," explains her team boss Nico Rosberg. "I even wrote to her personally using the contact form on her homepage."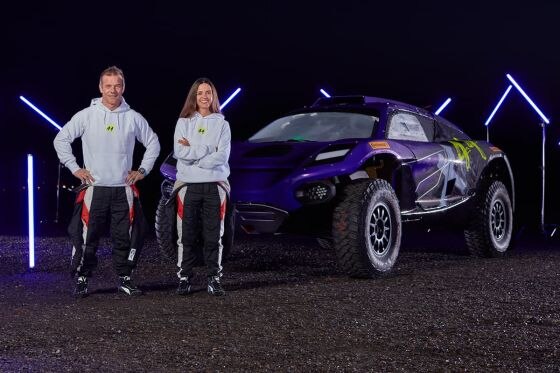 In 2021, Cristina Gutiérrez was the second woman after Jutta Kleinschmidt to win a stage in the Dakar Rally. The 30-year-old Spanish dentist is in a class of her own when it comes to off-roading – in Spain anyway, but also internationally. At the Kazakhstan Rally, she took a class win – even though two vertebrae were broken.
"I was in a lot of pain," Gutiérrez remembers casually, "I was immediately taken to the hospital after the rally, where two vertebral fractures were confirmed." Off-road racing is not for drivers who are sensitive to pain Gutiérrez, who is supported by Red Bull among others, is never in question. She wants the title together with Loeb.
As always, Extreme E is about more. We rest for a good, ecological purpose. On the one hand, the racing series wants to draw attention to the devastating forest fires in Sardinia and help with reforestation, and on the other hand, to the seaweed threatened by the warming of the world's oceans.
Series boss Alejandro Agag: "The Island X Prix in Sardinia will highlight some of the critical issues that Europe and the whole world are confronted with. It is clear that we must tackle the causes of the terrible fires that have devastated not only Sardinia but so many other countries as well. We all know that rising global temperatures, caused solely by greenhouse gas emissions, are increasing the risk of fire not just here, but everywhere. This is an emergency and we must act now. "