Cars
Extreme E Kleinschmidt: "As a woman you are the figurehead"
This Sunday (live from 1 p.m. on ProSieben MAXX) the Extreme E will have its final in southern England. Abt Cupra driver Jutta Kleinschmidt takes stock – and speaks about women in motorsport.
Jutta Kleinschmidt, how much does your good result with second place last in Sardinia still resonate?
Jutta Kleinschmidt (59): I am extremely happy that luck was finally on our side after all our problems. The performance was always there anyway, but we never made it to the final. It was great, we're happy about it and of course we hope that it will work out again here at the final in England.
If you had to draw a conclusion after the premiere season: Has the concept of the series proven itself?
Yes. The first year is always difficult because the cars still have technical teething problems that we are gradually sorting out. There is still some catching up to do, especially when it comes to the chassis. But overall, the series showed what potential it has.
You have driven many off-road vehicles in your life: where would you classify the extreme electric car? At last you called it a beast.
(laughs) It's quite simply the chassis that still needs to be improved. That's why I sometimes call it "beast". Sometimes it is a bit insidious, for example with jumps or dips … In terms of driving it is of course demanding. In cross country rallies like the Dakar, you have 500 kilometers to go. If a curve doesn't fit that well, it's not that bad. You're right back here.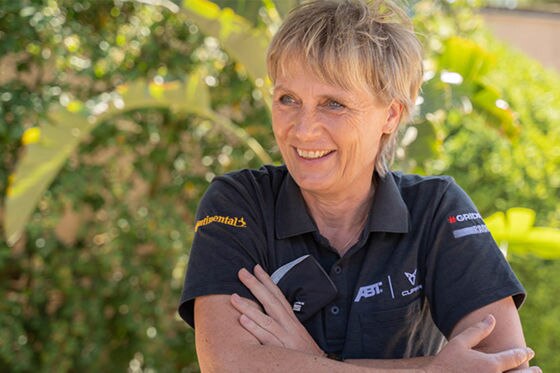 You stepped in for Claudia Hürtgen at short notice in the second race. How proud are you of your performance so far and, above all, that you were on the pace right from the start?
I'm definitely proud: You don't know where you stand beforehand and you're not practicing. In the last few years I've driven relatively little, maybe only once or twice a year, because I was very busy at the FIA ​​(as President of the Cross Country Rally Commission; d. Ed.) To innovate the new rules for cross country sport to design.
Extreme E is not only committed to sustainability but also to equality. There is a man and a woman in every car. How important is it for a racing series to follow such a concept?
Very important. Here many women get a chance to show their potential. And the plan works: It increases their level of awareness and they find the budget to drive in other series – which is normal for men. That's why Laia Sanz and Molly Taylor both drive the Dakar, for example. Laia actually came from the motorcycle and jumped into the car more or less unprepared in Extreme E. It's a tough number. But you can see the increase extremely.
Is it also an advantage for Laia Sanz to be able to learn a lot from an old rally handler in a team with Carlos Sainz Sr.?
Naturally! Women in particular who do not have that much experience or who have done so much in rallying can learn a lot from the stars. But that also applies to me, I can also learn a lot from Mattias (Ekström; team-mate, editor).
Kleinschmidt: It's still a bit embarrassing for the gentlemen
Today there are many initiatives for women in motorsport. What was that like when you started?
To be honest, I didn't really think about it that much. I wanted to do this sport and so I started with the motorcycle. For me, there was no discussion of whether the men would recognize me or not. I just turned up there and tried to do my best. Of course I compared myself to the guys. But I tried to go my own way.
How did you get the idea to get on a motorcycle and drive through the desert?
Thirst for adventure. I found motorcycles super cool relatively early on. At some point the road was too boring for me, so I went off-road and finally I heard about the Dakar Rally. It fascinated me from the start. For me it was the greatest adventure.
How important was your victory in 2001 to your career?
Super important. I've been a Dakar winner ever since. Nobody can take this title away from you. That I was also the first woman and the first German helped me a lot. For example, I had the opportunity to build a team with VW. It opened a lot of doors and in principle I still make a living from it today.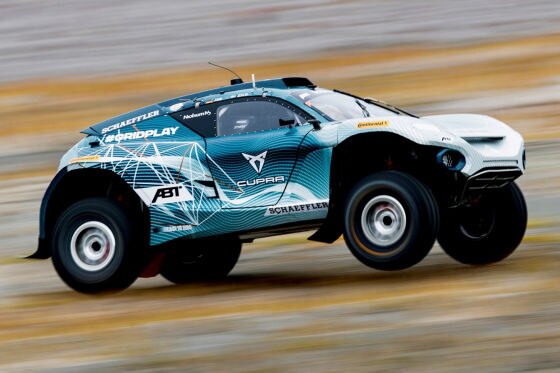 How difficult was it anyway to assert oneself in this man-macho world?
Very difficult. If you drive in a team with several men, you have the problem at the beginning that you don't get the best material – simply because people don't believe in you as much as they do in the men. And not to be underestimated: it is still a bit embarrassing for men when they are slower. That's why they fight you even harder. In terms of equality, cross country is the perfect sport, because you are not racing against each other. So it's not that the men keep pushing the women off the track.
The fight for sponsors and manufacturer places is likely to be all the harder …
For sure. You always say: women have an easier time finding sponsors. But that's only partly true. Sure: If you are top, it might be easier for you. But if you don't, you won't get any sponsors either. So it is equally difficult for men and women to find a budget. You need a lot of perseverance, patience and contacts.
Do women have to be better than men?
I would put it differently: I tend to believe that women prepare better because they know that they are being looked at in particular. If you are the only woman in the sport, then you are the figurehead. But if you then make a mistake, you are more in the spotlight than if a boy throws the car away.
To what extent has the attitude towards women in motorsport changed today?
I think fast women are always welcome in motorsport. There are enough supporters who want to support women too. But you have to be quick and be able to deal with the fact that you are more in the center of attention. If you make mistakes, you will be punished for them faster.
Do you already know how things will go next year?
No. I know that Abt and Cupra will continue, but the driver duo is not yet fixed. We want to finish the season first and then see how it goes on.