Cars
Extreme E: Nico Rosberg: Mud battle after defeating Hamilton
When the title was won, the pressure also fell: with a mud fight, team owner Nico Rosberg and his driver duo Molly Taylor and Johann Kristofferson celebrated the championship in the premiere season of the Extreme E electric off-road series last Sunday in Dorset (southern England) .
With a tie on points and two wins ahead, the team "Rosberg X Racing" snatched the title from Lewis Hamilton "X44" 's nose and inflicted the Briton' s second heavy defeat after losing the Formula 1 World Championship a week ago Abu Dhabi too.
"The duel between Lewis and me was cool and his team was a tough opponent," says Rosberg, looking back to ABMS. "It's crazy that in the end we won more with one win, tied on points – and then against Lewis too. Neither he nor I would have been happy with second place. In this case it was a perfect ending for us. "
Even before the final, Rosberg had emphasized: "I would be lying if the duel against Lewis didn't play a role." In 2016, the German had already stolen the British title in Formula 1.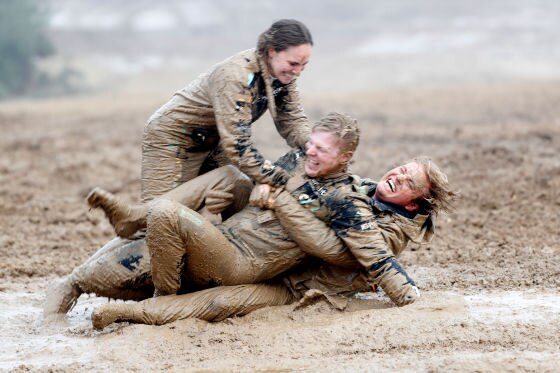 The current secret of victory for the team from Neustadt an der Weinstrasse: "The cars broke down quickly with the many jumps and dips in Extreme E, so you had to do a lot of risk management," explains Rosberg. "You couldn't just get out and race down the slopes at full throttle, you had to drive with your head. The key is "meticulous attention to detail in order to avoid problems before they arise. Because 80 percent of the problems here are avoidable. "
The two drivers Molly Taylor and Johan Kristofferson implemented this perfectly. Taylor comes from an Australian rally family, successfully drove a WRC3 car in the Australian Rally Championship and in the 2021 World Rally Championship. Kristofferson is a four-time rallycross world champion, according to Rosberg the "best rallycross driver of all time". In 2021 it will be his second title in the WRX alongside the trophy.
"This is the second championship that I win this year with a tie," reveals the Swede. "We were among the fastest from the start, and of course it was our goal and Nico's to fight for victories here. You had to adapt your driving style to every route and every situation. I don't think there was a corner where I actually drove at full throttle. For me it was a big challenge to take a step back as a driver, but that's how this championship works. "
To defend their title, the brisk Australian and the fast Swede in the German team will start in Saudi Arabia in mid-February. Then Extreme E is racing against climate change in its second season.