Cars
Extreme E Nico Rosberg: "Our sport serves the future"
Nico Rosberg, you and your "RXR" team can become world champions in Extreme E this weekend. How tense are you before the Extreme E final and what will it be?
Nico Rosberg: Very tense, of course. It's a completely different situation than when I drove myself. As a team boss, you give up the steering wheel to a certain extent. But it will still be super intense for me and the team. In the end, it comes down to not making mistakes and not losing your nerve. I think we can do that and I am in very good spirits.
What would the title mean to you?
Mega a lot! To win the title in a new series in the first season with your own racing team – that's a big thing. And then of course there are a few old opponents on the field again … (laughs). But one way or another, I'm already incredibly proud of the team. It's just a great atmosphere, everyone works hard and we're passionate about a good cause off the racetrack too. Extreme E is not just about victories, but above all about counteracting climate change and sending an important message through sport.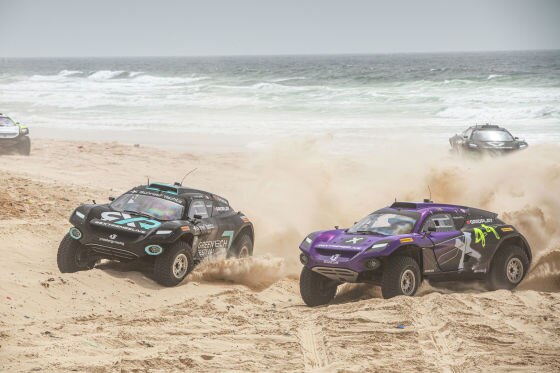 But you just indicated it yourself: What role does it play in the fact that you can now defeat Lewis Hamilton again in a World Cup after 2016?
I would be lying if I said it doesn't matter. He's the best Formula 1 driver of all time and I have a lot of respect for him. But this time I'm most happy that we were able to turn our rivalry in Extreme E into something positive. By battling each other on the track, we create awareness for the climate crisis.
What makes your Rosberg X Racing team so strong?
Nico Rosberg: With us, the wheels mesh and the personalities complement each other perfectly. I think that in a well-functioning team, not only the sporting and technical aspects are extremely important, but also the human aspect. At the end of the day, you love to fear and celebrate with people you love!
The extremes are racing against climate change in areas that are threatened. Has the concept worked so far?
We experienced very exciting races. That has to be the basis. Then there is the topic
Environment that motorsport must also focus on. In Sardinia we visited families who suffered badly from the largest forest fire in the history of the island. One family, for example, has lost everything. There are no more plants or animals – the entire livelihood: just gone. We try to support that. And to be able to combine that with racing is nice.
Aren't motorsport and environmental protection actually a contradiction in terms?
Not here. We draw attention to the problems of our planet, help on site and drive emission-free races. The logistics are reduced because we are traveling by ship. And: with series like the Extreme E, we show how cool electromobility is. A sustainable future is not about getting rid of technology, but about improving it with new technology. Motorsport also helps here.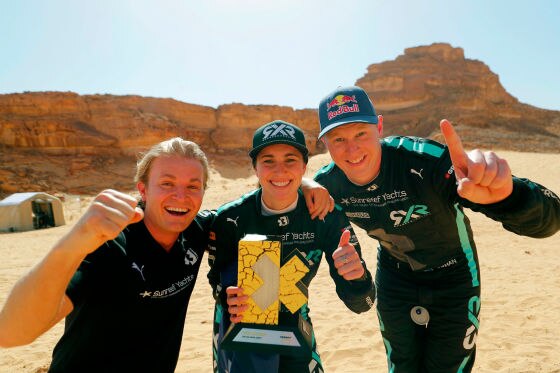 The Extreme E therefore focuses on sustainability. What do you like best there?
For example, that we are playing a pioneering role in the power supply for the event. The whole event is powered by hydrogen. The fuel cell generators are from AFC Energy and run completely CO2-neutral. This is awesome and can be a positive example for other sporting events such as the European Football Championship or the Bundesliga. Sport in particular offers an opportunity to draw attention to the problems in our world and to show solutions, because we have such a huge range and power. So our sport serves the future.
Sebastian Vettel has spoken out in favor of a speed limit. How do you see it
I tend to try to avoid bans and approach the issues through innovation. Instead of a general speed limit, one could try to manage the whole thing via digital traffic management. When the motorway is full, a speed limit would make sense. If the lane is empty, there is nothing wrong with driving freely, especially if you are driving electrically. People can make friends with such compromises – and it helps too!
Where does Formula 1 have to do more?
Formula 1 is on the right track, even if it could have been further a long time. Still, switching to synthetic fuels soon sends the right message.
To person
Nico Rosberg, 36, was the 2016 F1 world champion in a Mercedes and now has his own team with RXR, with Molly Taylor and Rosberg
Johan Kristoffersson has already taken three wins.
Technical data of the Extreme-E unit vehicle "Odyssey 21"
Maximum power: 400kW / 544 PS
Top speed: 200 km / h
Drive: 2 electric motors (one each on the front and rear axles)
Acceleration 0-100 km / h: 4.5 seconds
Torque: 920 NM
Battery capacity: 55 kWh
Weight: 1650 kg
Championship stand
RosbergXRacing (Johan Kristofferson, Molly Taylor): 129 points
X44 (Sébastien Loeb, Cristina Gutierrez): 113 points
Andretti United Extreme E (Timmy Hansen, Catie Munnings): 93 points
JBXE Racing (Mikaela Ahlin-Kottulinsky, Kevin Hansen): 92 points
Abbot Cupra XE (Jutta Kleinschmidt, Mattias Ekström): 83 points
Acciona Sainz XE Team (Carlos Sainz, Laia Sanz): 78 points
Segi TV Chip Ganassi Racing (Kyle Le Duc, Sara Price): 63 points
Veloce Racing (Jamie Chadwick, Lance Woolridge): 60 points
Xite Energy Racing (Oliver Bennett, Christine Giampaoli Zonca): 55 points
TV tip
ProSieben Maxx and ran.de will broadcast the Extreme E finals live on December 19 from 1 p.m.