Cars
Extreme E Scheider: "Extreme E should really be extreme"
Mr. Scheider, what exactly is your job in Extreme E?
Timo Scheider (43): I am the route designer and develop the routes. In each race week, I test two days beforehand on the respective site and also drive the courses regularly on the race weekends. That's why I have more kilometers under my belt in the extreme electric racing car than the regular drivers.
How do you go about designing the route?
My key experience was in Saudi Arabia. This is exactly what we want to have track layouts. There was the uphill dune passage that was getting narrower and narrower. Then we stood on the downhill section. Everyone said: "Oh God, we can't go down there, that won't work." Alejandro Agag (the series director, editor) was almost a bit disappointed that it didn't work. I let everyone get out, reset the car, and got down there. On TV it didn't even come across how steep these 200, 300 meters went down. Then Alejandro freaked out and said: "That's exactly what we want, that's Extreme E." At that moment, it was clear to me which direction this year should go. But my goal is also to create a good layout for racing so that you can overtake. It helps that I can see it from the driver's perspective.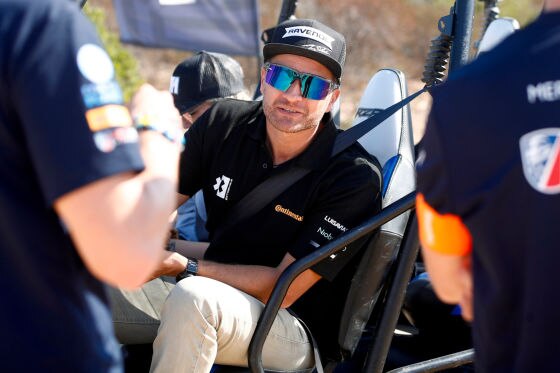 How does the car drive?
You always hear that the cars look unhappy from the point of view of the suspension, i.e. when the car goes into compression and is spat out again. But there are also the opposing voices who say: "That's exactly how it has to be! If I take a little more risk with it and act with sensitivity, I can make a difference and am ten or 20 seconds faster than the rest. "My goal when designing tracks is always that the riders who are better can also be better .
The pilots don't get much to drive on a race weekend.
Of course you can say: We have a series here that only drives a few laps. But in the end you have to see the kilometers. Ten times seven kilometers is 70 kilometers, which is not that much less than a DTM racing distance. Costs and benefits must remain in proportion.
Would you also like to take part in electric racing series yourself?
When I was asked by Audi eight years ago whether I wanted to drive Formula E, I said myself: "What should the Sch …? I'm Petrolhead, it has to be loud and crackle. "But today I know that the world is turning and that a large part of motorsport will be based on electric drives in the medium term. It will not be the pure and only truth to be involved in motorsport in the future, but it will be an addition. In addition, there is the important sustainability thought: We all have families and maybe children and then you are already trying to do your part to make the world a little better.
So you are completely convinced of the Extreme E?
Yes. Sport is used to generate awareness of climate change in places around the world that are suffering from human activity to date. Instead of trucks and airplanes, the paddock and cars are transported to the races by ship. We generate our electricity with hydrogen generators and save on tire consumption. What Alejandro Agag touches, he does very intensively and consistently. He's the Bernie Ecclestone of the electric world. You have to have respect for his commitment, which he shows for motorsport and the electric world.
Technical data of the Extreme-E unit vehicle "Odyssey 21":
Maximum Performance:
400kW / 544 PS
Top speed:
200 km / h
Drive:
2 electric motors (one each on the front and rear axles)
Acceleration 0-100 km / h:
4.5 seconds
Torque:
920 NM
Battery capacity:
55 kWh
Weight:
1650 kg
Championship level:
RosbergXRacing (Johan Kristofferson, Molly Taylor): 129 points
X44 (Sébastien Loeb, Cristina Gutierrez): 113 points
Andretti United Extreme E (Timmy Hansen, Catie Munnings): 93 points
JBXE Racing (Mikaela Ahlin-Kottulinsky, Kevin Hansen): 92 points
Abbot Cupra XE (Jutta Kleinschmidt, Mattias Ekström): 83 points
Acciona Sainz XE Team (Carlos Sainz, Laia Sanz): 78 points
Segi TV Chip Ganassi Racing (Kyle Le Duc, Sara Price): 63 points
Veloce Racing (Jamie Chadwick, Lance Woolridge): 60 points
Xite Energy Racing (Oliver Bennett, Christine Giampaoli Zonca): 55 points
TV tip
ProSieben Maxx and ran.de will broadcast the Extreme E finale on 19.
December live from 1 p.m.