Cars
Faun boss Kirchhoff: Real guys like his vehicles
When little boys are interested in vehicles, they tend to be in those with a flap instead of a flap exhaust. Garbage collector dream job? Still very popular. All-round yellow lights are the little man's spoilers.
Johannes F. Kirchhoff is someone who, even at the age of 60, can still enjoy garbage trucks like a little boy. His overalls are a suit. But when he walks briskly through his vehicle factory in Osterholz-Scharmbeck, where welding and screwing is done everywhere, his eyes light up.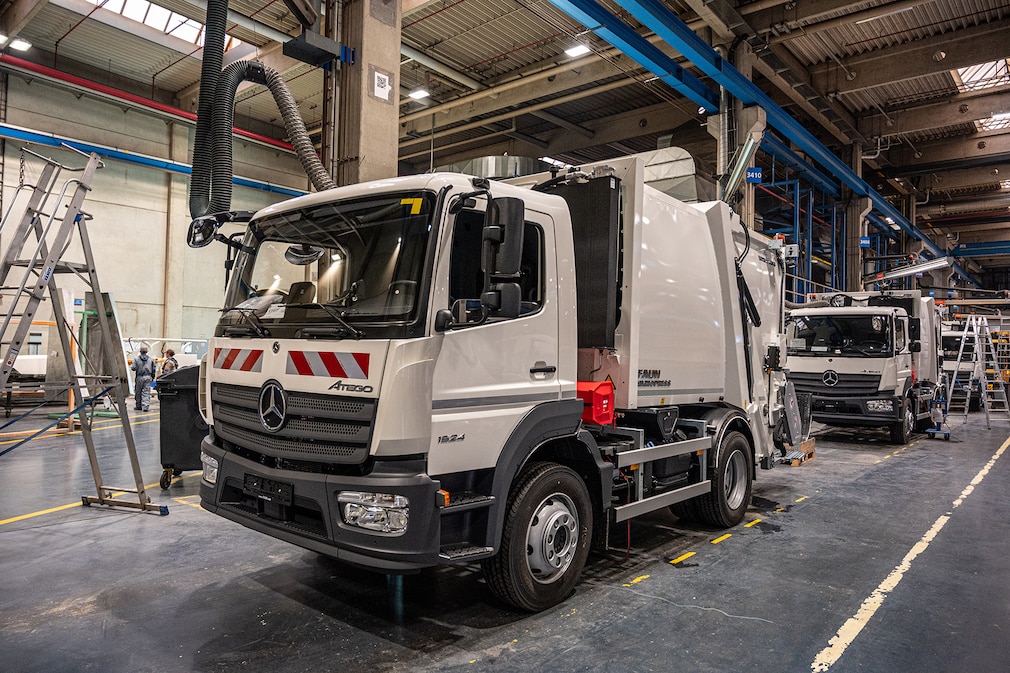 Kirchhoff (64) is a garbage truck maker, boss of Faun, one of the largest manufacturers of municipal vehicles in Germany. The family company employs around 2000 people. 125 years ago, the first waste collectors appeared, at that time still being pulled by horses. The new models are similarly sustainable – drive with fuel cell drives.
The Kirchhoff family bought the shop in 1994 from a Schmidt family, from three older heirs, with business initiation over coffee and cake. This is how German middle class went at that time. It would probably be no different today. Hand on it, done.
Unique in municipal orange
In 2002 the new plant was built near Bremen. Truck manufacturers such as Scania and Mercedes deliver their chassis here. And Faun builds on that. All manufacturing work. Unique items in municipal orange (RAL 2011) or yellow for refuse collection in Hong Kong. "The low one over there is for Munich, there's a bridge there that you can't get under with a normal vehicle," says Johannes F. Kirchhoff.
Mr. Kirchhoff can give long presentations on side loaders, front side loaders, the unique rotating drum wagon, road sweepers and of course the classic rear loader. About "compaction mechanisms" and "press plate loading works". It sounds technical, and it is. But that's the only way. Every German threw 476 kilograms of household waste in the bins in 2020. And somehow they have to be transported to the approximately 1,000 landfill sites.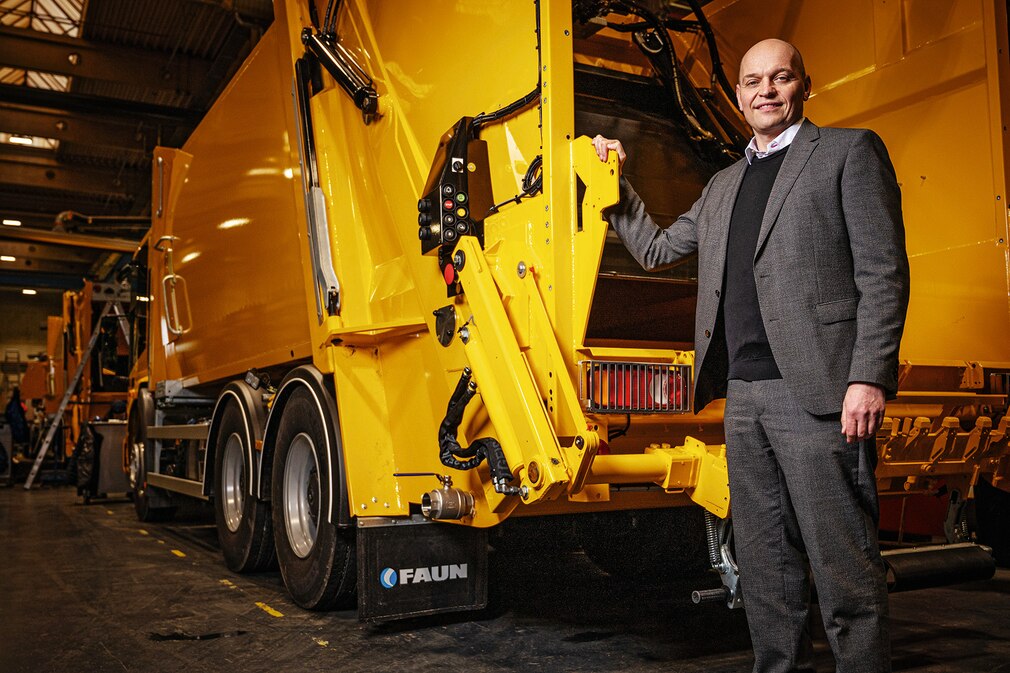 "Variopress" is the name of Faun's bread and butter model, which of course also swallows residual waste or yellow bags in addition to bread and butter organic waste. What it should soon no longer swallow: classic fuel. In five years, Faun wants to deliver every second garbage truck in Germany with fuel cell technology.
Despite all the high-tech: Garbage workers are still on the back, just as they were decades ago. Of course, there are also automated systems. "But how is that supposed to work in cities when there are cars parked everywhere on the side of the road?" says Kirchhoff. The running boards now have sensors. If one is on it, the garbage truck is throttled to Vmax 30 km/h. And then it doesn't go backwards at all.
Use from the Dominican Republic to Asia

What else has changed: women now also do the job. In Berlin since 2018, and in 2019 Hanover campaigned for "free riders".
Over the years, the Kirchhoffs have expanded worldwide through acquisitions. There are own companies in Australia or France, for example. And the garbage trucks are used from the Dominican Republic to Asia. "We make 80 percent of our sales outside of Germany," says Johannes F. Kirchhoff.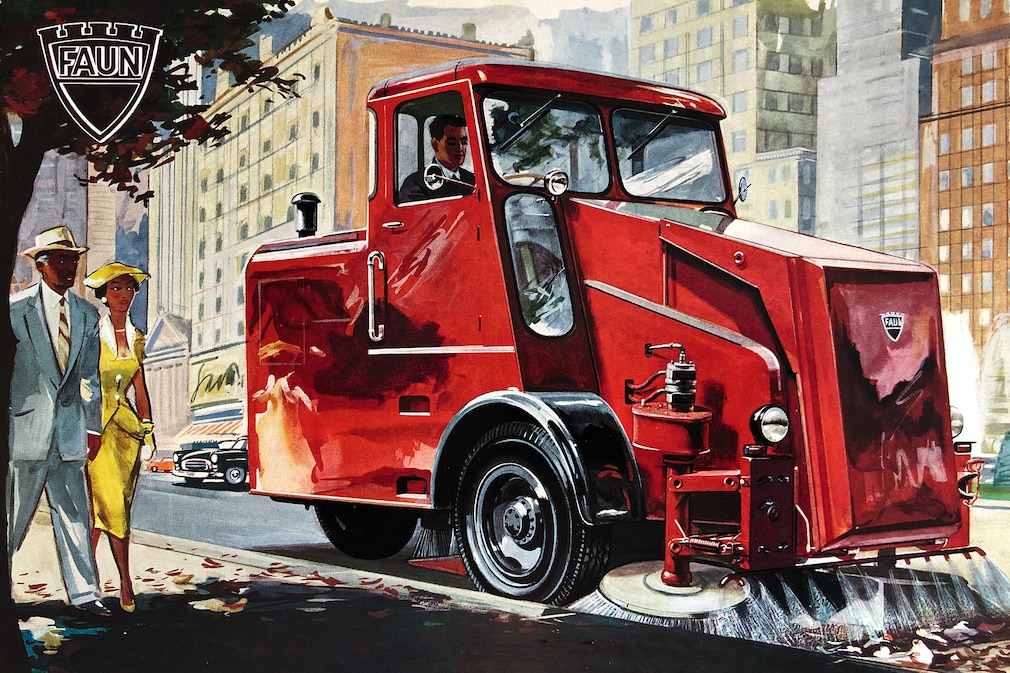 He is responsible for the recycling business, his brothers Wolfgang and Arndt make car parts and vehicle solutions for the disabled. And the Witte tool company also belongs to the family.
Fourth generation family business

In total, the Kirchhoffs from the Sauerland now run around 50 plants with 12,200 women and men in 20 countries. Whether aluminum parts for the Corvette, radiator grille reinforcements for pick-ups or airfield sweepers – everything is included. A fourth generation family business.
The parents of the three boys, both engineers, raised their sons to compete with stopwatches. It was about swimming, running, skiing. Today about turnover, profit and employee satisfaction.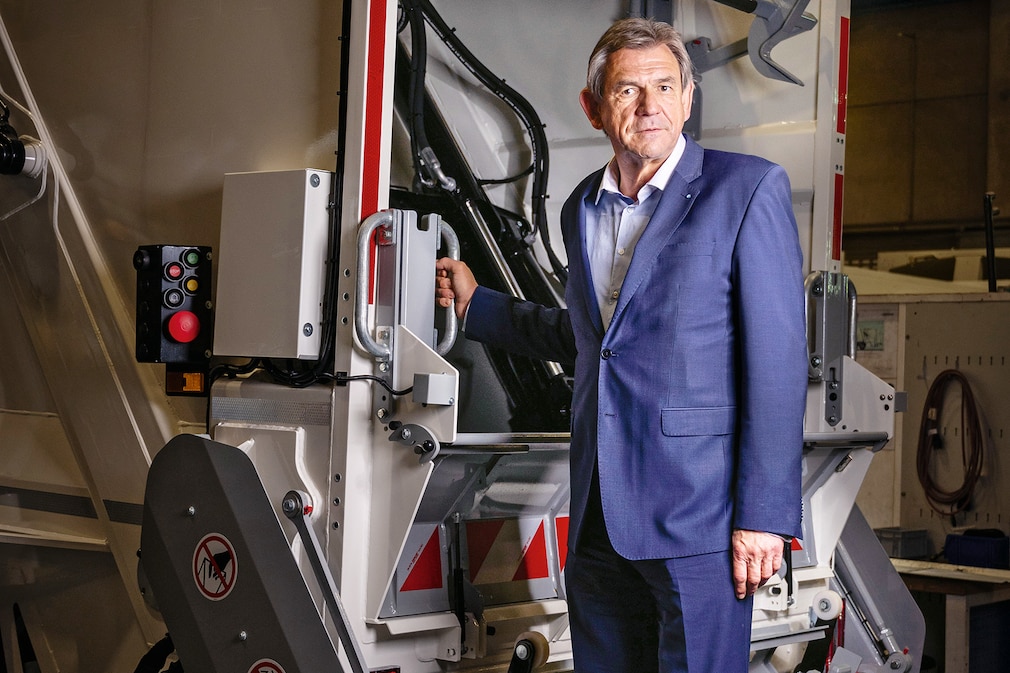 The company outing of the Faun management shows how down-to-earth the family has remained – on board their vehicles. "Every 15 months we stand on the back of the running boards and do a garbage collection tour," says Kirchhoff. After all, he had to know what the rubbish workers, well, stink about.
Garbage collection truck costs around 230,000 euros

Around 12,000 waste collection trucks are on the road in Germany. "Our vehicles last ten years on average," says Kirchhoff. Then the garbage truck goes into the garbage or is recycled. A new one costs about 230,000 euros.
And what does a vehicle manufacturer do on the weekend? "Build a vehicle," says Johannes F. Kirchhoff and laughs. He is currently working on a car kit together with the two youngest of his four children. "They should understand the technical connections." Somebody has to take over the place at some point.
Personal details: Johannes F. Kirchhoff
Doctorate Garbage Man! Doctoral thesis on disposal logistics, also mechanical engineer. Worked from 1982 to 1985 as a design engineer at Daimler-Benz. Head of Faun since 1994. Builds cars with his kids on weekends.