Cars
Fire hazard after an electric car accident: An electric car is sacked here
It takes a good half hour for the VW ID.3, with its shattered windscreen and tattered airbags, to be tied into a compact package. A package weighing a good four tons, which, filled with around 2000 liters of water, is now being hoisted onto a tow truck by a crane. Not on a motorway or federal highway, but on a training ground in Meppen, Lower Saxony.
A new product for recovering electric cars that have been involved in an accident is being demonstrated here: the E-Vehicle Isolation System (EIS for short) is the name of the solution with the coated PVC bag. ICE also because of the cooling effect. Because it is a solution to a problem that is as difficult as it is extremely dangerous. (Which drive poses the greatest fire hazard?)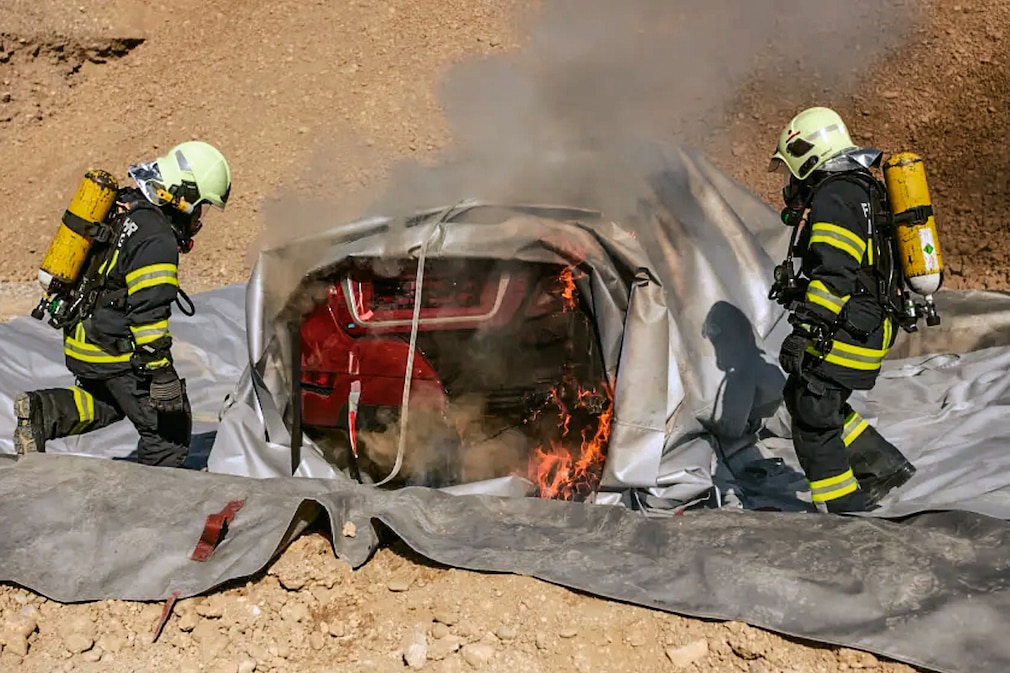 Statistically, cars with combustion engines catch fire around 60 times more often than electric cars, but when a vehicle with high-voltage technology catches fire, the consequences are completely different. The worst is called "thermal runaway": The "thermal runaway" is an unstoppable chain reaction in the batteries, which releases the energy stored in the battery in fractions of a second.
"From 70 degrees you can't stop the thing," explains Marco Pannhausen, sales manager at Vetter, which developed the EIS recovery bag in three and a half years. "Then," says Pannhausen, "the temperatures will rise in a flash to 1,300 degrees."
An electric car can keep on blazing for days
There are a number of reasons for thermal runaway: incorrect currents during charging, external mechanical damage (e.g. accident damage) or an internal short circuit due to a production error.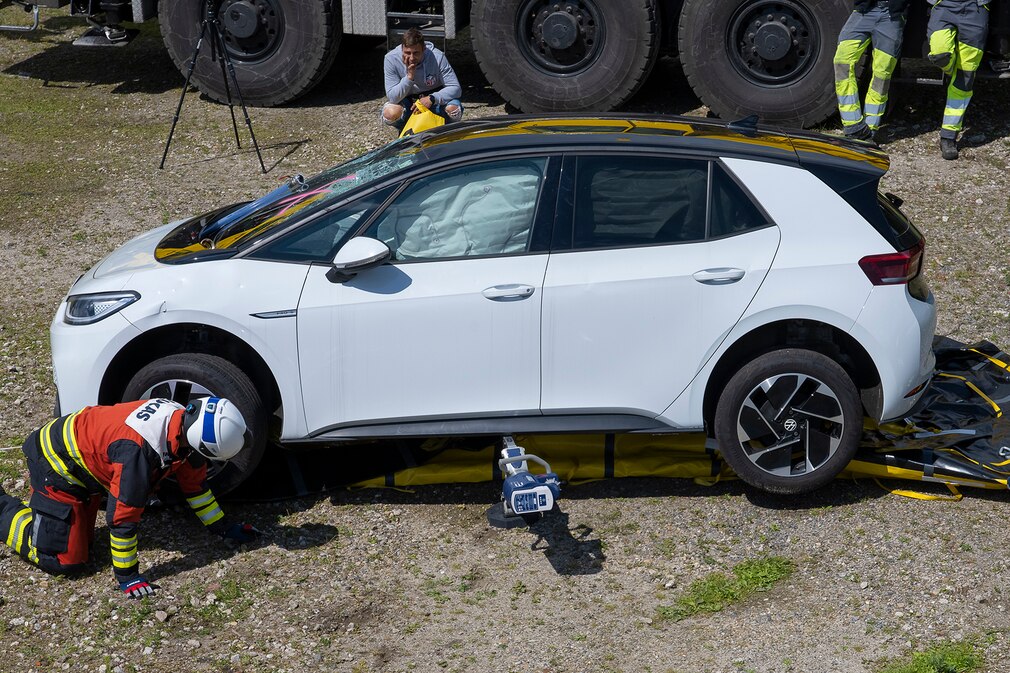 But there is a completely different problem: while classic cars burn out relatively quickly, an electric car can keep on blazing for days. Or the explosion is delayed. Or the fire keeps coming back. This can go on for up to two weeks.
Manufacturers provide a wide variety of information on how to deal with a crashed electric car. Jaguar, for example, stipulates that no other object may stand within a radius of 15 meters around a parked car. And that for up to 14 days.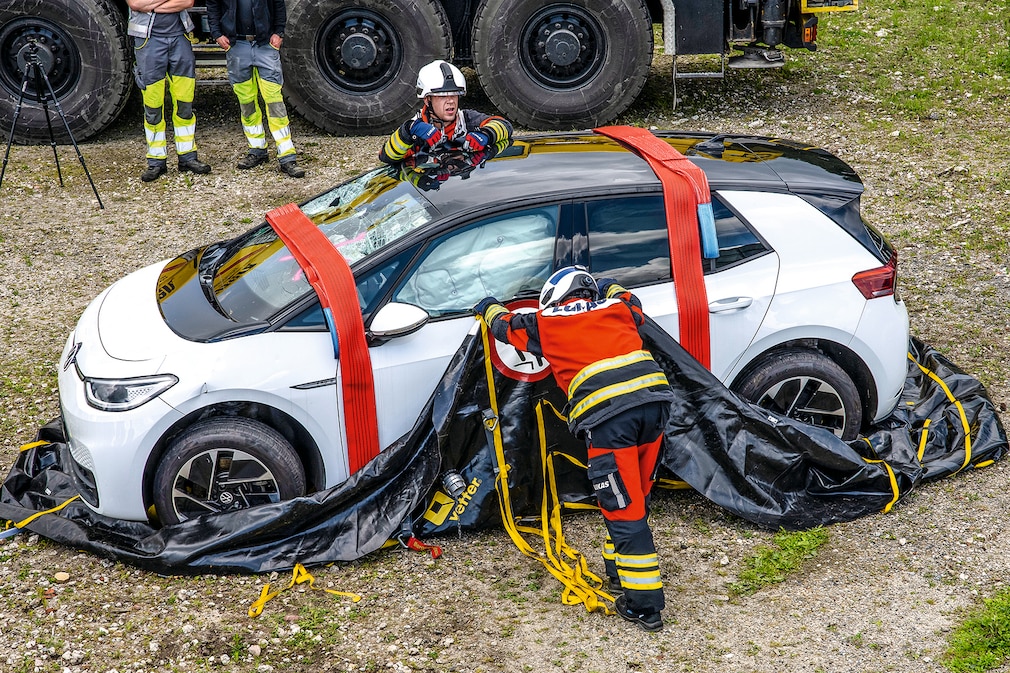 Some towing companies, reports Ralph Janssen, who, as a trainer in the Lukas Rescue League, also trains firefighters in how to recover electric cars, would therefore refuse to charge electric cars – they could catch fire during transport.
Water-filled containers very expensive

There are already solutions to the burning problem. Cars are immersed in containers filled with water and stored there until the risk of fire has passed. Disadvantages: The system is very expensive (around 70,000 euros) and requires a lot of water (up to 10,000 liters).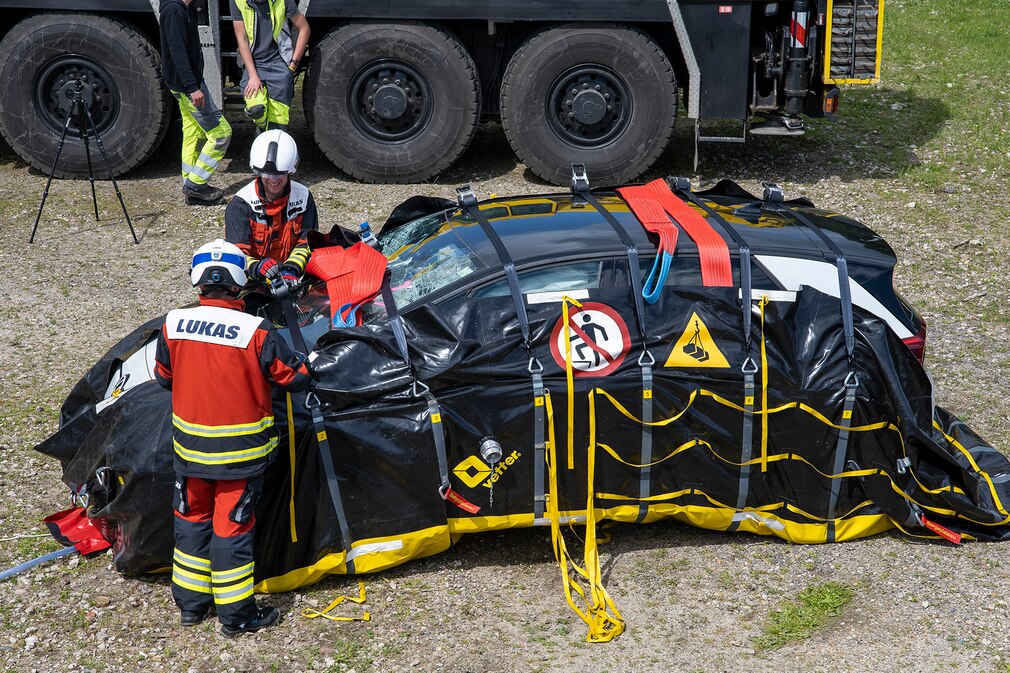 Or quenching spikes can be driven through the battery case to flood the battery with (comparatively little) water. And now, with an extremely heat-resistant fire blanket, attempts are being made to delay the development of fires in e-cars in order to give the rescuers and the fire brigade more room for manoeuvre.
Back to Meppen, where two trained firefighters wrap the ID.3 like a Christmas present. The target of 20 minutes that Pannhausen sets was only reached by four rescuers. Aligning and lifting the car, fixing it to 28 eyelets with tension belts and finally flooding it with 2000 liters of water up to the top edge of the battery is too complex.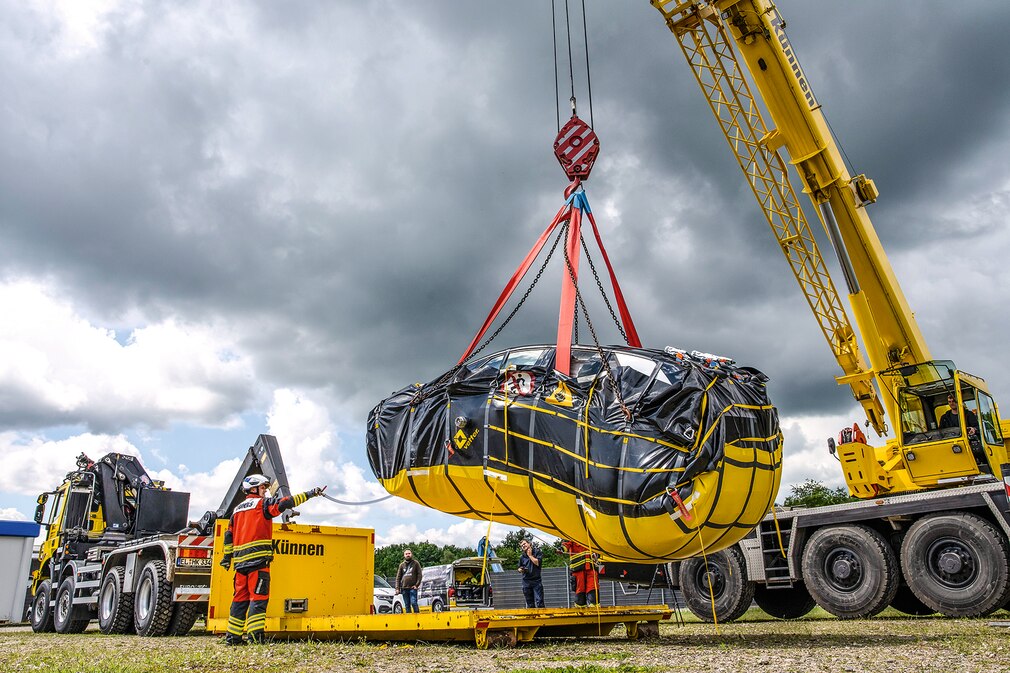 A plug-in hybrid with a battery installed higher requires even more water. And that might be contaminated afterwards if electrolyte leaks out of the battery and reacts with the water. Then hydrofluoric acid can form.
"It is important that the contours are closely matched," explains Marco Pannhausen to the observers. What he means: The package must be tied as tightly as possible. That also takes time.
ICE Sack with weaknesses

But the EIS sack has other weaknesses. Although the demonstration tarpaulin has already been used several times, the 6,000-euro bag is a one-way product when actually used. It must be disposed of as hazardous waste after use. Vetter, the manufacturer of rescue products, is working on a solution to clean and recycle the bag.
But EIS is not suitable for every vehicle: E-transporters are clearly too big for the 500 by 250 centimeter sack tarpaulin. On the other hand, the sales manager describes an advantage of his product, so that the electric car can be stored in the flooded sack without any distance to other objects. He names fire brigades and towing companies as potential customers.
The question of who pays for the bagging of the e-car is still open. Insurers present in Meppen were still reluctant.