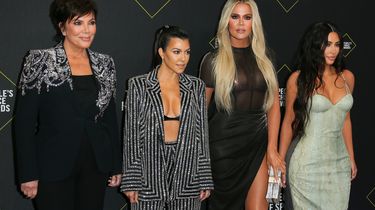 Reality series also suffer from the corona virus. The social distance can be quite difficult to ensure when camera crews, soundmen and directors walk through your house. Fortunately, we don't have to miss The Kardashians yet.
The makers of Keeping Up with The Kardashians have found a very good solution. The women that are followed in the series, as influencer, have a lot of experience with the camera operators themselves. On Snapchat and Instagram, they share videos and photos of themselves and their surroundings all day long. So, the makers thought, why don't they film themselves during the lockdown?
The Kardashians as cameramen
Producer Farnaz Farjam tells us Elle that Kris, Kim, Khloe, Kourtney, Kendall and Kylie do their camerawork themselves using an iPhone. California also has strict guidelines regarding distance keeping, so the cameramen are forced free. Every week, all Kardashians receive a new charge of iPhones to record their daily lives.
The idea comes from producer Farnaz and Kardashian mom Kris Jenner. After a brainstorming session about how the show can still be filmed, Kris came up with the idea to let the ladies do it themselves. Farnaz then arranged for a photographer and technician who arranged the houses of the Kardashians in such a way that the light is good and there are standard good places to set the camera standard.
New dynamics in Keeping Up with The Kardashians
It does, however, provide a completely different dynamic in the series. "When Kris is annoyed and walks out of the camera's view, we can't follow her. She then has to come back and explain in the camera why she is walking away, "says Farnaz. "It is slightly less that we are watching from a distance. We need to give directions to The Kardashians and they need to share more with us. But they are Thee Kardashians, they always entertain us. "
Comedy
Sometimes it even brings something extra. "The phones also record murmurs that we might not hear otherwise, which can be quite funny. Someone said, "Who would have thought it would be so hard to be a cameraman?" "
In any case, there is enough material from the reality stars. In the first week, 16 hours of material had already been shot. Celebrities don't have to be afraid of infection. The new iPhones are brought every Monday by someone who is completely wrapped in protective clothing.