Cars
Ford F-150 Lightning: on tour in the electric XXL pick-up
There is probably no car that has been sung about as often in American music culture as this one: the "Eff Uann Fifftie". Pick-up for the people, millions of sold workhorses of farmers, craftsmen and homeowners.
Used, scratched, dented, but always indestructible for nine generations. The smallest in Ford's F-Series. And the cheapest. He stands in front of houses all over the country, which are often not much bigger than this truck.
The best electric cars
Selected products in tabular overview

| | | |
| --- | --- | --- |
| BMW iX | RRP from EUR 77,300, savings: up to EUR 13,386 | |
| Kia Niro EV | RRP from EUR 47,590, savings of up to EUR 11,164 | |
| Kia EV6 | RRP from EUR 44,990, savings: up to EUR 14,069 / in leasing from EUR 274 | |
| Mercedes EQS | RRP from EUR 97,807, savings: up to EUR 6,152 | |
| Hyundai Ioniq 5 | RRP from EUR 41,900, savings: up to EUR 12,280 / leasing from EUR 234 | |
| Audi Q4 e-tron | RRP from EUR 41,900, savings: up to EUR 12,420 / best leasing price: EUR 89 | |
| Skoda Enyaq iV | RRP from EUR 34,600, savings: up to EUR 11,584 / best leasing price EUR 124 | |
| Mazda MX-30 | RRP from EUR 34,490, savings: up to EUR 13,035 / in leasing from EUR 90 | |
| Opel Corsa-e | RRP from EUR 30,400; Savings: up to EUR 11,920.00 | |
| Smart EQ for two | RRP from EUR 21,940, savings: up to EUR 8,240 / in leasing from EUR 77 | |
| Tesla Model 3 | RRP from EUR 46,560; Savings: up to EUR 7,975 / best leasing price EUR 289.00 | |
| Toyota bZ4X | RRP from EUR 47,490; Savings: up to EUR 10,520.00 | |
| Volvo XC40 Recharge | MSRP from EUR 48,650; Savings: up to EUR 9570.00 | |
In recent years, it has evolved into a digital high-tech model. Smaller, more economical engines, less consumption, less dirt. But always with those arm-thick tailpipes and the sound of the good old V8.
And now this: I roll down the legendary Sunset Boulevard in LA in the latest Ford F-150, no exhaust pipe at the rear, all I can hear is the rolling of the fat tires (this wonderful sound is also sung about in countless country songs).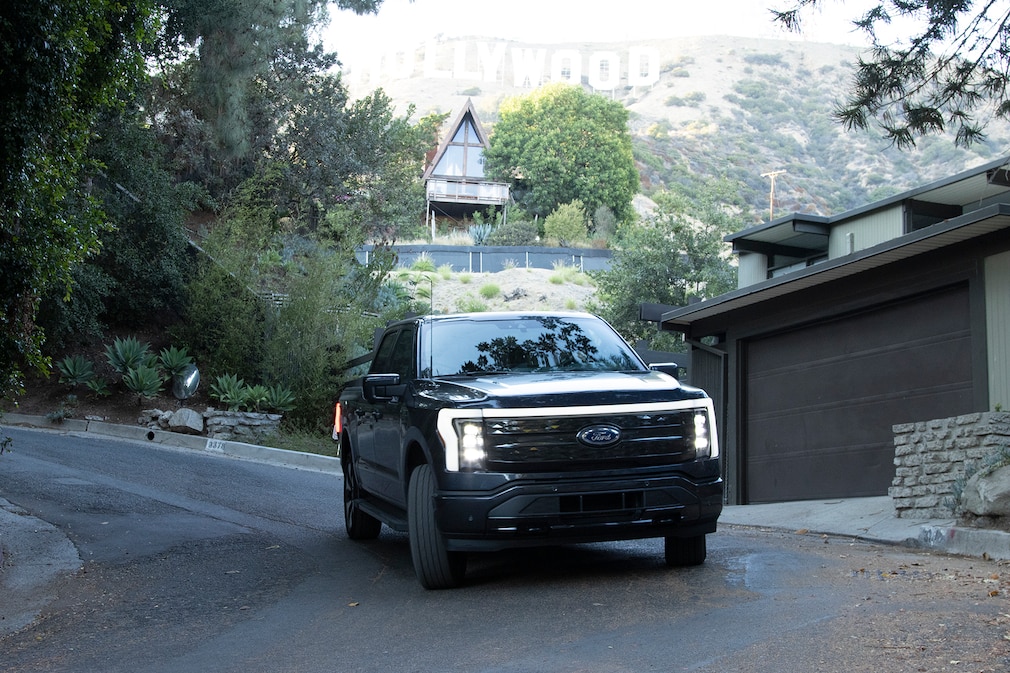 As the sky over Hollywood begins to turn from bright to dark blue, my Ford shows its true colors. The white LED arc across the entire front and the red horizontal light at the rear tell those in the know (and there are many of them here): I drive the F-150 Lightning, the new, all-electric pick-up.
In the electric Ford across California
And people stop, look, almost go crazy, and whoever comes around speaks to me, congratulates me, asks: "Where did you get that? How much does it cost? What can it pull? You lucky guy!"

Yes, I'm a lucky guy on my way from Hollywood to the highways across California. current westward. 2500 kilometers in a car that can revolutionize the US market. Because such a popular model has what it takes to get people excited about a new technology. Even if the entry-level Lightning just got more expensive and now costs $48,769 net.
The high-end version I ride (Platinum) has a price tag of $98,669. The enthusiasm of some (big city) cowboys quickly wanes. But to blast through the dust with electricity instead of gas for the same money is becoming more and more tempting for traditional truckers because of the gas prices.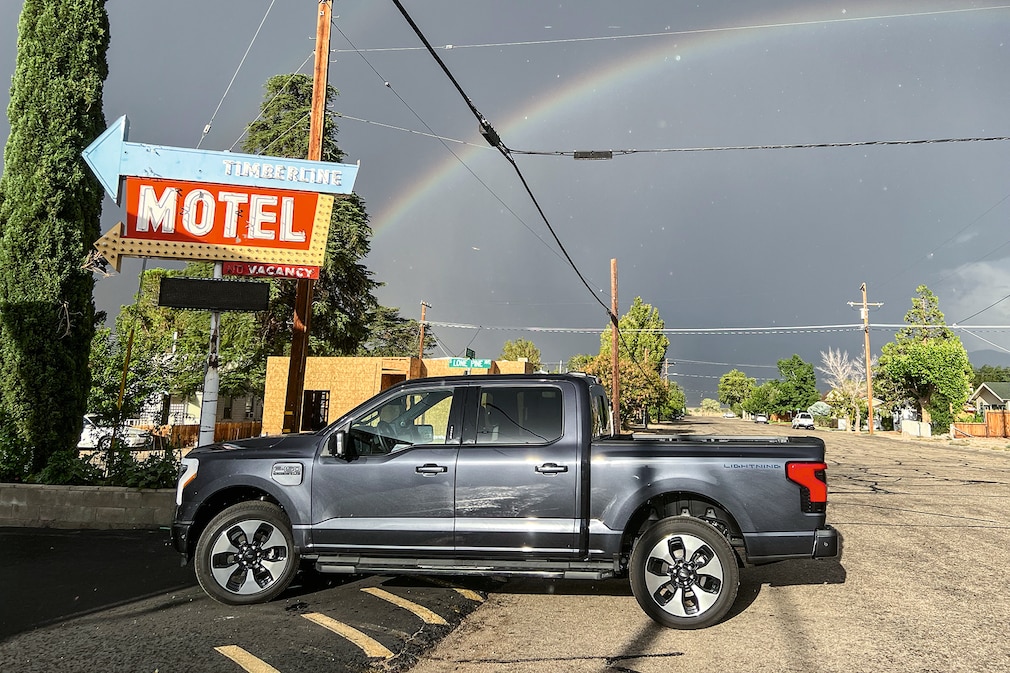 Let's go. The two motors can be supplied with power from the huge 131 kWh battery at the touch of a button and briefly show how powerfully a three-ton pick-up can accelerate.
When the traffic light starts, the e-pickup easily outperforms many sports cars

After a few sports car drivers next to me at the traffic light probably only said "What the truck?" think, when I leave them, I change the driving program from "Sport" to "Normal" and ride my Lightning out of the big city and onto the country road.
First destination: the western town of Lone Pine. Theoretically, I wouldn't need to charge for the 330 kilometers there, because my Lightning has a range of 480 kilometers (a maximum of even 514 kilometers is possible).
Consumption is higher than expected

But the consumption is higher than expected, although I let the Ford roll and do not exceed 130 km/h. So just to be on the safe side, a twelve-minute charging stop at the fast charging station in the desert.
In Lone Pine, the owner of the motel I'm staying at has a thousand questions about the car. And is amazed when he learns that I can charge bidirectionally, i.e. also supply a Tesla with electricity. Or he can connect his tools to the sockets on the loading area.
Where do I have my luggage? he asks, looking at the empty area behind the double cabin. Without a word and at the push of a button, I fold up the front hood and he stares in amazement at my two suitcases, which fit into the 400-liter frunk (front trunk).
The equipment of the F-150 Lightning is more than noble
In general, the equipment: more than noble. Fully digital cockpit, state-of-the-art connectivity, a huge 15.5-inch touchscreen, 360-degree camera, digital scales for the truck bed. Plus BlueCruise, Ford's level 2 autonomous driving. That and much more under a glass roof and the wide open sky of California.
I leave Lone Pine on the beautiful Highway 395 towards Reno. It's 423 kilometers to get there. The 395 is actually a country road, perfect for the Lightning, which now uses a good 28 kWh.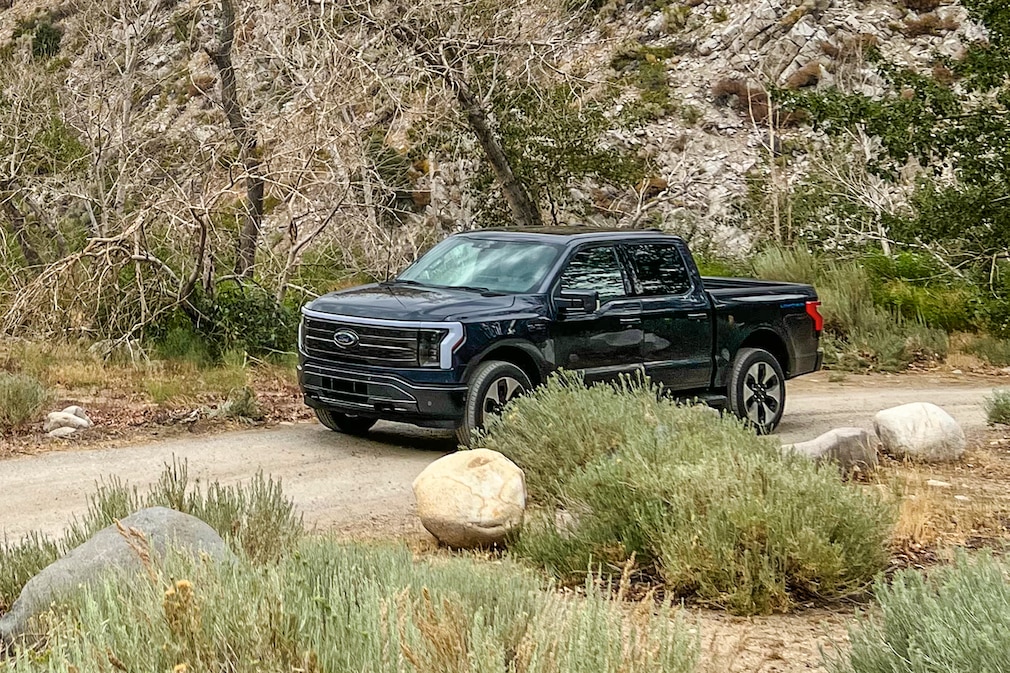 I find my favorite country band on digital radio and hear them through 18 Bang & Olufsen speakers. In Reno, I can charge for free in a hotel garage – with just 6.6 kW. But I have all night.
In Gambling Town, I lose $100 at the blackjack table but make a new friend 32 miles west. Kurt, a GM pickup driver from the town of Truckee, wants to know everything about my Lightning. But I can't convince him. "I would take a diesel hybrid. It consumes little but doesn't need a charging station."
150 km more range after 10 minutes at the charging station

I now use less electricity on the way to San Francisco. Because it goes down almost 2000 meters and I let the Lightning roll again. A good 170 kW of energy is pumped into the battery on a 350 kW charger; after ten minutes I have electricity for another 150 km.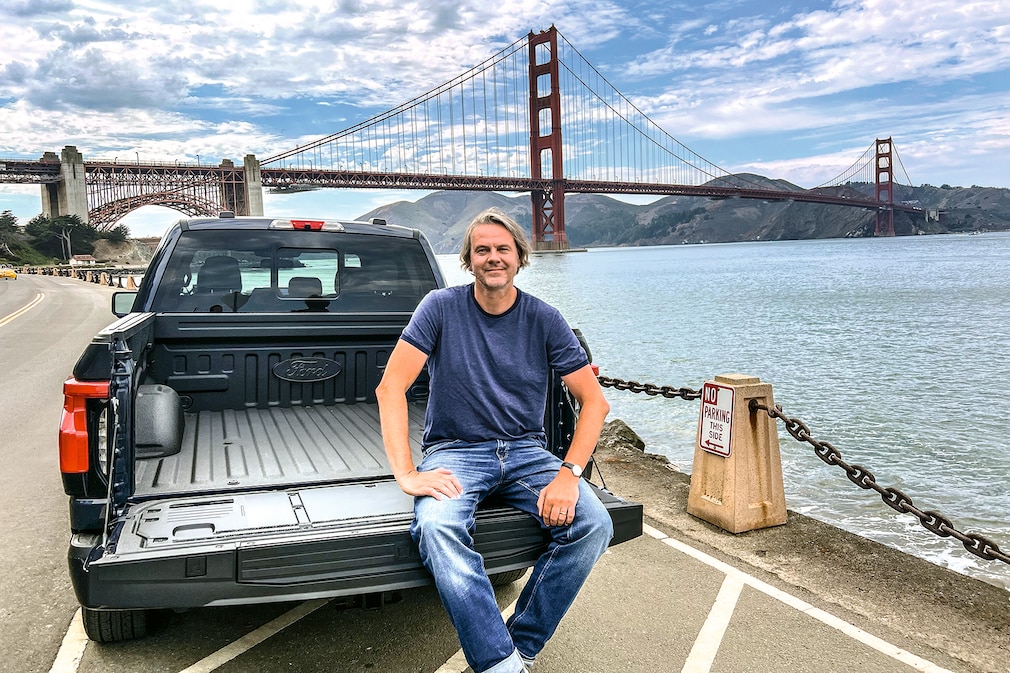 Because the next day comes the mammoth route. From San Francisco back to Los Angeles: a good 600 kilometers. Halfway down at Harris Ranch, I stop for 40 minutes for lunch for a 1 pound steak. In the meantime my truck has charged 79 kWh, enough for the second leg to Hollywood.
"Big wheels keep on turnin'", I sing and wonder if Ford will also bring the F-150 Lightning to Germany. I know that Martin Sander, Ford's EV boss for Europe, is asking the same question right now.
As night falls on the Sunset Strip, among the nightclubs and strip joints, I too sin again. I turn on the Propulsion Sound for a few miles, which is supposed to give my electric rider a classic engine sound. But it sounds artificial. The F-150 didn't deserve that. The electric drive does.
Specifications and price: Ford F-150 Lightning
• Drive one electric motor per axle; four wheel drive; input gear
• Perfomance 426 kW (580 hp)
• Max. Torque 1050 Nm
• Battery capacity 131 kWh (net)
• maximum range 480 km
• Charging power up to 170 kW
• L/W/H 5911/2032/1989mm
• curb weight 3130kg
• Payload 839 kg
• Towing capacity 3.8t
• 0-100km/h 4.5s
• Top speed 180km/h
• Test consumption 28.4kWh/100km
• Test car price $98,669 (net)