Cars
Ford Focus RS: Early Sport Focuses are very rare today
Looking back at 2002: The Focus is one of the most dynamic compact cars, and Ford has received a lot of praise for the successful coordination of springs and dampers. Accordingly, fans are longingly waiting for the sportiest version of the Cologne – and are seriously disappointed at first: The RS comes exclusively with front-wheel drive on the market. So was the Focus RS a failure from the start? No, definitely not.
Because Ford made technical efforts to get the Focus RS off understeer and drive influences in the steering. In addition, a limited-slip differential from the Quaife brand is used, which is supposed to prevent power loss on one of the two front wheels. The chassis is hard tuned. The RS remains neutral for a long time in corners, only understeers very late, thanks in part to its low weight of just 1280 kilograms. At 215 horsepower, results in less than six kilograms per horsepower. ESP and ASR do not exist.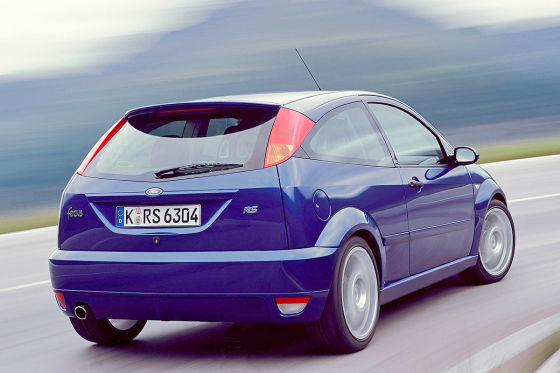 The Ford engine in the RS is old turbo school
The two-liter four-cylinder from Cologne is an engine like the one in the turbo textbook. Little happens below 3000 revolutions per minute, only above is real steam in the boiler. The power is transmitted manually via a five-speed gearbox. In 2002 Ford already had six-speed transmissions – but probably none that could cope with the 310 Newton meters of the RS. Either way, 6.7 seconds from 0 to 100 and 232 km / h top speed are still respectable values ​​today. A wonderfully aggressive, Turbo typical dull sound. A ensures stability when decelerating Brembo braking system.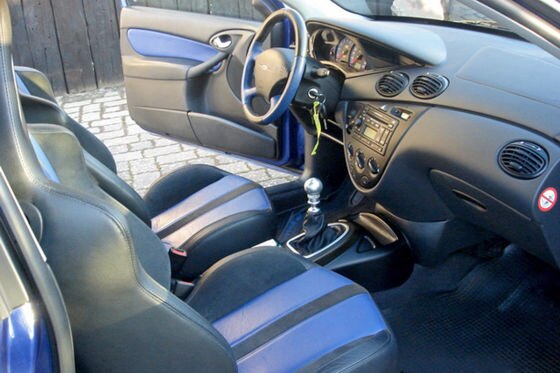 The interior is RS-typical: many blue accents, sport seats from Sparco, aluminum pedals and a green start button between the seats are the most noticeable features of the hottest Focus Mk1. The RS has good all-round visibility in common with the normal model, thanks to the large glass surfaces.
The first RS was limited to 4501 copies
The Ford Focus RS is a real head of character. An uncompromising compact sports car that you like or not – even without all-wheel drive. Comfort and design are clearly subordinate to the idea of ​​driving pleasure. However, today it is difficult to get this special pleasure. Because: The first Focus RS is an extremely rare car and was limited to 4501 copies. It is only available in Imperial Blue as standard.
How expensive are used Focus RSs today?
Original Focus RSs are hard to come by today – and expensive. It starts at around 20,000 euros for copies with high mileage. Anyone looking for a well-maintained car with less than 100,000 kilometers should plan at least 5000 euros more. The equipment is identical in all RS and pleasingly complete. (Calculate maintenance costs? To the car insurance comparison)