Cars
Formula 1 2022 – Verstappen vs. Leclerc: duel at eye level
It was a fight on a knife edge: the lead changed several times until in the end world champion Max Verstappen (24) just ahead of Ferrari protagonist Charles Leclerc (24) secured his first win of the season. At least in terms of sport, the otherwise extremely controversial Saudi Arabian Grand Prix was an eye-catcher.
He also showed the trend emerging this season. There is a close battle between Verstappen and Leclerc, between Ferrari and Red Bull. Last year, Mercedes superstar Lewis Hamilton was the rival of the gifted Dutchman, this year it seems to be Monegasse Leclerc, who is also highly talented.
Both fight with almost the same weapons. Sky expert Ralf Schumacher raves at ABMS: "It's been a long time since two teams fought as equals," said the ex-Formula 1 driver. "The last time was in 2010. It was between Red Bull and Ferrari then, too."
What the six-time GP winner means: In 2010 the world championship was only decided in the last race in Abu Dhabi. At that time, three drivers still had realistic chances of winning the title. Ferrari star Fernando Alonso and the two Red Bull drivers Mark Webber and Sebastian Vettel. In a dramatic race, the German won the race and his first of four titles.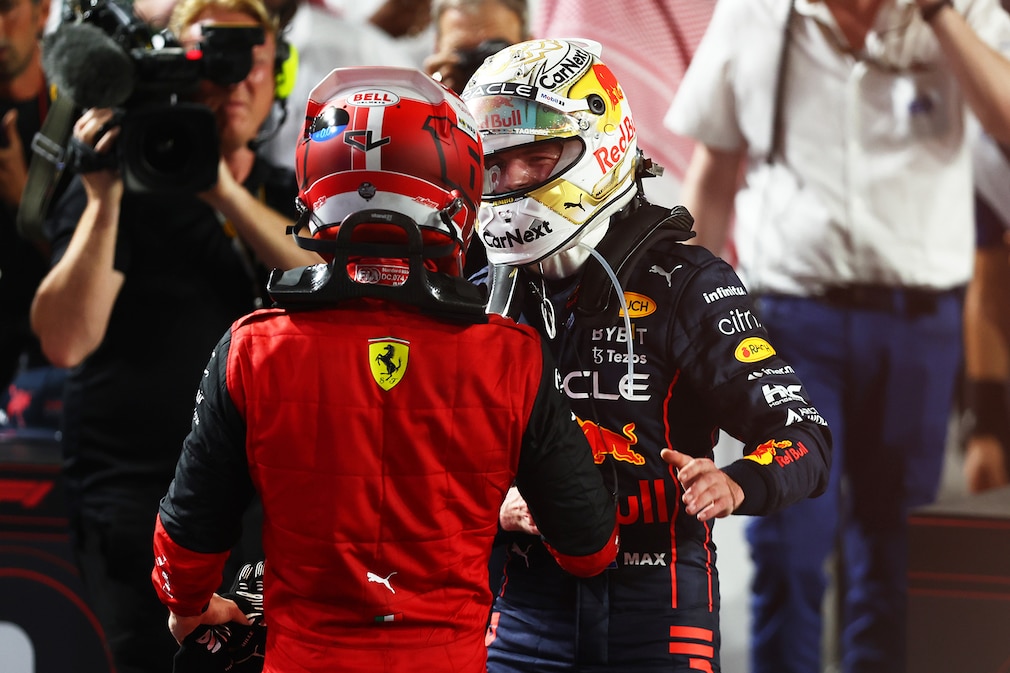 After two of 23 races, Leclerc is now leading the championship with 45 points ahead of his teammate Carlos Sainz (33). Verstappen follows with 25 points. Without his technical failure at the debut race in Bahrain, the two competitors would be almost even. "That hit us hard," says Helmut Marko to ABMS, "but there is still enough time to regain the lead. Saudi Arabia was just the beginning."
Basically, Ferrari is an opponent on an equal footing: Marko: "Ferrari has an extremely compact car that is always fast: in slow corners, in fast ones, on the straight. No matter what tires, no matter what temperatures. A great opponent," said the Grazer. The Red Bull is perhaps a bit faster and more delicate, "but", says Marko, "our car is more difficult to set up than the Ferrari. If everything doesn't fit, things will get tight."
According to Ralf Schumacher, further development is ultimately the key to success: "The cars that were built according to completely new regulations are still relatively early in their development. I think Ferrari is the furthest along at the moment. But Red Bull is a master at making a car faster over the course of a season. Ferrari has to counter that, otherwise it will be difficult with the title. But I think they know that."
It fits: Red Bull has already announced a major update package for the race after next, the European opener in Imola. Alone: ​​It is hard to imagine that Ferrari will not also give their reinvigorated red goddess a fresh cell treatment with new parts at their home race. It remains exciting…

Formula 1 on TV
In 2022, Formula 1 will run on Sky. Last year, the broadcaster introduced a new TV channel especially for the premier class: Sky Formula 1. Here there is motorsport 24 hours a day. All practice sessions, all qualifying sessions, all races are always live and without commercial breaks. In addition, Sky also broadcasts the support races Formula 2, Formula 3 and the Porsche Supercup. Historical races and special programs are also on the programme.