Cars
Formula 1: After qualifying bankruptcy in Mexico: Red Bull angry with Tsunoda
Red Bull had imagined it very differently: After the strong training appearances, the team around World Cup leader Max Verstappen was the big favorite for pole position in Mexico qualifying. In the decisive top 10 shootout, however, the bulls' performance collapses dramatically. "We clearly underperformed in Q3," explains team boss Christian Horner.
Verstappen himself is annoyed: "That was a terrible qualifying from our side. Then you deserve to be where we are now." Although the Dutchman is increasingly struggling with the balance of his Red Bull with the rising track temperatures, he believes: "The first lap in Q3 was horror, but the second looked pretty good. That could still have been enough for pole."
If it hadn't been for Yuki Tsunoda: The rookie from Junior Team AlphaTauri is strolling around in the middle when the fast cops come from behind. Sergio Perez lets himself be irritated and goes off the track. "I don't really know what happened. Both of them went far ahead of me, I only saw dust and the gas because I thought there was a yellow flag. Then the lap was of course destroyed," says Verstappen.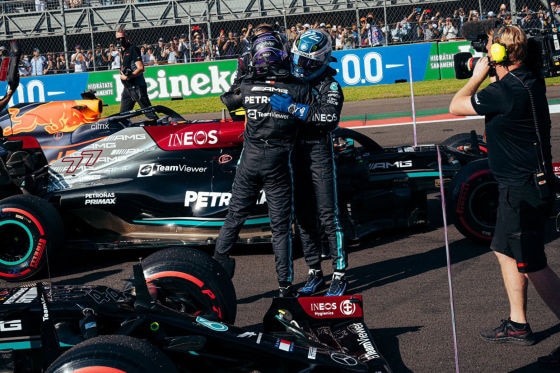 Red Bull team boss Christian Horner is not very enthusiastic about the Japanese: "We were tsunodert," he comments on the questions about Red Bull's unexpected defeat. "I really don't know why Yuki drives around there," says the Briton, whose racing team has also been criticized. "With two teams that belong together, communication simply has to run much better. Yuki should never have been there," says ex-F1 driver and Sky expert Karun Chandhok.
In the close world championship duel with Mercedes, Red Bull's mistake can cost dearly. Team boss Horner does not throw the gun in the grain yet: "Of course we are disappointed today, but also optimistic for tomorrow, because we have a fast racing car." Nevertheless, Horner has no illusions: "Mercedes has good speed on the straights, which is why it will be difficult. You cannot drive close behind for a long time, because otherwise the temperatures will get out of control."
Verstappen therefore senses his best chance on the long way to the first corner: "We now have to focus on the start and see what happens in turn one. Starting position three is not great, but still better than second." World Cup rival Lewis Hamilton is on it. The Briton starts behind pole-setter Valtteri Bottas from the dirty side of the road. Unexpectedly, Mercedes finds itself in the role of the hunted.
"All of our planning was actually geared towards what we would do when we set off from three and four," admits sports director Toto Wolff. "But I'm very happy that we regained the momentum. We were way behind, but from Q2 we suddenly developed our potential. Red Bull, on the other hand, has made no further progress. I don't know why, any more than they probably do. "
Lewis Hamilton also explains: "We are all shocked that we are in front. They were faster all weekend, first six tenths, then still four. No matter what we did, we were never able to close the gap." The Brit asserts: "It was simply never on the table that we would take pole today. It's really crazy. But of course I'm very grateful that it looks like this for us now."
Formula 1 on TV
Formula 1 will run at Sky in 2021. The station is setting up its own TV station for the new era: Sky Formula 1. Here there is motorsport 24 hours a day. All training sessions, all qualifying sessions, all races always live and without commercial breaks. Sky also broadcasts the Formula 2, Formula 3 and Porsche Supercup races. The program also includes historical races and special programs. You can find more information here