Cars
Formula 1: Alonso turns Schumacher around
Although Haas team boss Günther Steiner had wished for a bit of rain and the associated unpredictability for the Turkish GP, and will get both on Sunday, the dream of the first points for Mick Schumacher in Istanbul is quickly over.
One and a half laps Schumi Jr. comes from his sensational 14th starting position, then he is cleared by Fernando Alonso in the Alpine. Ironically, his father's last World Cup rival turns Mick around in turn four. Alonso, at the start himself the victim of a similar action by Pierre Gasly, gets five penalty seconds and apologizes to Mick: "A late maneuver on my part. Unfortunately we touched and he spun. Of course I accept the penalty, the collision does me sorry, "says the Spanish old master.
The young Schumacher accepts his apology without further ado, Alonso even defends: "These things happen. Especially in those parts of the track where you have a long bend in front of you and are already preparing for the next one. You dive inside and this time it just didn't work, "says the Haas rookie, showing his understanding for his opponent, who is 18 years older than him.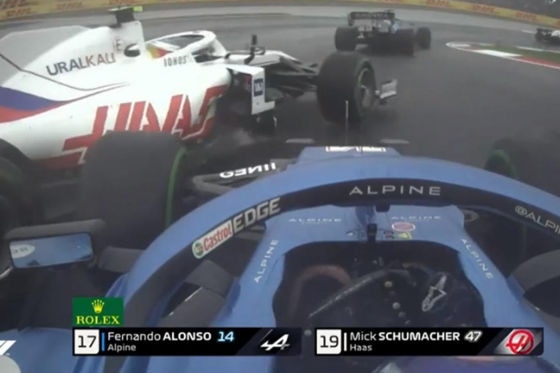 The fact that Schumacher takes the setback with ease also has to do with Haas' racing pace in Istanbul. The US racers are once again the slowest cars in the field. Since there were no failures on Sunday, Schumacher and his team-mate Nikita Mazepin finished the Grand Prix behind in the last two places.
"After touching it (with Alonso; d. Red.) The car no longer felt one hundred percent, maybe that's an explanation," says Schumacher, referring to the significantly weaker performance compared to the strong qualifying. To win the team-internal duel with Mazepin, however, it is enough even in a wounded car: Although Mick initially falls behind the Russians after his spin, he grabs him again with the better pace using the strategy. Another slap in the face for Mazepin.
In the end, Schumacher is more than satisfied with his weekend in Turkey: "Overall, we can be very happy with it. Without much chaos, we knew that it would be tough today. That's why we ended up where we would otherwise have ended up." Probably even without the Alonso collision, as Schumacher admits: "I don't see that I would have crossed the finish line five places further up, at most one."
"We learned a lot, such as how to be competitive at the start", Schumacher draws a positive conclusion and suggests that he has inherited not only the talent but also the world championship of his father: "There is no reason to be unhappy. We don't drive for the championship. I just take everything that went well with me from here. I leave everything bad behind me. "
Formula 1 on TV
Formula 1 will run at Sky in 2021. The station is setting up its own TV station for the new era: Sky Formula 1. Here there is motorsport 24 hours a day. All training sessions, all qualifying sessions, all races always live and without commercial breaks. Sky also broadcasts the Formula 2, Formula 3 and Porsche Supercup races. The program also includes historical races and special programs. You can find more information here