Cars
Formula 1: AlphaTauri and Ferrari strong
Surprise during the first free practice session for the Bahrain Grand Prix, the season opener of the 2022 Formula 1 World Championship. AlphaTauri driver Pierre Gasly set the first best time of the year on the asphalt. The Frenchman lapped the 5.412-kilometre circuit in 1:34.193 minutes. Ferrari teammates Charles Leclerc and Carlos Sainz landed directly behind.
After the failure of the corona-positive Sebastian Vettel, substitute Nico Hülkenberg came 14th on his comeback as the "Fireman of Formula 1", Mick Schumacher ended up in fifth place. Vice world champion Lewis Hamilton had to settle for seventh place in the Mercedes. However, the times are not representative. In the first free practice session, the teams traditionally only slowly approach their true potential.
It already looks different verbally. Hamilton has already issued a first warning to Verstappen. "I'll be a more aggressive driver this year, you'll see," said the Mercedes star with an ambiguous smile on his face when asked about future duels with Verstappen.
Verstappen, on the other hand, made fun of Mercedes' alleged problems during the test drives yesterday. "You'll be at the back. From your comments you have a terrible car I think. And that since 2017," emphasized the Red Bull champion with a sardonic irony. According to Verstappen, Mercedes deliberately talks itself weak.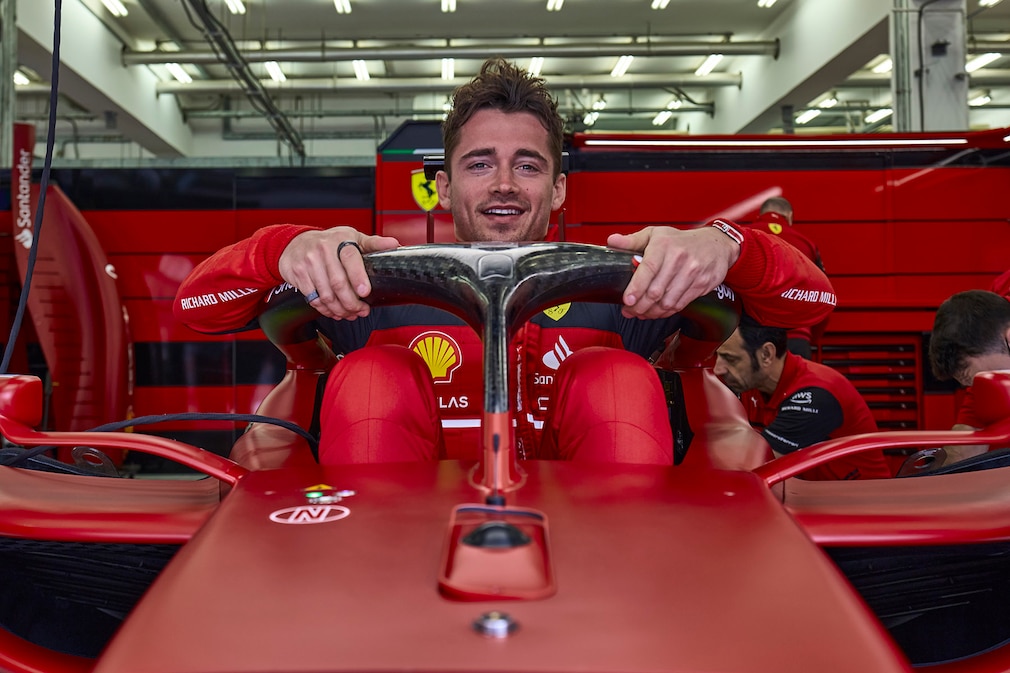 The Dutchman wants to defend his title this year. "The motivation is the same and even higher because you want to keep winning," said Verstappen. His first title took the burden off him. "This pressure of wanting and needing it," admits the Red Bull star, who, unlike Hamilton in previous years, had the 1 stuck on his car.
The new edition of the duel of the century should lure the fans in front of the screens again this year. However, Hamilton does not think about revenge for the lost final in Abu Dhabi: "That's not how I tick, that's not how I approach the season. I want to be the best that I can be. I don't hold grudges, I don't have a burden to carry into the season."
Bahrain Formula 1 Grand Prix
1. Free practice
1. Pierre Gasly (France) – Alpha Tauri 1:34.193 min.
2. Charles Leclerc (Monaco) – Ferrari +0.364s
3. Carlos Sainz Jr (Spain) – Ferrari +0.418
4. George Russell (Great Britain) – Mercedes +0.436
5. Max Verstappen (Netherlands) – Red Bull +0.549
6. Lance Stroll (Canada) – Aston Martin +0.621
7. Lewis Hamilton (Great Britain) – Mercedes +0.750
8. Fernando Alonso (Spain) – Alpine +0.807
9. Yuki Tsunoda (Japan) – Alpha Tauri +0.835
10. Sergio Perez (Mexico) – Red Bull +0.857
11. Zhou Guanyu (China) – Alfa Romeo +0.860
12. Esteban Ocon (France) – Alpine +0.958
13. Nicholas Latifi (Canada) – Williams +1.451
14. Nico Hulkenberg (Emmerich) – Aston Martin +1.622
15. Alexander Albon (Thailand) – Williams +1.730
16. Lando Norris (Great Britain) – McLaren +2.111
17. Daniel Ricciardo (Australia) – McLaren +2.209
18. Mick Schumacher (Gland/Switzerland) – Haas +2.343
19. Kevin Magnussen (Denmark) – Haas +2.611
20. Valtteri Bottas (Finland) – Alfa Romeo – (3rd lap)

Formula 1 on TV
In 2022, Formula 1 will run on Sky. Last year, the broadcaster introduced a new TV channel especially for the premier class: Sky Formula 1. Here there is motorsport 24 hours a day. All practice sessions, all qualifying sessions, all races are always live and without commercial breaks. In addition, Sky also broadcasts the support races Formula 2, Formula 3 and the Porsche Supercup. The program also includes historic races and special programs.