Cars
Formula 1 – Berger: Hamilton will continue to chase the eighth title
Sir Lewis Hamilton (36) really let his bad mood out after qualifying in Imola. "Damn, where are we going?" the premier class superstar snapped at his boss Toto Wolff after his 13th place. The team boss replied something reassuring but not understandable. Later he dutifully praised the seven-time world champion, who is already a kind of idol for the "Silver Arrows". Wolff defended his icon: "I think both drivers are doing their best at the moment and are outperforming the car."
But one thing is certain: things are not going smoothly for the most important driver in the top class of automobiles in their field at the moment. His Mercedes is only third force. And for two reasons. Firstly, the engine advantage that Mercedes has had since the introduction of the hybrid era in 2014 is no longer present this year. Ferrari and Honda have overtaken the former class leaders in the engine sector, Renault is on par.
Second, and even worse for Hamilton: teammate George Russell (23) gets along better with the silver diva, which is difficult to drive. While Hamilton is in seventh place after four races with 28 points, which is ridiculous by his standards, his British compatriot in fourth with 49 points is still reasonably close to the top.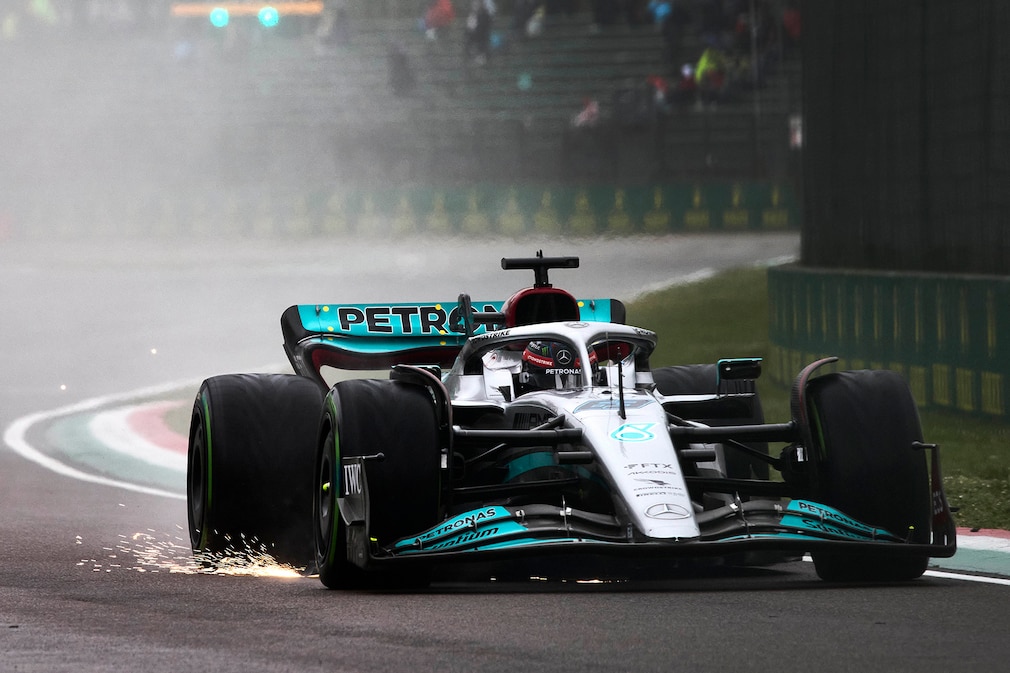 Critical voices are already coming from the ambush, throwing into the room that the seven-time champion may have passed the zenith of his performance. One of them is Hamilton's ex-teammate Nico Rosberg. The 2016 world champion etched on Sky: "Toto takes the blame himself, tries to support Lewis mentally, lifts him up and says: 'Hey Lewis, this is not up to you, it's up to us.' That's very clever because it's not quite the truth. Because let's not forget that driving the same car at Imola, George Russell was able to finish fourth while Lewis was only 13th. So Lewis definitely played a big part in that poor result this weekend."
Alone: ​​Hamilton's form low seems to have reasons. Ex-Formula 1 driver Marc Surer analyzes at Newsabc: "Due to the three years he previously spent at Williams, Russell is simply more used to getting the best out of a difficult-to-drive car. Lewis no longer knows that. He has to get that back now."
Formula 1 icon Gerhard Berger also kept a special eye on Hamilton in Imola. At Newsabc, today's DTM boss comes to the conclusion: "It's very simple: Russell risks more because he's younger. If Lewis were to fight for victories, he too would drive more with a knife between his teeth. When it comes to 13th place, but understandably that doesn't make sense for him anymore."
The Englishman, who was beaten to the sir, does not work on individual race results, but on his legend. Berger continues: "Lewis' goal is to become the sole record holder with the eighth title. This goal slipped out of his hands in Abu Dhabi in December under dramatic circumstances at the last second. But I think he's still working on it. And if it just happened next year." Background: Hamilton's contract with Mercedes does not expire until the end of 2023.
For the former Ferrari driver Berger, one thing is certain: "For me, Lewis is still the most complete driver of all in the combination of pure speed and experience." But at some point the moment will come when the zenith will be exceeded. The clock is ticking for Hamilton.
Formula 1 on TV
In 2022, Formula 1 will run on Sky. Last year, the broadcaster introduced a new TV channel especially for the premier class: Sky Formula 1. Here there is motorsport 24 hours a day. All practice sessions, all qualifying sessions, all races are always live and without commercial breaks. In addition, Sky also broadcasts the support races Formula 2, Formula 3 and the Porsche Supercup. Historical races and special programs are also on the programme.