Cars
Formula 1 – Canada: penalty for Leclerc, Hamilton bursts the collar
Will the Canadian GP be easy for world champion Max Verstappen? The Red Bull star turns the fastest lap in both practice sessions on Friday, while his World Cup rivals are having problems: teammate Sergio Perez is more than his second slower in the afternoon, while Ferrari star Charles Leclerc has to start from further back in Montreal.
After his second failure in the last three races caused by a defect in the drive, various engine components are exchanged at Leclerc: For the third control unit of the hybrid system, the Monegasque receives a ten-place drop on the starting grid. In practice, Leclerc is only 81 thousandths behind Verstappen's best time of 1:14.127 minutes, while team-mate Carlos Sainz is 0.225 seconds behind in third place.
Striking: In the first two winding sectors, Leclerc is even slightly faster than Verstappen, but the Dutchman makes up for it by more than a tenth in the third sector with the long straight – just like in Baku. "We've seen that all season: Ferrari is better in the corners, Red Bull on the straights. Everyone plays to their respective strengths here," explains expert Karun Chandhok.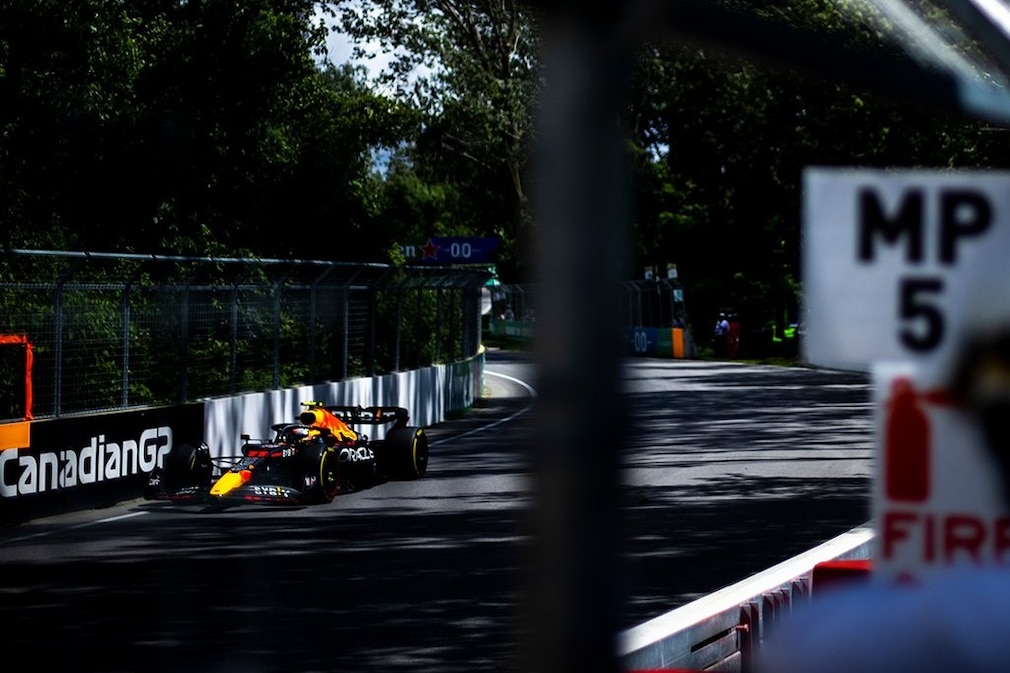 Ex-F1 driver Martin Brundle notices: "The Ferrari is the only car on this track that takes the curbs really well, everyone else actually has to drive around them. Overall, Red Bull is very good again, especially when it comes to traction."
In any case, Red Bull motorsport consultant Helmut Marko is optimistic after the first day in Canada: "Fortunately, Max was much better here over a fast lap (than in Baku; ed.). Only the long run wasn't entirely satisfactory because we kept getting caught in traffic. But the speed is right and so is the overall package."
The situation is completely different with Perez's second Red Bull: "Sergio didn't get the best lap, his team didn't go in the right direction with the setup," reveals the man from Graz and judges: "His gap isn't as big as it looks, but he's more like last year." Perez was usually three to five tenths behind Verstappen.
Current record world champion Lewis Hamilton can only dream of such a deficit: The Brit finished the second session in Montreal in 13th place, 1.3 seconds behind the best time. "This car is now undriveable," Hamilton curses over the radio and shakes his head angrily when parking in front of his mechanics.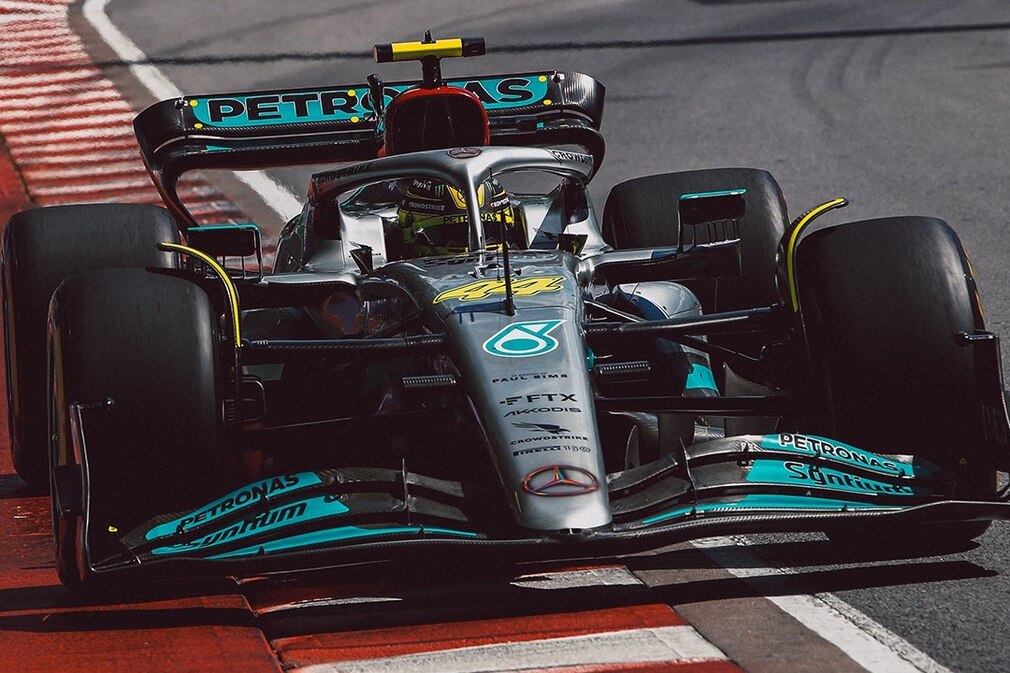 After getting out, Hamilton really bursts: "This car is so bad. We tried many different things again today: I drove with an experimental underbody that didn't work, like everything we try with this car." Hamilton explains: "George (Russell; ed.) And I are rode different setups in the second practice session to see if one of the ways worked. I need to hear how it was for him, but for me it was a disaster."
Hamilton talks himself into a rage: "It's as if the car is getting worse and worse, more and more dissatisfied, the more we try to change." With seven successes, Hamilton is the record winner in Montreal, together with Michael Schumacher. "But I've never had such a bad car here before. That's not the Montreal I know," whispers Hamilton, and explains: "One touch with the notch and the thing goes flying, every time it touches down after the bounce it goes in a different direction. It's a monumental struggle to keep it off the wall all the time."
What drives Hamilton particularly into despair: Mercedes is slowly at its wits end with regard to the W13. "We soon worked through all the points, but nothing helps, not even that we raised it (in terms of vehicle height; ed.). We are far behind, but what can you expect with this car."
Team colleague George Russell still steers the Silver Arrow into sixth place with his set-up package, but agrees with Hamilton's criticism – albeit in a much more moderate tones: "The track here is really fun, but the many bumps cause problems for us, even though we have our car voted as softly as possible. Our performance is not where we want it to be."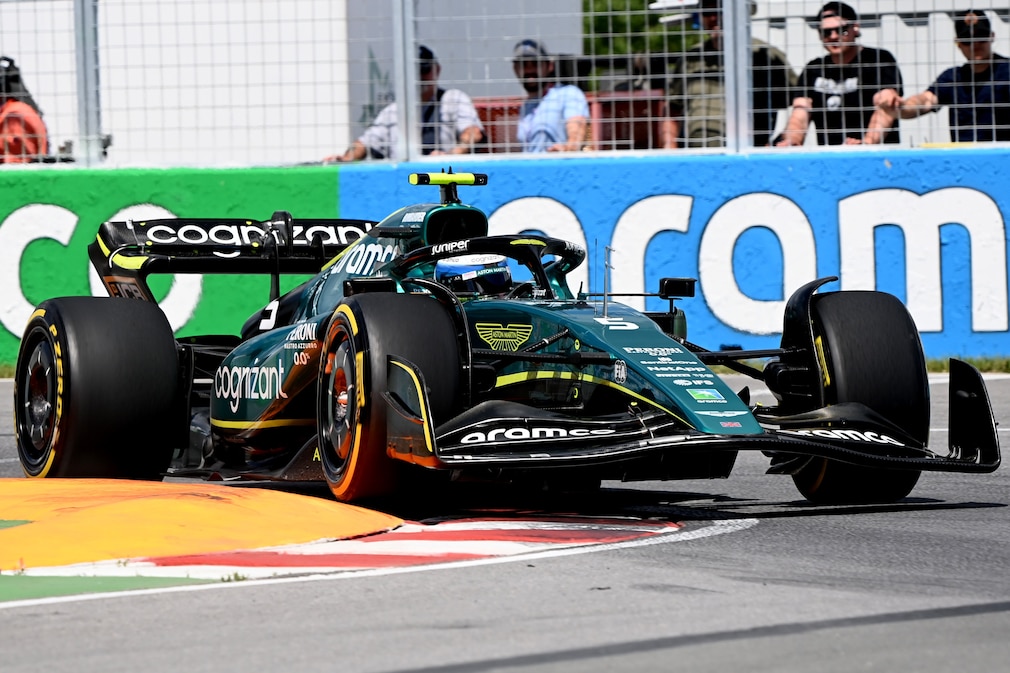 What worries Russell in particular: "We are a long way behind compared to the two teams at the top, but there are also a few other guys ahead of us here, above all Fernando (Alonso; ed.) and Sebastian (Vettel; d. Red.). The German Aston Martin star had a big surprise in the second practice session: fourth place, just three tenths behind the leaders. Alpine veteran Alonso is not far away either: Fifth place for the Spaniard, who even finished third in the opening session in Canada.
For Mick Schumacher, Friday at the Circuit Gilles Villeneuve is also going well: The German is driving on the circuit for the first time since the race was canceled last year due to the pandemic, and in 15th place is just 17 thousandths behind his experienced stable mate Kevin Magnussen. But Schumi Jr. AlphaTauris leaves Yuki Tsunoda behind, as well as both Williams and both Alfa Romeo: With the latter, Valtteri Bottas only gets three laps with a technical defect.
Formula 1 Canadian Grand Prix
2. Free practice result
1. Max Verstappen (Netherlands) – Red Bull 1:14.127 min.
2. Charles Leclerc (Monaco) – Ferrari +0.081
3. Carlos Sainz Jr. (Spain) – Ferrari +0.225s
4. Sebastian Vettel (Heppenheim) – Aston Martin +0.315
5. Fernando Alonso (Spain) – Alpine +0.416
6. Pierre Gasly (France) – Alpha Tauri +0.752
7. George Russell (Great Britain) – Mercedes +0.844
8. Lando Norris (Great Britain) – McLaren +0.860
9. Daniel Ricciardo (Australia) – McLaren +0.906
10. Esteban Ocon (France) – Alpine +0.992
11. Sergio Perez (Mexico) – Red Bull +1,040
12. Lance Stroll (Canada) – Aston Martin +1.269
13. Lewis Hamilton (Great Britain) – Mercedes +1,294
14. Kevin Magnussen (Denmark) – Haas +1.372
15. Mick Schumacher (Gland/Switzerland) – Haas +1.389
16. Zhou Guanyu (China) – Alfa Romeo +1.399
17. Yuki Tsunoda (Japan) – Alpha Tauri +1,440
18.Alexander Albon (Thailand)-Williams +2,044
19. Nicholas Latifi (Canada) – Williams +2.382
20. Valtteri Bottas (Finland) – Alfa Romeo – no time
Formula 1 Canadian Grand Prix
1st free practice result
1. Max Verstappen (Netherlands) – Red Bull 1:15.158 min.
2. Carlos Sainz Jr. (Spain) – Ferrari +0.246s
3. Fernando Alonso (Spain) – Alpine +0.373
4. Sergio Perez (Mexico) – Red Bull +0.461
5. Charles Leclerc (Monaco) – Ferrari +0.508
6. George Russell (Great Britain) – Mercedes +0.664
7. Lance Stroll (Canada) – Aston Martin +0.719
8. Lewis Hamilton (Great Britain) – Mercedes +0.719
9. Sebastian Vettel (Heppenheim) – Aston Martin +0.883
10. Daniel Ricciardo (Australia) – McLaren +0.925
11. Pierre Gasly (France) – Alpha Tauri +1.007
12. Lando Norris (Great Britain) – McLaren +1.053
13.Alexander Albon (Thailand) – Williams +1,150
14. Yuki Tsunoda (Japan) – Alpha Tauri +1.164
15. Esteban Ocon (France) – Alpine +1.263
16. Valtteri Bottas (Finland) – Alfa Romeo +1.268
17. Zhou Guanyu (China) – Alfa Romeo +1,994
18. Mick Schumacher (Gland/Switzerland) – Haas +2.065
19. Nicholas Latifi (Canada) – Williams +2,083
20. Kevin Magnussen (Denmark) – Haas +2.397