Cars
Formula 1 – Despite Sainz victory: criticism of Ferrari
It took 150 races before Carlos Sainz (27) finally made it. At the Silverstone Grand Prix, the Spaniard finally wins his first race in his second Ferrari year. But team boss Mattia Binotto has other concerns after crossing the finish line.
He looks for his World Cup fighter Charles Leclerc (24) in the Parc Fermée and talks to the Monegasques with a raised index finger. Even if it looks like it: the race director doesn't blame his star driver. "There is nothing to sort out internally," emphasizes the Italian. "I told him I understand his disappointment. He delivered a great race. The important thing now is to remain calm and positive in a situation like this."
The situation that Binotto means: In fourth place, Leclerc made up six points on World Cup leader Max Verstappen, who only finished seventh after problems with his Red Bull. But there could have been more. More precisely: 19 more.
Because up to lap 40, the Monegasque is clearly leading the race with a lead of 4.9 seconds. Ferrari had done a lot of things right up to that point, after some verbal back and forth they managed to get their number one past the somewhat slower Sainz when Mercedes star Hamilton became a danger from behind with strong lap times.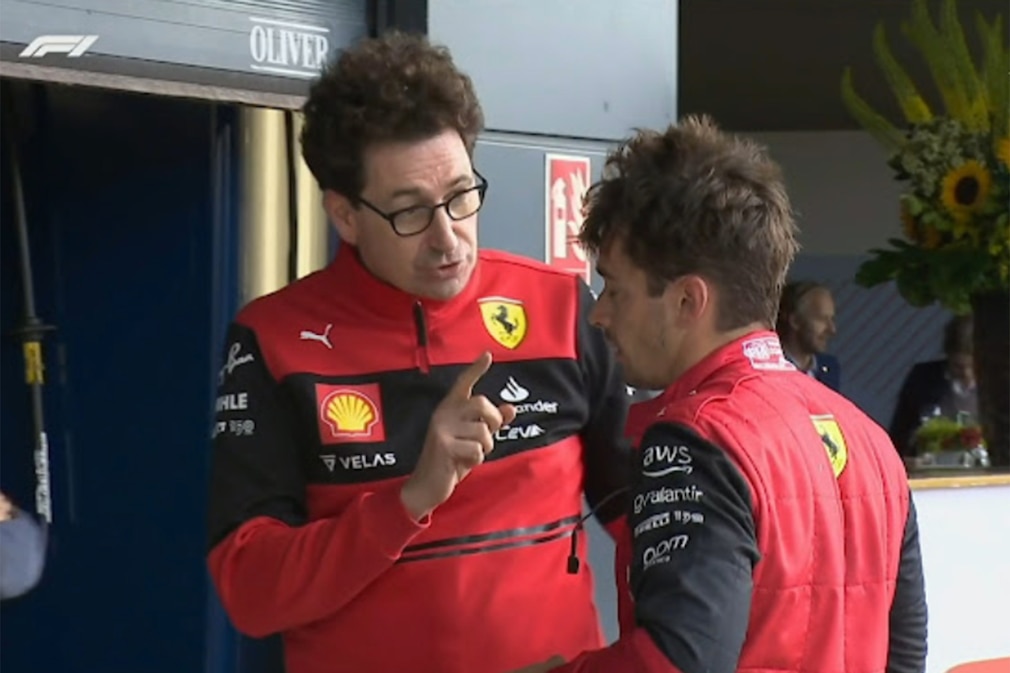 Then the questionable decision when the safety car was deployed on lap 40 after Esteban Ocon had a technical problem. Instead of Leclerc, second-placed Sainz is ordered to a "free" pit stop and – like Mercedes at Hamilton – fresh, soft rubber is put on him. This makes Leclerc fair game at the top when restarting, especially since Sainz no longer wants to play the interceptor in this case.
"Guys, don't ask me such things, stop intervening," the Spaniard replies to the request on the pit radio to shield Leclerc from behind. "I'm also under pressure from Hamilton." Then comes what has to come: Leclerc, despite brave resistance from Sainz, Perez and Hamilton, is snuffed out and passed down to fourth place.
The world championship third (43 points behind Verstappen) tight-lipped: "I lost a bit of time right from the start. Then there was the situation where you had to split the cars. They let me out and that was it."
The criticism from the TV experts is harder: "If I were a team boss, I wouldn't be so happy," says Mathias Lauda on Servus TV. "If I read the race today, Ferrari did everything wrong. Leclerc was clearly faster and was held up, allowing Lewis to get closer and closer. With the safety car, Charles had a free stop. He could have got new tires and won the race with his left hand. In the end, Carlos only won because he was chosen to come into the pits. You're too nice to Carlos, wanted him to win a race. But this is about the World Cup."
Nico Hülkenberg adds: "With Charles, it was absolutely the wrong decision. Giving him another one after Monaco (chaos at the double stop; ed.) is of course bitter. I think Ferrari wanted to salvage first and second place as a team, so they brought in Carlos as a buffer to see it through. But the bill didn't add up. From Ferrari it was a single spasm today, even in the pre-formation. They cost Leclerc points again."
In his video conference after the race, Binotto reacted thin-skinned to such criticism. "We thought we had enough speed with Charles to keep the competition behind us. So we made the choice between the first and second car and left Charles out. It was important for us to hold track position with Charles. We now also know that it wasn't the right decision."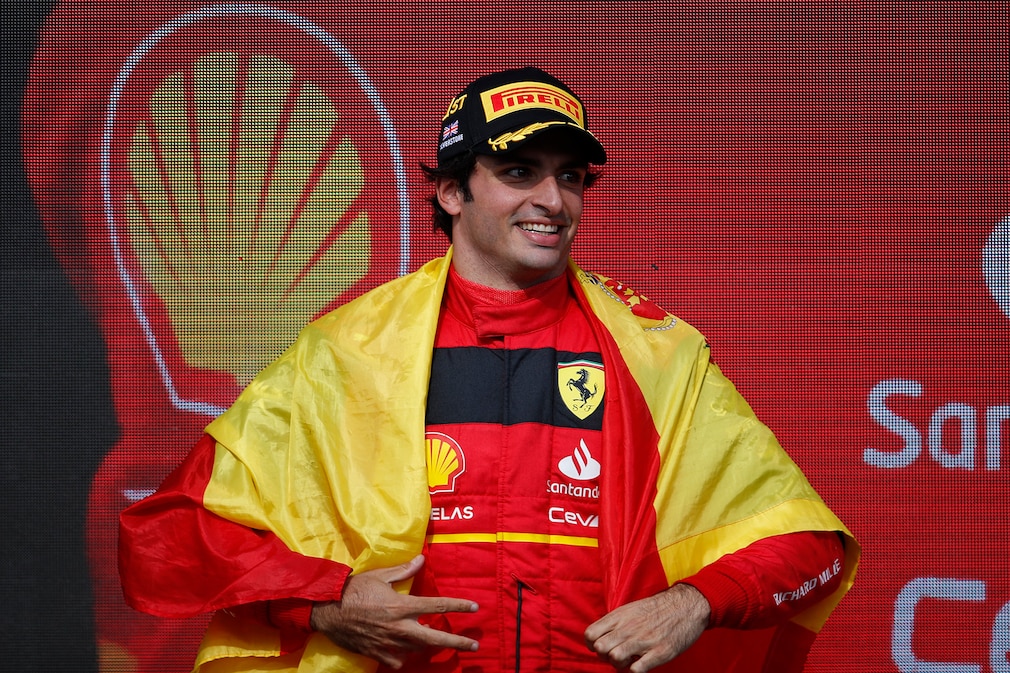 The Scuderia apparently had too much respect for a double stop after the Monaco disaster. Binotto: "We didn't think we had enough distance for it. The others were right behind us and you can't waste a second at the stop."
One thing is certain: satisfaction after a win sounds different. That's another reason why the Ferrari race director prefers to focus on Sainz. "I'm happy for him. He might not always have been the fastest today, but he was there when it counted."
But even the Spaniard can't really enjoy his triumph. Because on days like these, Ferrari could have lost the World Cup. "I tried to disturb Charles' race as little as possible. We have to analyze it but I think we had a solid day as a team."
The Formula 1 experts see it differently. The scene in the Parc Fermée is also representative of the debacle in red for them. Just like Binotto's strange gesture towards Leclerc. "My friends always cheer me up with a raised index finger," scoffs ex-world champion Jenson Button on Sky. "The bad call behind the safety car cost Charles the win today." And possibly the World Championship as well.