Cars
Formula 1: FIA warns Verstappen about Schumacher move
Formula 1 boss Stefano Domenicali can count himself lucky. It has been a long time since there was such an exciting World Championship fight. With a tie, the two opponents Max Verstappen and Lewis Hamilton go into the final in Abu Dhabi. "From our point of view, this is a godsend," the Italian tells F1-Insider.com. "Such a duel can only be good for Formula 1."
Alone: ​​The constellation is reminiscent of the years 1990, 1994 and 1997. In all three cases, the challenger had to score at least one point more than the World Cup leader. All three duels were decided with a crash. In 1990 Ayrton Senna (McLaren) shot down Alain Prost (Ferrari), in 1994 Michael Schumacher (Benetton) Damon Hill (Williams) – and Schumacher again in 1997, but this time the victim was Jacques Villeneuve (Williams).
The attack on the rival went well twice. Senna and Schumacher thus secured the World Cup titles in 1990 and 94. But in 1997 the Kerpener overdid it. He purposely drove his Ferrari in Villeneuves Williams. Subsequently, all points of the 1997 season and thus the vice-world championship title were withdrawn from him.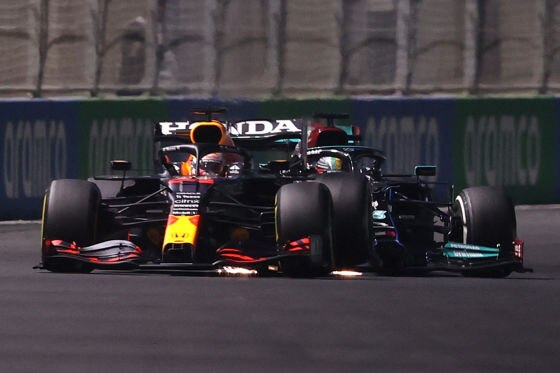 This is meant to be a cautionary example for Max Verstappen and Lewis Hamilton. FIA race director Michael Masi announces that a crash will not lead to success: "We have regulations, we have penalties, we have starting place penalties. The International Sporting Code also provides that the stewards can disqualify a driver or take away championship points. "
In other words: The FIA ​​demands a fair duel for the world title. Above all, Verstappen, as the World Cup leader, is the rule keeper in his sights. Masi: "Yes, points could be deducted from Max, any team could. We hope it is not necessary, but it is one of the tools available."
The race director also wants to discuss this with the drivers at the drivers' meeting on Friday evening. The race on Sunday will show whether the raised index finger is fruitful.
In any case, Verstappen's father Jos guarantees that his son does not drive with the handbrake on. "Max definitely wants to win", he tells the Daily Mail: "He will try everything to get the win – no matter how."

Mega offer from Sky for the Formula 1 final!
In line with the grand Formula 1 finale, Sky has a mega offer in its luggage. The pay TV broadcaster will broadcast the entire season and the finish in 2021 live on German television. The promotion for AUTO BILD readers: 50 percent discount on the Sky Supersport ticket. That means: 14.99 EUR instead of 29.99 EUR in the first month. Book online easily and cancel at any time.
GO TO THE SKY OFFER HERE