Cars
Formula 1: Flying Dutchman Verstappen wins in Spa
It has been a long time since a driver has been as superior as Max Verstappen (Red Bull) this Sunday at the Belgian Grand Prix in Spa. Starting in 14th place, the Flying Dutchman safely brings home his ninth win of the season and his 29th win overall. Team-mate Sergio Perez follows in second place ahead of Ferrari driver Carlos Sainz. It is the 21st double victory for Red Bull.
"There was a demonstration of strength," says Sky expert Timo Glock. "Everyone else will have a hard time pondering. Red Bull is making big strides and Max Verstappen was in a league of his own." A historical comparison also shows this: Verstappen's triumphal ride is reminiscent of 1995, when Michal Schumacher roared from 16th place to victory on the Ardennes rollercoaster.
As early as lap twelve, the reigning world champion takes the lead after plowing past all the stars of the scene through the field. In the end he has an 18-second lead: "An incredible Sunday," said Verstappen on the pit radio. "I want more of that." Perez verbally hits the nail on the head: "Max just played."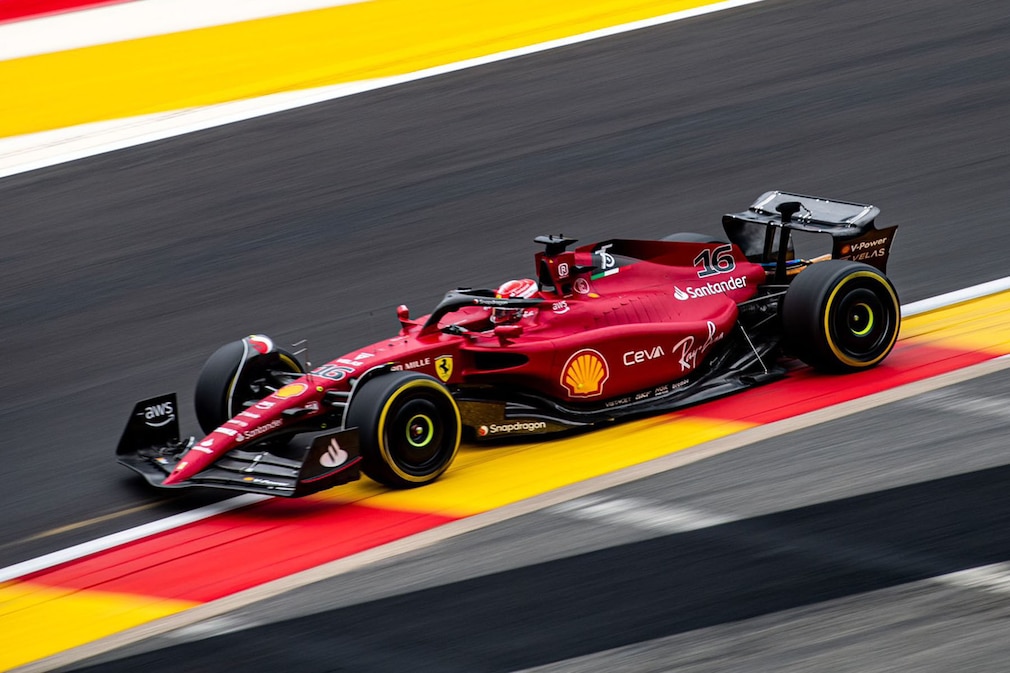 His world championship rival Charles Leclerc finished sixth behind George Russell and Fernando Alonso and also missed the point for the fastest race lap, although Ferrari put soft tires on the Monegasque one more lap before the end. But Ferrari just can't do anything right at the moment: Leclerc is also flashed in the pit lane and gets a 5-second time penalty, which costs him fifth place.
Verstappen is now 92 points clear of teammate Sergio Perez and 98 over Leclerc. "It was easier than we thought," says Red Bull motorsport consultant Helmut Marko. "When Max had a clear run, he was one to 1.5 seconds faster than Perez. It's an enormous ease with which he is currently delivering these performances. A combination of Verstappen's confidence and driving class, Honda engine and a chassis that we are getting better at understanding and that is getting closer and closer to the weight limit."
Seven-time world champion Lewis Hamilton is eliminated after touching Fernando Alonso on the first lap. At the end of the long Kemmel straight, the Mercedes star pulls in from the outside lane and drives Alonso over the left front tire. Hamilton takes off and has to park his silver arrow a little later.
Alonso rages on the radio: "What an idiot! Hamilton can only start at the front and drive at the front." The Briton also gets a warning afterwards because he does not go to the medical center to be examined despite the warning light.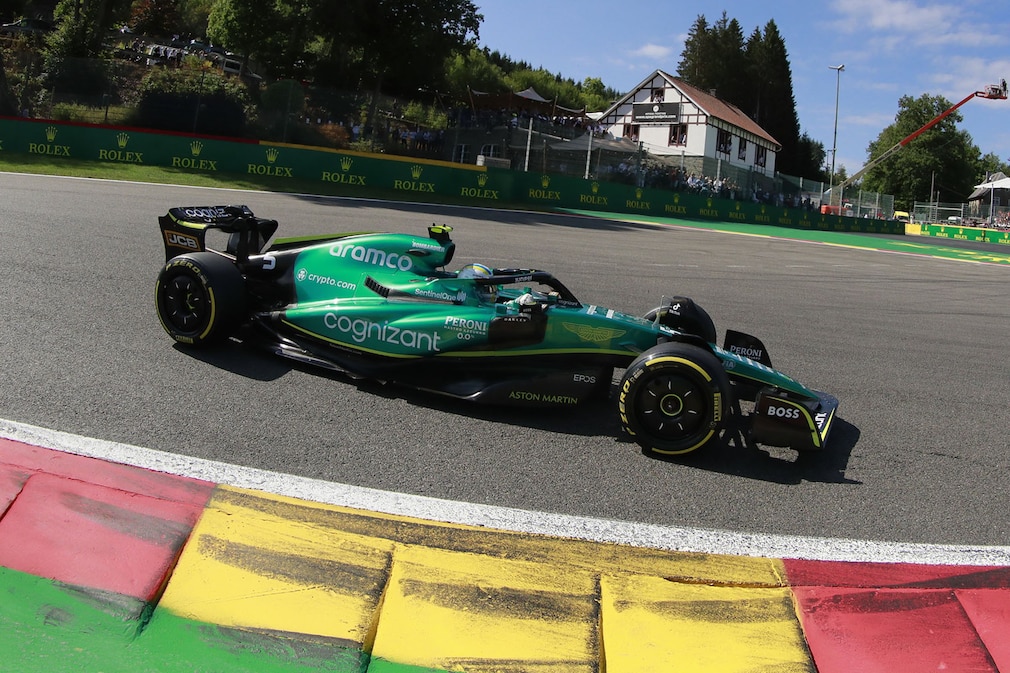 Sebastian Vettel gets four points in eighth place. The Heppenheimer experienced his Zonta moment. On the Kemmel straight, the Aston Martin star is cornered by Esteban Ocon and Pierre Gasly and overtaken like in 2000 Ricardo Zonta by Michael Schumacher and Mika Häkkinen. "But the Zonta was even slower than me on the straight," laughs Vettel. "I felt like him: If I twitch left or right, it's dangerous, I prefer to stay in the middle."
Mick Schumacher is one place and 2.8 seconds behind his Haas teammate Kevin Magnussen 17th. "It was quite warm in the car," reveals the German. "We lost the isolation, so I got hot air all the time. We're not where we should be in terms of speed, so we're looking forward to Zandvoort where we can put on a bigger wing again. I hope that we can get back into midfield and get into the points."
Formula 1 Belgian Grand Prix
result
1. Max Verstappen (Netherlands) – Red Bull 1:25:52.894 hours
2. Sergio Perez (Mexico) – Red Bull +17.841s
3. Carlos Sainz Jr (Spain) – Ferrari +26.886
4. George Russell (Great Britain) – Mercedes +29.140
5. Fernando Alonso (Spain) – Alpine +1:13.256 min.
6. Charles Leclerc (Monaco) – Ferrari +1:14.936
7. Esteban Ocon (France) – Alpine +1:15.640
8. Sebastian Vettel (Heppenheim) – Aston Martin +1:18.107
9. Pierre Gasly (France) – Alpha Tauri +1:32.181
10. Alexander Albon (Thailand) – Williams +1:41,900
11. Lance Stroll (Canada) – Aston Martin +1:43.078
12. Lando Norris (Great Britain) – McLaren +1:44.739
13. Yuki Tsunoda (Japan) – Alpha Tauri +1:45.217
14. Zhou Guanyu (China) – Alfa Romeo +1:46.252
15. Daniel Ricciardo (Australia) – McLaren +1:47.163
16. Kevin Magnussen (Denmark) – Haas + 1 lap.
17. Mick Schumacher (Gland/Switzerland) – Haas + 1 lap.
18. Nicholas Latifi (Canada) – Williams + 1 lap
failures:
Lewis Hamilton (Great Britain) – Mercedes (1st lap)
Valtteri Bottas (Finland) – Alfa Romeo (2nd lap)
Driver Rating
Status after 14 of 22 races:
1. Max Verstappen (Netherlands) – Red Bull 284 pts.
2. Sergio Perez (Mexico) – Red Bull 191
3. Charles Leclerc (Monaco) – Ferrari 186
4. Carlos Sainz Jr (Spain) – Ferrari 171
5. George Russell (Great Britain) – Mercedes 170
6. Lewis Hamilton (Great Britain) – Mercedes 146
7. Lando Norris (Great Britain) – McLaren 76
8. Esteban Ocon (France) – Alpine 64
9. Fernando Alonso (Spain) – Alpine 51
10. Valtteri Bottas (Finland) – Alfa Romeo 46
11. Kevin Magnussen (Denmark) – Haas 22
12. Sebastian Vettel (Heppenheim) – Aston Martin 20
13. Daniel Ricciardo (Australia) – McLaren 19
14. Pierre Gasly (France) – Alpha Tauri 18
15. Mick Schumacher (Gland/Switzerland) – Haas 12
16. Yuki Tsunoda (Japan) – Alpha Tauri 11
17. Zhou Guanyu (China) – Alfa Romeo 5
18. Alexander Albon (Thailand) – Williams 4
19. Lance Stroll (Canada) – Aston Martin 4
Constructor Score
Status after 14 of 22 races:
1. Red Bull 475 pts.
2.Ferrari 357
3.Mercedes 316
4. Alpine 115
5. McLaren 95
6. Alfa Romeo 51
7.Haas 34
8. Alpha Tauri 29
9. Aston Martin 24
10.Williams 4