Cars
Formula 1 – Haas drivers 2022: Announcement in Russia
For Mick Schumacher's Haas team, the Russian Grand Prix this weekend in Sochi will be the highlight of the season. Reason: For main sponsors Uralkali and Nikita Mazepin it is the home race. Team boss Günther Steiner also knows: "His schedule is full, the attention he gets in Russia is great. It will be a challenging weekend for him. "
In addition: Apparently the US team wants to confirm the driver pairing for 2022 at the home away game in Russia. There is no doubt about it: Mick Schumacher and Nikita Mazepin will also take the wheel for Haas in the coming year.
This will continue the tough team duel. Both verbally and on the track, Mazepin and Schumacher clashed again and again this year. Most recently in Monza, the Russian sent the German into a lathe again. He apologized for this, but the basic problem remains.
"It is definitely more conciliatory than before," says Sky expert Ralf Schumacher. "But it doesn't change the fact that he wants to show with all his might: 'I'm better than Mick (Schumacher, editor's note), the criticism of me and of myself as a racing driver is wrong."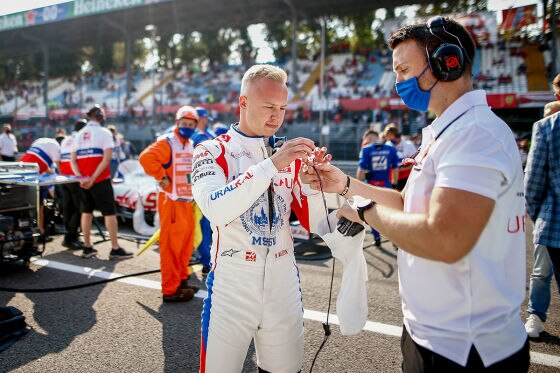 Schumacher sticks: "For me he is still overwhelmed. With many things you can see that he has not grown yet, that he still has too many problems with the car. He just doesn't really have the situation under control yet. "
There is no lack of fundamental talent, says Ralf Schumacher. "Mazepin has proven in Formula 2 that he can drive a car. The only problem is his approach, "said the six-time GP winner. "Mick approaches very calmly and calmly. The engineers said from the start that he understood the connections, that he was working on it, that he was developing faster than expected and that there was a lot of potential. Of course, that also eats away at the other driver. "
That in turn results in a vicious circle, according to Mick's uncle. Schumacher: "That's why he tries the crowbar. With this car, however, a crowbar means that you turn around very quickly because the car is critical to drive. And this is the problem. If he gives himself the time that he has because his personality is not being questioned, then he also has the potential. "
One thing is certain: Mazepin will get a new contract. With all the attention of his compatriots, the home race in Russia will be the next trial by fire.

Formula 1 on TV
Formula 1 will run at Sky in 2021. The station is setting up its own TV station for the new era: Sky Formula 1. Here there is motorsport 24 hours a day. All training sessions, all qualifying sessions, all races always live and without commercial breaks. Sky also broadcasts the Formula 2, Formula 3 and Porsche Supercup races. The program also includes historical races and special programs. You can find more information here