Cars
Formula 1 – Hamilton criticizes Verstappen: "Like in the boxing ring"
The scapegoat after the Saudi Arabian Grand Prix has been identified: Max Verstappen (24) subsequently received a ten-second penalty for the rear-end collision with Lewis Hamilton (36). It doesn't change the race result, but it does signal that the Red Bull star is over the limit.
Before the final in Abu Dhabi next weekend, Lewis Hamilton in particular will be playing it in the cards. That is why he verbally put his finger in the wound: "I really tried to keep my composure in the car here," says the Mercedes star. "In 28 years of racing I have driven against a lot of drivers, and there were some of the top drivers who were operating a little over the limit; Drivers for whom the rules apparently do not apply, or they do not think about the rules. "
In Saudi Arabia, the title rivals have clashed three times. Verstappen shortened twice in the first chicane, and once pulled Hamilton off the piste. Finally, the maneuver declared by the FIA ​​as a brake test, in the course of which Hamilton refused to swap places. It is now clear: Verstappen put on the brakes with a pressure of 62 bar. His Red Bull delayed with 2.4g.
Hamilton cooks: "Max is definitely over the limit. I've tried so often now to avoid collisions with him. I don't mind taking on that role because there's always a next time. Just like today. "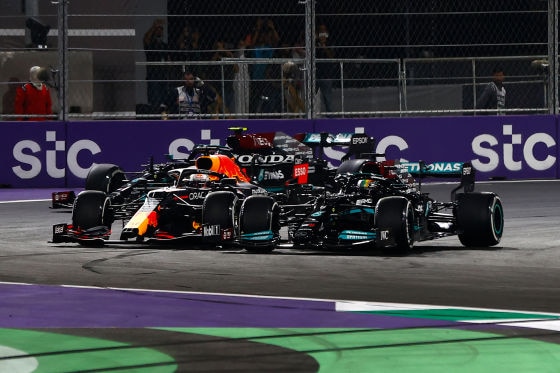 The winner of the premiere race in Saudi Arabia sticks to his version of what happened: "I had no information that I would get a position. Suddenly he slows down, then he has his car carried over and I think: What kind of crazy tactic is that? Then the information came that he had to give the place back to me, and suddenly he brakes hard. He almost got rid of us both. "
Hamilton now feels "like being in the boxing ring. And I'm ready. "
But Red Bull doesn't want to leave it like that. "If Max drives hard against Hamilton, then it is a penalty, if Hamilton punches him off the track, then that is apparently a minor offense," emphasizes motorsport consultant Helmut Marko at ServusTV. "But it cannot go on like this."
Background: In the second swap, Hamilton also pushed Verstappen off the track – without a penalty. Marko: "So the standards seem to be handled a little differently here."
Verstappen doesn't understand all the fuss anyway. "This is no longer Formula 1 as I saw it on TV," he says annoyed. "Today it's more about rules than racing."
He doesn't just get criticism for that. Sky expert Ralf Schumacher, who was clearly on Hamilton's side during the race, says in AvD Motor und Sport Magazin: "I love the risk Verstappen takes. Max just has to be careful not to overdo it. It can get borderline with him, sometimes he has to be a little smarter. "
Overall, the Dutchman duel with the seven-time champion at a high level. Schumacher: "In spite of his only 24 years of age, he has everything on his screen, he uses every corner. In that regard, Hamilton sometimes needs a lot more help from the team. Max just has great potential. Unfortunately, he's just sitting in the worse car at the moment. "

Formula 1 on TV
Formula 1 will run at Sky in 2021. The station is setting up its own TV station for the new era: Sky Formula 1. Here there is motorsport 24 hours a day. All training sessions, all qualifying sessions, all races always live and without commercial breaks. Sky also broadcasts the Formula 2, Formula 3 and Porsche Supercup races. The program also includes historical races and special programs. You can find more information here