Cars
Formula 1: Hamilton frustration despite Mercedes victory
Valtteri Bottas is seizing the opportunity in the absence of team-mate Lewis Hamilton at the top: The Finn is on the podium in Istanbul for the ninth time this season, but on Sunday he will be at the top for the first time. The Mercedes driver is converting the pole he inherited from Hamilton's engine penalty at the wet Turkey GP into his tenth career victory, the first since Russia 2020.
"That was one of my best races, it feels like a well-deserved victory," says Bottas, who also scores the extra point for the fastest lap. "Today everything went smoothly. Except for a little slip, I had everything under control. The car was great in these conditions, I was able to dictate what happened."
Max Verstappen finished second on Sunday ahead of Red Bull team-mate Sergio Perez, and the Dutchman regained the championship lead. "It wasn't easy today with the wet track. It was just about managing the tires, I couldn't really push. Valtteri had a little more pace and was therefore able to look at the tires better," said Verstappen, who is nevertheless satisfied : "I'm happy with second place and the podium because you can quickly make mistakes under these conditions."
World Cup rival Hamilton storms from eleventh on the grid to fifth behind Ferrari's Charles Leclerc. The shorthand of his chase to catch up: After Fernando Alonso's spin and an overtaking maneuver against Sebastian Vettel, Hamilton is ninth after the first lap, but is then stuck behind Yuki Tsunoda until lap eight. As soon as he has passed the AlphaTauri pilot, things are moving forward: on lap nine he snatches Lance Stroll, two laps later Lando Norris. Hamilton is half a second faster than the rest of the field in this phase: on lap 14 he also passes Pierre Gasly and is already fifth.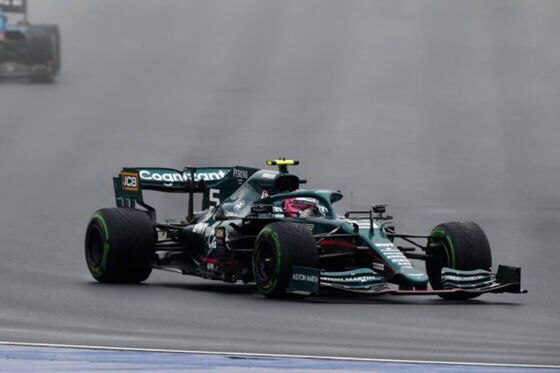 Then Hamilton needs patience: First he is almost cleared by Nikita Mazepin, who ignores the blue flags. Much to the delight of Red Bull, Verstappen's team-mate Perez also proves to be a tough nut to crack for the Briton on lap 34: He and Hamilton fight wheel to wheel on four corners, and in the end the Mexican stays ahead. It was only when Perez turned off for service that Hamilton was fourth free.
On lap 41 Mercedes pits him for new intermediates, but the Briton does not want to and is allowed to stay outside for the time being, which means that he is now on course for the podium in third place. Because more rain threatens in the final phase and Hamilton's times on the old tires are not great, the team gets him to change tires seven laps before the end.
But the new intermediates quickly overheat. Hamilton scolds: "I shouldn't have come in. I have massive blistering, I told you!" Ex-F1 driver and expert Anthony Davidson doesn't understand Mercedes' decision, but Hamilton's frustration: "He had the pace out there and was clearly ahead of Perez." Instead of coming up to one point on Verstappen, Hamilton is now six points behind the Dutchman in the World Cup before the sixth from last race in Austin.
Sebastian Vettel risks the most of all drivers on Sunday and is the only driver to switch to dry tires in the meantime. The German's courage is not rewarded, however, Vettel spins off the piste several times, has to stop again for intermediates and is waved off in 18th place at the end.
Mick Schumacher finishes the race one place behind Vettel as penultimate. His great qualifying result was ruined early in the race by Fernando Alonso, who turned him around on lap two and pushed the Haas rookie to the bottom of the field. Alonso, who received a five-second penalty for the action, had the knife between his teeth after the start, because there he himself became a victim: In the three-way battle with Perez and Pierre Gasly, he stayed on the outside lane and was replaced by the AlphaTauri -Pilot turned around, who for his part received five penalty seconds.
Formula 1 Grand Prix of Turkey
1. Valtteri Bottas (Finland) – Mercedes 1: 31: 04.103 hours.
2. Max Verstappen (Netherlands) – Red Bull +14.584 sec.
3. Sergio Perez (Mexico) – Red Bull +33,471
4. Charles Leclerc (Monaco) – Ferrari +37.814
5. Lewis Hamilton (Great Britain) – Mercedes +41,812
6. Pierre Gasly (France) – Alpha Tauri +44.292
7. Lando Norris (Great Britain) – McLaren +47,213
8. Carlos Sainz Jr. (Spain) – Ferrari +51,526
9. Lance Stroll (Canada) – Aston Martin +1: 22.018 min.
10. Esteban Ocon (France) – Alpine + 1 round.
11. Antonio Giovinazzi (Italy) – Alfa Romeo + 1 rd.
12. Kimi Raikkonen (Finland) – Alfa Romeo + 1 rd.
13. Daniel Ricciardo (Australia) – McLaren + 1 round.
14.Yuki Tsunoda (Japan) – Alpha Tauri + 1 rd.
15. George Russell (Great Britain) – Williams + 1 rd.
16. Fernando Alonso (Spain) – Alpine + 1 round.
17. Nicholas Latifi (Canada) – Williams + 1 rd.
18. Sebastian Vettel (Heppenheim) – Aston Martin + 1 round.
19. Mick Schumacher (Gland / Switzerland) – Haas + 2 rounds.
20.Nikita Masepin (Russia) – Haas + 2 rd.
Driver rating
Stand after 16 of 22 races
1. Max Verstappen (Netherlands) – Red Bull 262.5 pts.
2. Lewis Hamilton (Great Britain) – Mercedes 256.5
3. Valtteri Bottas (Finland) – Mercedes 177.0
4. Lando Norris (Great Britain) – McLaren 145.0
5. Sergio Perez (Mexico) – Red Bull 132.0
6. Charles Leclerc (Monaco) – Ferrari 119.0
7. Carlos Sainz Jr. (Spain) – Ferrari 116.5
8. Daniel Ricciardo (Australia) – McLaren 95.0
9. Pierre Gasly (France) – Alpha Tauri 74.0
10. Fernando Alonso (Spain) – Alpine 58.0
11. Esteban Ocon (France) – Alpine 46.0
12. Sebastian Vettel (Heppenheim) – Aston Martin 35.0
13. Lance Stroll (Canada) – Aston Martin 26.0
14. Yuki Tsunoda (Japan) – Alpha Tauri 18.0
15. George Russell (Great Britain) – Williams 16.0
16. Nicholas Latifi (Canada) – Williams 7.0
17. Kimi Raikkonen (Finland) – Alfa Romeo 6.0
18. Antonio Giovinazzi (Italy) – Alfa Romeo 1.0
19. Mick Schumacher (Germany) – Haas 0
20.Nikita Mazepin (Russia) – Haas 0
Constructors' rating
Stand after 16 of 22 races
1. Mercedes 433.5 pts.
2. Red Bull 394.5
3. McLaren 240.0
4. Ferrari 235.5
5. Alpine 104.0
6. Alpha Tauri 92.0
7. Aston Martin 61.0
8. Williams 23.0
9. Alfa Romeo 7.0
10. Haas 0

Formula 1 on TV
Formula 1 will run at Sky in 2021. The station is setting up its own TV station for the new era: Sky Formula 1. Here there is motorsport 24 hours a day. All training sessions, all qualifying sessions, all races always live and without commercial breaks. Sky also broadcasts the Formula 2, Formula 3 and Porsche Supercup races. The program also includes historical races and special programs. You can find more information here