Cars
Formula 1: Hamilton's 100th Grand Prix victory is not yet a World Cup guarantee
In the end, class prevails: 50 of the 53 laps at the Russian GP are led by others, but at the very end in Sochi the two big rivals Lewis Hamilton (36) and Max Verstappen (23) are again in front. Both benefit from the late rain shower that shook the field over the last few laps of the race.
While Verstappen's race to catch up leads the Dutchman to the podium in second place, Mercedes star Hamilton finally cracks the record of 100 Grand Prix victories on his team's parade route (eighth victory in eighth) – and then immediately knows who he is going to thanked: "That was a fantastic decision with the rain tires," cheered Hamilton on the radio.

The reigning world champion initially refused to head for the pits despite an announcement from the command post when it started to rain five laps before the end. "I had Lando (Norris, leader; d. Editor) right in front of me, was so close. And it wasn't that bad yet, it didn't feel so wet, except in turns five and seven, "explains Hamilton. "I thought: 24 seconds (for the pit stop; d. Ed.) In three laps, I'll never catch up. But on the next lap the rain got heavier and then I'm clean. I just relied on the team. "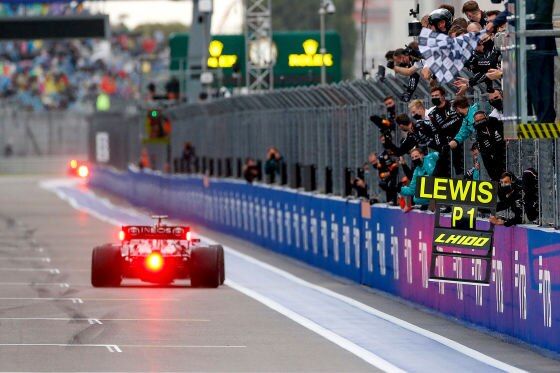 Instead of the first victory for Norris, there is already the 100th for Hamilton in Sochi: "Unbelievable, just an unbelievable number. Today it is just a headline and tomorrow it may be forgotten again, but in five to ten years we can say that we have been part of this very special success story, "says Mercedes Motorsport Director Toto Wolff, paying homage to his superstar. Nevertheless, the success in Russia is one of the team: "Today the strategy department and our weatherman won the race. We knew that the great weather was still to come, "says Wolff.
With all the joy in the Mercedes warehouse, there is also one downer. "The fact that Verstappen finished second makes it a bit bittersweet," admits Wolff. But the Austrian also classifies: "Before the rain, Max was seventh and we were second, that's about the same point difference as with one and two. We have to take it that way now. But he's the second winner today. "
You will also find in the competition: "It was like a victory for us today!", Says a delighted Red Bull team boss Christian Horner. "If someone had offered me this result before the race, I would have bitten off their arm." Verstappen is also happy: "That was great today. From last place it is of course a very, very good result, that was not to be expected. "
The Dutchman made it through the field with difficulty at first: "It wasn't easy to overtake up to ten laps before the end, I thought sixth or seventh place was the maximum today. But then the rain came, that helped us and we made the right decision with the tires, "said Verstappen. Red Bull consultant Dr. Helmut Marko has no illusions: "Without the rain, the podium would not have been possible today."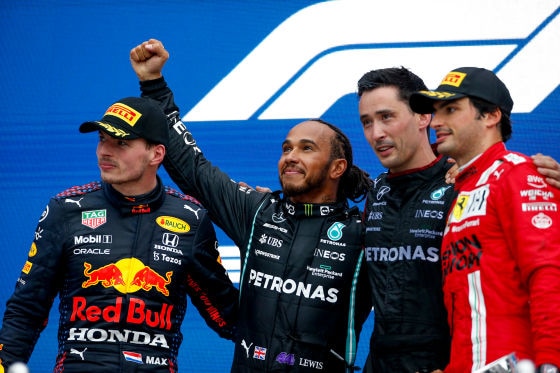 Verstappen is also lucky in another scene on Sunday, because although the World Cup aspirant drives with little risk in his race to catch up, it almost goes wrong once. Verstappen: "Coming from behind there really happens a lot, even on the first lap alone. You have to stay out of all trouble. Before me, Charles (Lecerc; d. Red.) And Seb (Vettel; d. Red) fought, so I had to evade and almost lost my wing. There were a few hairy scenes, but in the end everything went well. "
The 23-year-old has lost the lead in the World Cup, but after Sochi he is only two points behind Hamilton – and, unlike the Brit, has already served his engine penalty. On the other hand, it is still in the stars when Mercedes will accept the relocation in order to use a new power unit, as Toto Wolff reveals: "Now let's see how the engine will develop. We can always see the performance data and then we will decide where to switch. "
Hamilton does not want to waste any thoughts on this at the moment, prefers to be happy about the "magic moment" of his 100th triumph in the premier class. "It took a while, we needed patience," says the Brit, who last won his home race at Silverstone in mid-July. "We don't give up and keep pushing. It's been a tough, demanding season overall, but today it showed that we are still in the fight. "Wolff also believes, who adds, with a view to the World Cup duel:" It will continue to go back and forth. Until the final. "
Formula 1 on TV
Formula 1 will run at Sky in 2021. The station is setting up its own TV station for the new era: Sky Formula 1. Here there is motorsport 24 hours a day. All training sessions, all qualifying sessions, all races always live and without commercial breaks. Sky also broadcasts the Formula 2, Formula 3 and Porsche Supercup races. The program also includes historical races and special programs. You can find more information here