Cars
Formula 1 – Has Schumi jr. a chance at Ferrari?
The regained Ferrari strength makes German Formula 1 romantics dream: namely from Mick Schumacher (22), who, like his father Michael, drives the Italian cult racing car for victories and titles and the Formula 1 interest in Germany leads to new heights.
In fact: the field seems prepared for the Ferrari Junior. The question remains: does the renaissance of the Reds come at the right time for Schumi junior? Because: Realistically speaking, the son of the record world champion is not ready to go to bed.
There are several reasons for this. First: Schumacher, who is completing his second season in the premier class with Ferrari partner team Haas, still lacks the experience to dare to jump into the deep end of an absolute top team. "He has to drive somewhere else for another three years," analyzes AlphaTauri team boss Franz Tost at AUTO BILD.
The Tyrolean knows exactly what he's talking about. He worked as a kind of driver coach with both Mick's father Michael and uncle Ralf when they were just beginning their careers. Tost: "Formula 1 is extremely complicated today. A driver needs at least three years of learning to drive at the top level. A George Russell or a Charles Leclerc also needed that time."
However, Tost believes that Mick Schumacher basically has the tools for Ferrari. "But first he has to consistently beat his teammate Kevin Magnussen at Haas and try to achieve success with Haas. That is his job now and nothing else."
But that's not so easy. After three races of the season, the German is still pointless, while teammate Magnussen achieved two top ten results in both Bahrain and Saudi Arabia and was able to collect valuable points. In Australia, Schumacher was faster than the Dane for the first time in qualifying and the race – but his bad luck this time was that the car wasn't competitive enough Down Under. Was that a trend or track specific?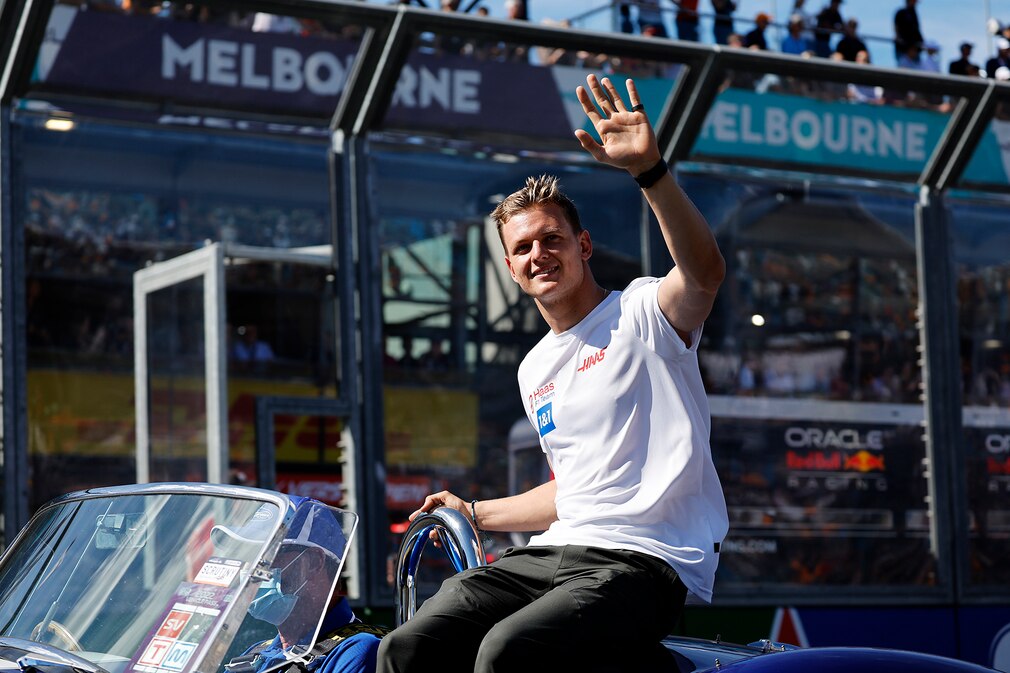 Team boss Günter Steiner does not believe that the competing teams Alpine, Alfa Romeo or AlphaTauri have already overtaken Haas after three races. Steiner: "We didn't find a good set-up on Friday and were therefore behind. In Imola next week it should look completely different again. I'm also not worried that the others could develop more. It might even be overrated. The cars have a completely new concept and are therefore only at the beginning when it comes to understanding. That's why it's more important to always get the most out of the package."
The aim is still to finish in the points, "and", Steiner is sure of that, "Mick will soon be able to do that too."
But there is another problem for Schumacher when he dreams of a career in red: the contract situation at Ferrari. World Cup leader Leclerc has a contract until the end of 2025 and is the number 1 driver at Scuderia in a similar way to Mick's father. Negotiations are currently underway with Carlos Sainz, whose contract expires at the end of this season. AUTO BILD learned: While the Spaniard wants a two-year contract, Ferrari tends towards a term of one year plus a unilateral option only for the team to extend the collaboration until the end of 2024.
However, experts such as ex-Formula 1 driver Marc Surer are certain: "Sainz basically does a very good job. He also gets along well with Leclerc. It makes no sense for Ferrari to change the driver pairing at short notice."
The Swiss also has an opinion on Mick Schumacher. Surer: "Mick's successes in Formula 3 and Formula 2, both of which he won in his second season, have shown how adaptable he is. And in today's Formula 1, that's one of the most important things. Today you can see everything in the telemetry data, from the movement of the steering wheel to the braking point and the position of your teammate's gas pedal. Mick will now study this data closely."
Surer at least gives hope to the German fans who dream of a second Schumacher at Ferrari. Surer: "You don't have to be a high achiever to be successful. Niki Lauda and Nico Rosberg are good examples. Both did not have the basic speed as in Lauda's case, Alain Prost, or as in Rosberg's Lewis Hamilton. Nevertheless, they were able to beat their teammates once and win the World Cup."
Surer concludes: "Natural talent alone is not enough. The example of Jean Alesi shows this. He was considered a high-flyer when he got into Formula 1. In the end, however, he was only able to win one race in his career. Mick needs to be aware of his analytical skills and follow the path of Lauda and Rosberg. So he can recommend himself to Ferrari in the next few years."

Formula 1 on TV
In 2022, Formula 1 will run on Sky. Last year, the broadcaster introduced a new TV channel especially for the premier class: Sky Formula 1. Here there is motorsport 24 hours a day. All practice sessions, all qualifying sessions, all races are always live and without commercial breaks. In addition, Sky also broadcasts the support races Formula 2, Formula 3 and the Porsche Supercup. The program also includes historic races and special programs.