Cars
Formula 1 Imola: Mercedes misery: "With both feet in the mud"
The Silver Arrows continue their descent in Imola: On Saturday, George Russell and Lewis Hamilton both miss the top 10 in the sprint race. Russell is eleventh, record world champion Hamilton even gets stuck in 14th place.

For Mercedes sports director Toto Wolff it is clear that his team will not be able to fight for the World Cup in 2022 for the first time in nine years. "We're in the fourth race and today marks the low point. It's obvious that we're not even close to fighting for the lead. That's why it's unrealistic to say that we're going to fight for the World Championship at the front," said Wolff.
Mercedes' W13 continues to pose seemingly unsolvable puzzles for the team, and the Silver Arrows still don't have the bouncing on the straights under control. "The car is fast and good in theory, but we can't put that into practice in practice. We can't drive it in the area where we need it," explains the Austrian. After years of success, the Silver Arrows have to make friends with the new reality in midfield.
"Normally I would say: You can't unlearn it. But the track is teaching us something else. Now it's about staying modest and admitting: We made a mistake." And that's not exactly close, as Wolff admits: "We really got lost. It's not like we're three tenths away – it's that we jumped with both feet in the mud." After all, this new experience is character-forming. Wolff: "No one is infallible. We're seeing that right now."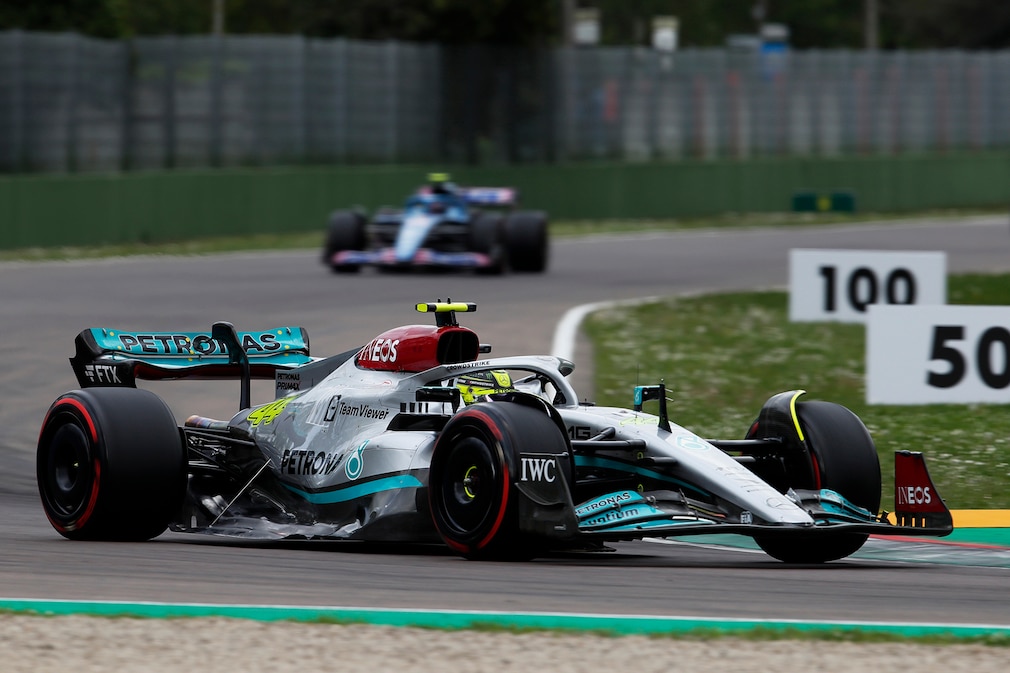 The mood in the team is understandably depressed: "No one is enjoying this right now," says the Mercedes boss: "You have to acknowledge that there is of course a degree of frustration." Even with record world champion Lewis Hamilton. Wolff does not believe that his superstar could lose motivation in the gray F1 midfield: "I see no difference in his determination and passion to sort out the problems. There is also no blame, although of course there is pressure in the system now."
Hamilton himself is annoyed in Imola by one or the other expert opinion that questions his desire in the current situation: "Such comments are ridiculous and nonsense. Just because we're going through a rough phase, I have no intention of giving up. That's not in my DNA. After all, we are champions," says Hamilton.
Even the record world champion is clear after the sprint defeat in Imola: "It will be a painful year, but it will only make us stronger. Of course it is difficult, but we all feel the same way in the team, everyone feels the same pain. We go through it together, win and lose together." Finding yourself outside the top 10 is also completely new territory for Hamilton. The Brit admits: "We're not even close to where we want to be."
In the case of the British, the W13 now even awakens bad memories of his McLaren MP4-24. "There are people who say that I've never had a bad car in my career. But that's not true. 2009 was very bad and this car is not far from it," reveals Hamilton. "You have to be realistic: Our problems are not small. And the others are sometimes more than a second ahead. In order to be able to win every race, we would have to find a second and a half on the fly. That won't happen."
A quick solution is not in sight, and returning to the base is out of the question for Mercedes. Wolff: "We believe that this is the development direction that we have to take. Otherwise we would have done it differently five months ago. So we have the direction – but we don't have the key at the moment."
By the time Mercedes has cracked this lock, it seems more than ever in Imola that Ferrari star Charles Leclerc and Red Bull world champion Max Verstappen are long gone with the World Cup trophy.
Formula 1 on TV
In 2022, Formula 1 will run on Sky. Last year, the broadcaster introduced a new TV channel especially for the premier class: Sky Formula 1. Here there is motorsport 24 hours a day. All practice sessions, all qualifying sessions, all races are always live and without commercial breaks. In addition, Sky also broadcasts the support races Formula 2, Formula 3 and the Porsche Supercup. Historical races and special programs are also on the programme.