Cars
Formula 1 Imola: Verstappen wins sprint ahead of Leclerc
High tension during the sprint to the Emilia Romagna GP in Imola: Max Verstappen (Red Bull) wins the hunt for the best starting position in front of Ferrari star Charles Leclerc and his teammate Sergio Perez. Lelcerc has the better cards at the beginning of the opening race for the Ferrari home GP. The Monegasse accelerates Verstappen at the start and can even pull away at first.
But then the soft Pirelli tires on his red racer degrade more and more. Verstappen first crawls up to the world championship leader, pulls past him two laps before the end at the end of the start-finish straight. "We handled the tires better. That way I was able to catch up with Charles and then overtake him," he recapitulates.
Leclerc: "We now have to analyze why we were struggling with the tires. I had heavy graining in the front left."
There are also a few overtaking maneuvers worth seeing behind the leading group. Carlos Sainz races from tenth on the grid to fourth, underscoring the strong performance of the Ferrari. McLaren can also build on the good performance from Australia. Lando Norris and Daniel Ricciardo finished fifth and sixth.
Haas driver Kevin Magnussen falls behind Valtteri Bottas (Alfa Romeo) in eighth place, but still gets a point.
Mick Schumacher ends up in tenth place after a remarkable overtaking maneuver on Sebastian Vettel. There are no points for this in the sprint. The son of record world champion Michael Schumacher must therefore continue to wait for his first point. Schumi junior is still satisfied: "Sebstian pulled out a trick or two and was able to keep me behind him at first. But I learned a lot again."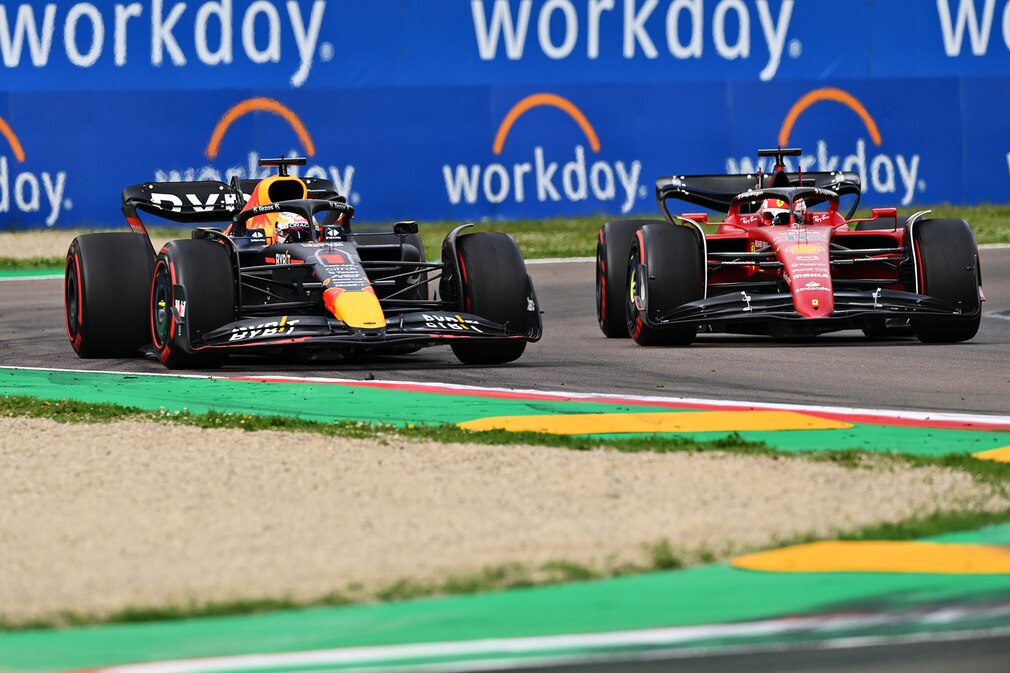 In the end, Vettel with his Aston Martin falls behind George Russell and Yuki Tsunoda in 13th place. At least he ends up ahead of Lewis Hamilton in the second Mercedes. Vettel: "There was nothing else in it. It's bitter when you lose so many places and get eaten up. But we had graining in the front left and had a hard time defending ourselves. We don't have the speed for the top ten anyway." The Hessian says about his duel with his German colleague: "Mick was faster at the time. I tried to counter it, but it was only a matter of time."
At Mercedes, however, the house blessing should continue to hang crooked. The seven-time world champion cannot be satisfied with 14th place and three places behind his new teammate George Russell. Russell: "We just don't have the speed on the straights and have to find more performance."
Emilia Romagna Grand Prix
Sprint result:
1. Max Verstappen, Red Bull 30:39.567s
2. Charles Leclerc, Ferrari + 2.975s
3. Sergio Perez, Red Bull +4.721s
4. Carlos Sainz, Ferrari +17.578s
5. Lando Norris, McLaren +24.561s
6.Daniel Ricciardo, McLaren +27.740s
7. Valtteri Bottas, Alfa Romeo + 28.133s
8.Kevin Magnussen, Haas +30.712s
9. Fernando Alonso, Alpine +32.278s
10. Mick Schumacher, Haas +33.773s
11. George Russell, Mercedes + 36.284s
12.Yuki Tsunoda, AlphaTauri +38,298s
13.Sebastian Vettel, Aston Martin +40.177s
14. Lewis Hamilton, Mercedes + 41,459s
15.Lance Stroll, Aston Martin +42.910s
16. Esteban Ocon, Alpine + 43.517s
17.Pierre Gasly, AlphaTauri +43.794s
18. Alexander Albon, Williams + 48.871s
19. Nicholas Latifi, Williams + 52.017s

Eliminated:
Guanyuzhou, Alfa Romeo
Formula 1 on TV
In 2022, Formula 1 will run on Sky. Last year, the broadcaster introduced a new TV channel especially for the premier class: Sky Formula 1. Here there is motorsport 24 hours a day. All practice sessions, all qualifying sessions, all races are always live and without commercial breaks. In addition, Sky also broadcasts the support races Formula 2, Formula 3 and the Porsche Supercup. Historical races and special programs are also on the programme.