Cars
Formula 1 in Bahrain: Dampeners for the Germans
Do you have to be an abysmal evil person to think the following? Sebastian Vettel (34) should definitely thank the corona virus for being able to save himself the first race weekend in 2022 in the Aston Martin and not having to fight with a knife between his teeth to get into the second qualifying segment.
One thing is certain: despite feeling comfortable at home, he didn't have much fun with the qualifying presentation of his Aston Martin in 2022. Both teammate Lance Stroll and substitute Nico Hülkenberg were eliminated in the first qualifying section.
The joy of his adopted son was certainly limited. Mick Schumacher achieved the best qualifying result of his career with his Haas in twelfth place – but his new teammate, who only returned to Formula 1 two weeks ago, finished seventh and thus caused the first deep scratches in the previously golden paintwork of the Schumacher filius.
From a German point of view, only Nico Hulkenberg was a ray of hope. The Emmericher practically jumped from his daughter's changing table into the F1 cockpit. With tweaking overalls that were too tight and borrowed gloves, he still drove three tenths faster than the team owner's son, Lance Stroll. Great for the German, embarrassing for the Canadian.
"I did magic, simply worked magic on the steering wheel and drove what I could," says the Emmerich happily. "I didn't overcomplicate it and this weekend I focused on the important, simple things. The basics, if you will, and didn't drive me crazy, but relied on talent and called on my skills."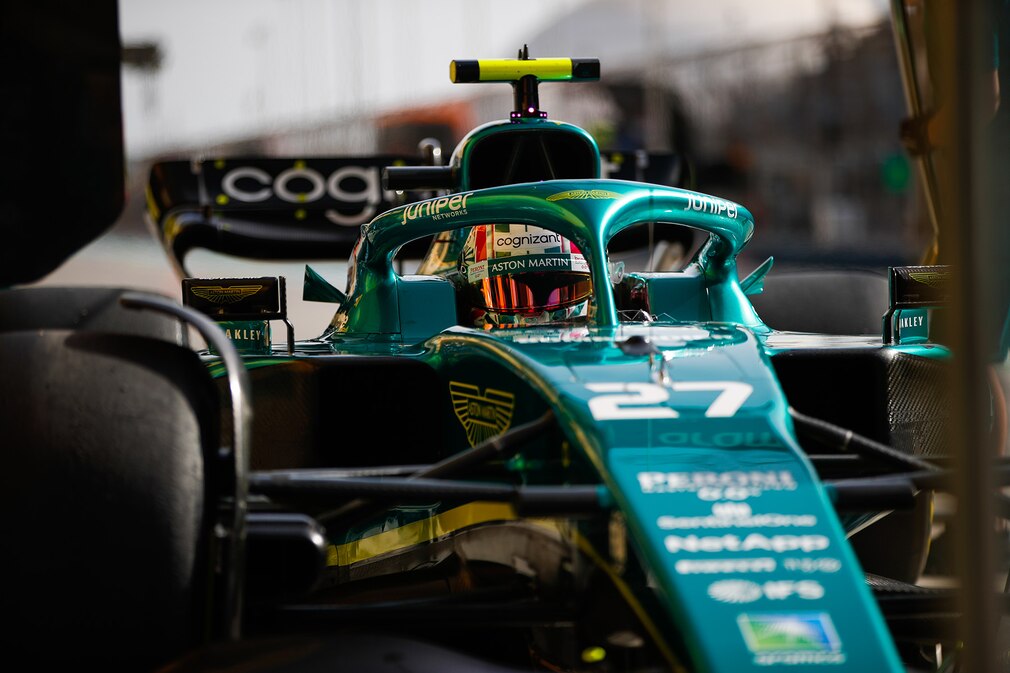 For Hülkenberg, it is also secondary that the Aston Martin is not competitive. "For me personally, it was a decent qualifying, even if it was only 17th place," he sums up. "It was cool to feel the adrenaline again and that the heart is in your throat. Of course I haven't had such a pressure situation for a long time, it makes you feel good and alive."
Alone: ​​What is so new and motivating for Hülkenberg can be rather sobering for Vettel. His new team boss Mike Krack had to use the first perseverance slogan of the still young season: "We are racers and will do everything to turn the situation around again."
A sentence that also applies to Mick Schumacher. Although the Haas-Ferrari is apparently good enough for a top place in the top ten, the son of the record world champion got stuck in twelfth place. Worse still: teammate Kevin Magnussen raced into seventh place and ended up with a half-second advantage.
"I had a feeling in the car that just didn't work out that well," explains Schumi junior later. "That continued from practice into the qualifying session." The German seems a bit at a loss. "But I still have 22 more attempts this year," doesn't testify to the self-confidence that his team-mate has after seventh place. "It's crazy," Magnussen can't stop beaming. "Two weeks ago I wasn't even in Formula 1, now I'm starting from the fourth row. Formula 1 is fun with a good car."
For the young Schumacher, the Dane will be the first major test of his Formula 1 career. "This is the next level of learning," says Haas team boss Günther Steiner. "Mick can now learn from Kevin." Then the postscript, dangerous from Schumacher's point of view: "He's just come from a year of F1 break – there's still something going on."
But it's also a fact: Schumacher can quickly make up for a bad qualifying session with a strong race. This speaks for itself: His Haas no longer drives behind, but is right in the middle and fully involved.
But as far as Sebastian Vettel is concerned. In the future he will have to decide between a relaxed weekend in the green countryside or a sacrifice in the green Aston Martin.
Formula 1 on TV
In 2022, Formula 1 will run on Sky. Last year, the broadcaster introduced a new TV channel especially for the premier class: Sky Formula 1. Here there is motorsport 24 hours a day. All practice sessions, all qualifying sessions, all races are always live and without commercial breaks. In addition, Sky also broadcasts the support races Formula 2, Formula 3 and the Porsche Supercup. The program also includes historic races and special programs.