Cars
Formula 1 in Baku: Mick unlucky, Vettel takes on the FIA ​​boss
No one could have used this start to the Baku weekend less than Mick Schumacher: The German only got three laps in the first Friday training session, then his Haas went on strike with a major water leak in the cooling system. Schumi Jr. has to park his car in the emergency exit, his training on the demanding street circuit in Baku has ended prematurely.
As much water as came out, and so quickly, something must be badly broken," admits team boss Günther Steiner, gritting his teeth. For Haas, the situation is getting worse because parts are scarce for the US team these days: "At the moment Our biggest problem is keeping up with production because we recently had so much damage," says Steiner, once again alluding to Schumacher's many accidents.
He recently warned the Germans of further crashes, but in turn received harsh criticism from Schumacher's uncle Ralf for this management style. After all: In the second Baku training session, Mick Schumacher shows that he has obviously taken the words to heart: despite the difficult circumstances caused by the lost training time, he keeps away from the walls and finally ends the session as 19th place.
Schumi Jr. is also dealing with the increasing pressure with confidence, because driving slowly is not an option for him: "We want to score points, but we have to take some risks for that," says Schumacher, adding: "It's up to me to find the right balance." According to the 23-year-old, there is still a need for learning, but he doesn't want to let the critics badmouth everything in his second Formula 1 season. "If I had rewarded myself for the performance, then the discussion would look different now," believes Schumacher, who showed a strong race in Miami, for example, before a crash with his buddy Sebastian Vettel cost him the first points shortly before the end. According to Schumacher, these are "only a matter of time."
In Baku, however, they are likely to be difficult for him and his Haas team, which is falling further and further behind the competition without updates: Teammate Kevin Magnussen, who is only 17th as the better-placed Haas driver, already has 2.3 on Friday Seconds behind Ferrari driver Charles Leclerc's best time.
At the top, however, not only the fast Scuderia star provides spice in the world championship fight, but also Sergio Perez: The Monaco winner is still on the upswing and on Friday is faster than Red Bull teammate Max Verstappen in both training sessions . Perez takes three tenths from the Dutchman in the first session, in the second he is still one tenth ahead of the world champion.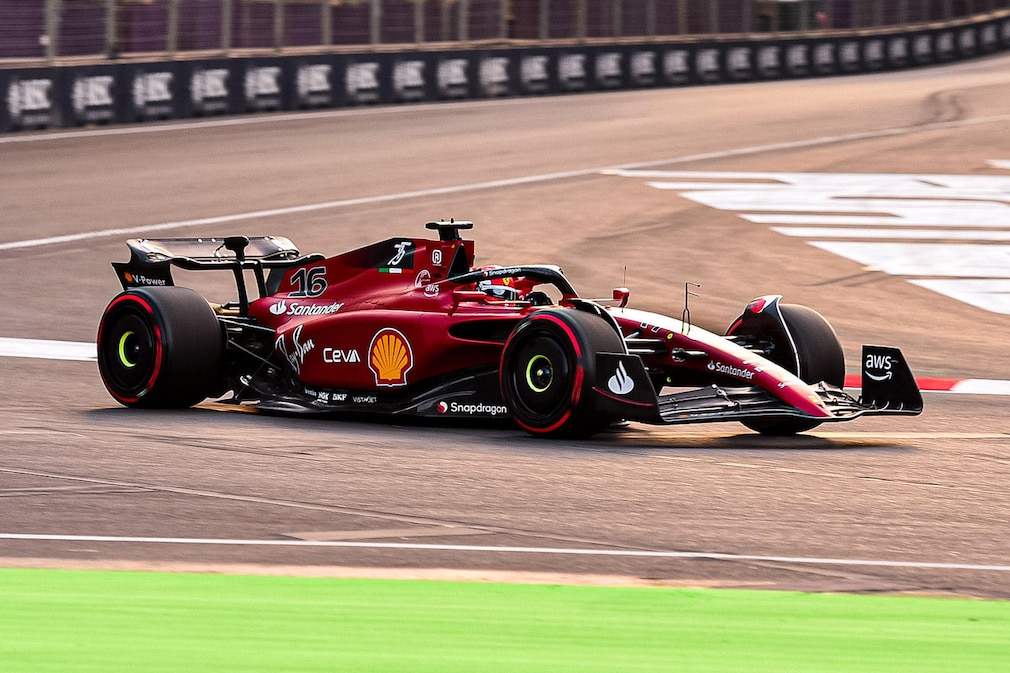 Alpine veteran Fernando Alonso also caused a surprise in the training runs with places four and five – made possible by an ultra-narrow rear wing and extra low downforce. While the long straight in Baku plays Alpine's package into the cards, Mercedes has the well-known problems: The W13 has to fight again with strong bouncing, record champion Lewis Hamilton only hops to twelfth place in the second practice session.
Aston Martin star Sebastian Vettel ends up eleventh, but is still satisfied: "Overall it was okay, we found our rhythm well. Something has to come, but we still have something in us "Comments Vettel, who after all does the most laps of all drivers. "We have to be realistic because we don't have any new parts here. If we can come in for tenth place it would be a huge success."
FIA boss irritated, Vettel shows backbone
Almost more important for Vettel in Azerbaijan, however, is his mission away from the race track: The Hessian sees himself more than ever obliged to stand up for his convictions, especially due to irritating statements by the new FIA President Mohammed bin Sulayem.
In the run-up to the race, the FIA ​​boss caused a shake of the head by questioning whether the sport had become "too political". "Vettel is now riding a rainbow bike, Lewis is passionate about human rights and Lando Norris is about mental health," said Bin Sulayem, adding that legends like Niki Lauda or Alain Prost were simply focused on racing.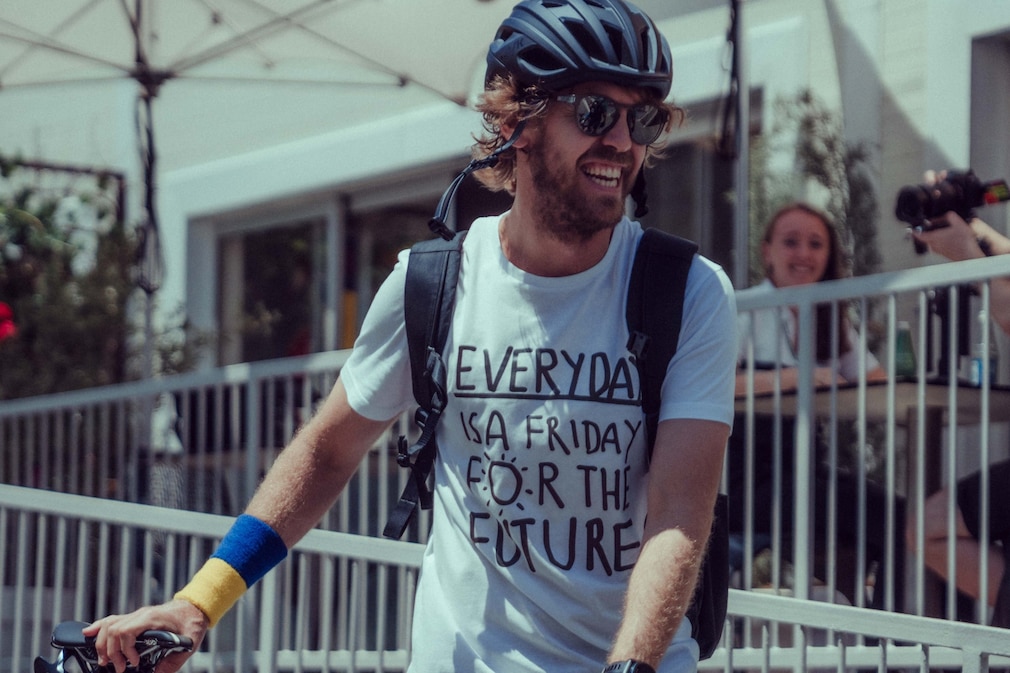 Although the President of the World Automobile Association tried to smooth things over after his statements and rowed back on Twitter, Vettel was undeterred in Baku: "These issues are more important than us, more important than sport. We should continue to draw attention to them and show people that there are many things that we can do better," explains the Heppenheimer.
The F1 appearance in Azerbaijan is also a hot topic because the premier class helps President Ilham Aliyev's authoritarian regime polish its image through international sporting events – even though human rights organizations have been accusing him of suppressing opposition figures and severely restricting press and media for years accuse freedom of speech.
Vettel believes that not to compete in Baku at all, or in comparable cases such as in Saudi Arabia or Bahrain, is the wrong way to go: "If we don't organize races, we can't do anything at all. But if we race in these countries and politely but firmly standing up for what's important, we can make a positive impact. Values ​​and principles know no boundaries," said Vettel.
Azerbaijan Formula 1 Grand Prix
2. Free Practice
1. Charles Leclerc (Monaco) – Ferrari 1:43.224 mins
2. Sergio Perez (Mexico) – Red Bull +0.248s
3. Max Verstappen (Netherlands) – Red Bull +0.356
4. Fernando Alonso (Spain) – Alpine +0.918
5. Carlos Sainz Jr (Spain) – Ferrari +1.050
6. Pierre Gasly (France) – Alpha Tauri +1.091
7. George Russell (Great Britain) – Mercedes +1.324
8. Yuki Tsunoda (Japan) – Alpha Tauri +1.343
9. Esteban Ocon (France) – Alpine +1.385
10. Lando Norris (Great Britain) – McLaren +1.547
11. Sebastian Vettel (Heppenheim) – Aston Martin +1.557
12. Lewis Hamilton (Great Britain) – Mercedes +1,650
13. Lance Stroll (Canada) – Aston Martin +1.650
14. Daniel Ricciardo (Australia) – McLaren +1.835
15. Valtteri Bottas (Finland) – Alfa Romeo +1.891
16. Zhou Guanyu (China) – Alfa Romeo +2.040
17. Kevin Magnussen (Denmark) – Haas +2.364
18.Alexander Albon (Thailand)-Williams +3.173
19. Mick Schumacher (Gland/Switzerland) – Haas +3.201
20. Nicholas Latifi (Canada) – Williams +3,994
Azerbaijan Formula 1 Grand Prix
1. Free Practice
1. Sergio Perez (Mexico) – Red Bull 1:45.476 mins
2. Charles Leclerc (Monaco) – Ferrari +0.127s
3. Max Verstappen (Netherlands) – Red Bull +0.334
4. Carlos Sainz Jr (Spain) – Ferrari +0.536
5. Fernando Alonso (Spain) – Alpine +1.095
6. Lewis Hamilton (Great Britain) – Mercedes +1,191
7. Yuki Tsunoda (Japan) – Alpha Tauri +1,220
8. George Russell (Great Britain) – Mercedes +1.229
9. Pierre Gasly (France) – Alpha Tauri +1.354
10. Esteban Ocon (France) – Alpine +1.441
11. Lando Norris (Great Britain) – McLaren +2.215
12. Lance Stroll (Canada) – Aston Martin +2.371
13. Kevin Magnussen (Denmark) – Haas +2.470
14. Sebastian Vettel (Heppenheim) – Aston Martin +2.494
15. Valtteri Bottas (Finland) – Alfa Romeo +2.602
16. Zhou Guanyu (China) – Alfa Romeo +2.746
17.Alexander Albon (Thailand)-Williams +2.943
18. Daniel Ricciardo (Australia) – McLaren +3.334
19. Nicholas Latifi (Canada) – Williams +5.445
20. Mick Schumacher (Gland/Switzerland) – Haas +12.856