Cars
Formula 1 in Miami: Ferrari beats Verstappen
A pole position for the history books: Charles Leclerc secures first place on the grid at the inaugural Grand Prix in Miami. The Ferrari star is 0.190 seconds faster than his teammate Carlos Sainz. For Ferrari it is the first all-red row one since Mexico 2019.
After a driving error before turn seven, world champion Max Verstappen finished third, 0.195 seconds behind Sergio Perez's second Red Bull.
Leclerc is delighted with his performance in front of mostly full stands: "It's nice to see how the sport has grown here in the USA in recent years. That motivates us." Regarding the duel with Red Bull, he says: "We're quick in the corners, they're quick on the straights, hopefully we'll be up front tomorrow as well. I made a mistake in the last race and I want to make up for it."
Verstappen blames problems in the practice sessions and not enough practice laps for third place: "It's a surprise to be standing here, because it's not that easy to learn this route with so little driving time," he admits.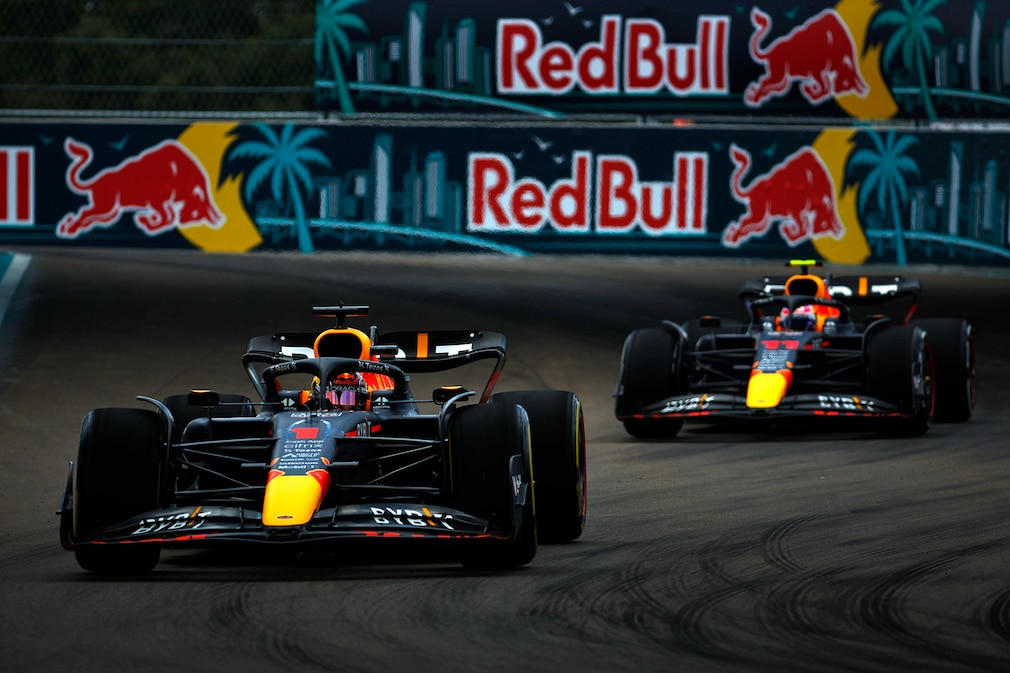 His team boss Christian Horner explains: "We have a good race car and a quite different car from Ferrari. They have more downforce and are therefore better in the corners. But we're much faster on the straights and the DRS is pretty powerful here too. So there are some opportunities." Sky expert Ralf Schumacher believes that Ferrari will also have more problems with tire wear than Red Bull in the high temperatures.
The third row is shared by ex-Mercedes driver Valtteri Bottas (Alfa Romeo) and Lewis Hamilton, who can beat his teammate George Russell (twelfth place) again this time. Despite a new rear wing, he is still 0.8 seconds behind the leaders.
Also strong: the two Alpha Tauri of Pierre Gasly and Yuki Tsunoda in seventh and ninth place.
After a mistake in the narrow chicane, Sebastian Vettel only ended up in 13th place behind his Aston Martin teammate Lance Stroll (tenth place). "I took a bit too much risk there."
On the other hand, there is a small ray of hope for Mick Schumacher: The Haas driver only starts from 15th place, but in contrast to Kevin Magnussen in 16th place, he made it into the second qualifying round and beat his teammate for the second time in five GPs. Nevertheless, he is not satisfied: "We didn't improve in Q2, so there is room for improvement."
Miami Grand Prix
qualifying
1. Charles Leclerc (Monaco) – Ferrari 1:28.796 mins
2. Carlos Sainz Jr. (Spain) – Ferrari +0.190s
3. Max Verstappen (Netherlands) – Red Bull +0.195
4. Sergio Perez (Mexico) – Red Bull +0.240
5. Valtteri Bottas (Finland) – Alfa Romeo +0.679
6. Lewis Hamilton (Great Britain) – Mercedes +0.829
7. Pierre Gasly (France) – Alpha Tauri +0.894
8. Lando Norris (Great Britain) – McLaren +0.954
9. Yuki Tsunoda (Japan) – Alpha Tauri +1.136
10. Lance Stroll (Canada) – Aston Martin +1.880
11. Fernando Alonso (Spain) – Alpine 1:30.160
12. George Russell (Great Britain) – Mercedes 1:30.173
13. Sebastian Vettel (Heppenheim) – Aston Martin 1:30.214
14. Daniel Ricciardo (Australia) – McLaren 1:30.310
15. Mick Schumacher (Gland/Switzerland) – Haas 1:30.423
16. Kevin Magnussen (Denmark) – Haas 1:30.975
17. Zhou Guanyu (China) – Alfa Romeo 1:31.020
18.Alexander Albon (Thailand)-Williams 1:31.266
19. Nicholas Latifi (Canada) – Williams 1:31.325
20. Esteban Ocon (France) – Alpine –

Formula 1 on TV
In 2022, Formula 1 will run on Sky. Last year, the broadcaster introduced a new TV channel especially for the premier class: Sky Formula 1. Here there is motorsport 24 hours a day. All practice sessions, all qualifying sessions, all races are always live and without commercial breaks. In addition, Sky also broadcasts the support races Formula 2, Formula 3 and the Porsche Supercup. Historical races and special programs are also on the programme.