Cars
Formula 1 in Monza: Mercedes driver takes pole in Italy
Mercedes dominance in qualifying for the Italian Grand Prix in Monza: Noble helper Valtteri Bottas secures pole position for the sprint race, which will take place on Saturday for the second time in the history of Formula 1. There are 18 laps on the almost 5.8-kilometer high-speed track in Monza on Saturday (4.30 p.m.).

The Finn relegates his team-mate Lewis Hamilton to second place. "Congratulations to Valtteri, that was a mega round," praised Hamilton. Bottas says: "I'm happy about this round, especially because I should give slipstream."
Happy is also Mercedes team principal Toto Wolff. "We said on the radio: It's as beautiful as it was in the old days," laughs the Viennese. "Valtteri is now free in his head and performing." Background: The Finn finally has clarity about his future, will be driving at Alfa Romeo in 2022.
World Championship leader Max Verstappen in the Red Bull follows in third place. "We knew that it would be difficult for us on this track," admits Verstappen. "But I'm really happy with third place. Tomorrow we have to see that we get faster in the long run. " Red Bull advisor Helmut Marko, however, is satisfied. "We got the best out of it. The Mercedes engine is stronger here. It's good that Bottas is ahead – Hamilton starts on the dirty side. "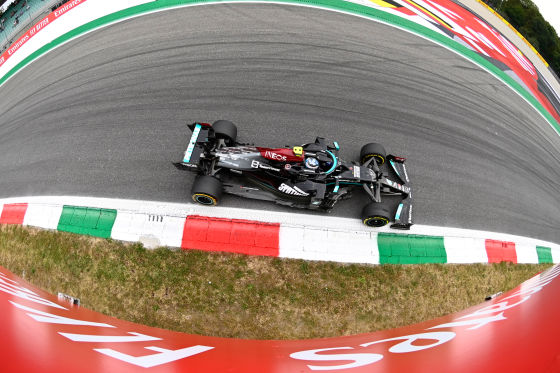 Bad news, however, for Bottas: The Mercedes wingman has swapped all drive components and will be transferred to the end of the field after the sprint race. There are strategic reasons for this, the world championship team announced.
The two McLaren of Lando Norris and Daniel Ricciardo underline the strength of Mercedes in fourth and fifth place. Weak on the other hand: Sergio Perez's second Red Bull Honda in ninth place. However, the Mexican gets special praise from Helmut Marko: "He will be further ahead tomorrow. He had to give Max slipstream today. "
The Ferrari of Charles Leclerc and Carlos Sainz only make it into seventh and eighth place in the home race.
Sebastian Vettel beats his team-mate Lance Stroll (for the ninth time in 14 attempts), but retires in the second qualifying segment. In eleventh place, the Aston Martin star only missed the top ten by 31 thousandths of a second. On the other hand, he will be able to get over a fine of 5000 euros: When driving out of the garage, Hessian Lewis Hamilton shoots in front of the car. Nothing happened, but the maneuver was rated as an unsafe release. Fernando Alonso, Esteban Ocon and Georg Russell follow in 13th to 15th place.
Vettel: "I was maybe a bit too conservative on my lap, I just didn't want to overshoot the mark. It is a shame that it is not enough. Still, it's a good starting position. "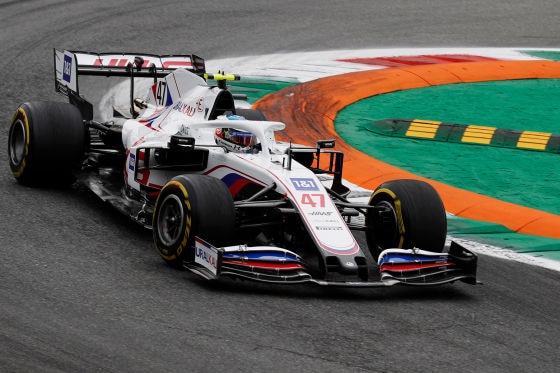 Strong performance by Mick Schumacher in the Haas-Ferrari: The German beats both Robert Kubica in the Alfa Romeo and his team-mate Nikita Mazepin and ends up in 18th place. The Russian is half a second behind. Schumacher increased to 12: 2 in the team's internal qualifying duel.
Schumacher: "The lap was quite difficult because the tires were barely up to temperature. This is a problem here because everyone is waiting for the other's slipstream. "
Background: There is already a lot going on in the first qualifying section. Various drivers have to break off their fast laps again and again due to traffic jams. In addition to Mazepin, Kubica and Schumacher, Tsunoda and Latifi are also eliminated.
Formula 1 Grand Prix of Italy
Qualifying:
1. Valtteri Bottas (Finland) – Mercedes 1: 19.555 min.
2. Lewis Hamilton (Great Britain) – Mercedes +0.096 sec.
3. Max Verstappen (Netherlands) – Red Bull +0.411
4. Lando Norris (Great Britain) – McLaren +0.434
5. Daniel Ricciardo (Australia) – McLaren +0.440
6. Pierre Gasly (France) – Alpha Tauri +0.705
7. Carlos Sainz Jr. (Spain) – Ferrari +0.907
8. Charles Leclerc (Monaco) – Ferrari +0.955
9. Sergio Perez (Mexico) – Red Bull +1.056
10. Antonio Giovinazzi (Italy) – Alfa Romeo +1.253
11. Sebastian Vettel (Heppenheim) – Aston Martin 1: 20.913
12. Lance Stroll (Canada) – Aston Martin 1: 21.020
13. Fernando Alonso (Spain) – Alpine 1: 21.069
14. Esteban Ocon (France) – Alpine 1: 21.103
15. George Russell (Great Britain) – Williams 1: 21,392
16. Nicholas Latifi (Canada) – Williams 1: 21.925
17. Yuki Tsunoda (Japan) – Alpha Tauri 1: 21.973
18. Mick Schumacher (Gland / Switzerland) – Haas 1: 22,248
19. Robert Kubica (Poland) – Alfa Romeo 1: 22.530
20. Nikita Masepin (Russia) – Haas 1: 22,716

Formula 1 on TV
Formula 1 will run at Sky in 2021. The station is setting up its own TV station for the new era: Sky Formula 1. Here there is motorsport 24 hours a day. All training sessions, all qualifying sessions, all races always live and without commercial breaks. Sky also broadcasts the Formula 2, Formula 3 and Porsche Supercup races. The program also includes historical races and special programs. You can find more information here