Cars
Formula 1 in Qatar: muzzle for Vettel?
The Formula 1 bosses from the marketer Liberty and Sebastian Vettel's Aston Martin boss Lawrence Stroll have one thing in common: Instead of the pandemic protective mask, they would rather put a muzzle on the four-time world champion so that he no longer continues his environmental issues and calls for equal rights for all people spread.
Vettel's stories about his visit to Pedro Diniz's organic farm in Brazil were the last open words of the activist with the super license to fight for the real and the good.
Apparently the rebel now has his back to the wall. In any case, since the race in Brazil, Vettel has only been talking softly, as if he were on probation. No more rainbow helmets (like Lewis Hamilton), no T-shirts, no pithy statements about the exploitation of migrant workers in Qatar. Vettel evades the questions like the one that is too high on the racetrack.
That only allows one conclusion, because the Heppenheimer has certainly not changed his mind overnight. So someone must have suggested that he hold back with his constant criticism. True to the motto: He harmed his sport, which ultimately earned him a lot of money. A comprehensible argument from the point of view of the Formula 1 makers around Stefano Domenicali, who, let's not kid ourselves, are ultimately primarily about business.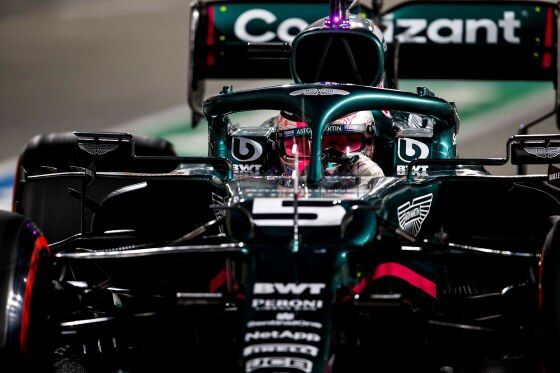 Even more: Aston Martin owner Lawrence Stroll can't be happy with a rebellious Hessen either. Because: His British manufacturer of luxury sports cars has neither sustainable hybrid motors nor pure electric cars in its model range. It is quite possible that the Canadian billionaire, who is known to take no prisoners, does not like it at all when the most expensive employee of the James Bond brand of all people points this out through his sustainability sermons through the flower.
Whatever the case, the pressure from the powerful managers was already bearing fruit in Qatar. Because why else did Vettel suddenly look like a toothless tiger in Doha? His body language was that of a twelve-year-old who was caught smoking in the toilet.
The dilemma: In terms of sport, there are hardly any opportunities to attract attention in a positive way. While Lewis Hamilton races towards the title with a fresh Mercedes engine, Sebastian Vettel struggles with his engine. In Brazil it was noticeable that the Mercedes drive in the rear of Vettel's Aston Martin was clearly lacking in power. With 316 km / h, the Heppenheimer took the penultimate place in the top speed measurement (Speed ​​Trap). Vettel's worm motor is a consequence of the Mercedes reliability problems this year.
The worst thing is: the ex-champion has to decide now. Give in further or use Formula 1 as a platform again to fight for a better future. Like in Hungary, when he refused to take off his rainbow shirt during the national anthem despite a request from the marketers. Because he would wear it precisely to point out the political conditions created by the Orban government.
In Qatar on Sunday or two weeks later in Saudi Arabia, he would have another opportunity to point out grievances. But there will probably be no more Sunday for Future. Because he wants to buy time first. Because, because I know him: He wants to drive for victories and podium places again next year.
The Hessian hopes that the new vehicle regulations will then bring his Aston Martin back to the front. If that is not the case, however, I cannot guarantee anything. It wouldn't be a surprise to me if he'd hang up his helmet during the season. Because I'm sure of one thing: the fourth most successful Formula 1 driver of all time will only compromise with his conscience if he can drive for victories.
Formula 1 on TV
Formula 1 will run at Sky in 2021. The station is setting up its own TV station for the new era: Sky Formula 1. Here there is motorsport 24 hours a day. All training sessions, all qualifying sessions, all races always live and without commercial breaks. Sky also broadcasts the Formula 2, Formula 3 and Porsche Supercup races. The program also includes historical races and special programs. You can find more information here