Cars
Formula 1 in Saudi Arabia: Schumacher worries about safety
Mick Schumacher (22) is worried about the safety of the high-speed street circuit in Jeddah after finishing 19th in qualifying for the Saudi Arabian Grand Prix. "Tomorrow we will find out whether the track is safe," says the Haas driver in his press lap. Other pilots had already expressed safety concerns in the driver briefing on Friday.
Schumacher specifies his concern about the many blind bends and nearby walls: "I am not criticizing the course per se. But my feeling is: If something happens in front, the field behind could rush into the danger zone at high speeds."
Changes have already been announced for the coming year. "That would be good," emphasizes Michael Schumacher's son. "Because there are too many places where something can go wrong. And we don't want to wait until a serious accident happens. "
His suggestion: "In the bends in which we drive at full throttle, the walls could be widened so that we have a better overview – even when lapping in the rear-view mirror." That is precisely what will be one of his problems tomorrow. "It's going to be hard to get out of the way without getting the tires dirty," explains Mick. "That's why you have to choose wisely where to make space. I hope the guys have patience. We can't just disappear here. "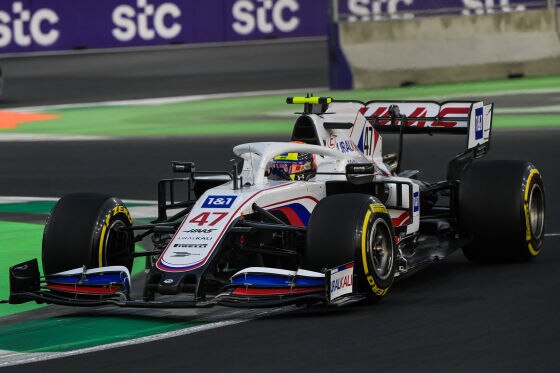 Nevertheless, it is not the most difficult route Schumi junior has ever driven: "Macau is more difficult, but you can compare it with Monaco and Baku."
The Haas driver will start directly behind his buddy Sebastian Vettel (Aston Martin) on Sunday. "I hope that I can duel with Sebastian," he wishes, but admits: "Overtaking seems difficult. The Astons will have a power advantage on the straights. "
Schumacher's team-mate Nikita Mazepin (20th place), however, already felt the pitfalls of the narrow track with many secluded corners in the third free practice session: He almost rushed into the rear of Lewis Hamilton, who strolled back into the pits on the ideal line.
"From my point of view, that wasn't a problem," he said, protecting the British, who received a warning for this. "We train our reflexes in order to be able to react in such situations. We exchanged messages afterwards. He wrote that he was sorry and that he and Mercedes didn't do the best job. To hear something like that from a seven-time world champion is very nice. "
Mazepin does not ask for a harsher punishment either. "I really like Lewis and wish him all the best in the championship fight. I don't want him to be punished for me. "
The young Russian does not accept criticism of the route either. "It's not fair to criticize the route designer," he contradicts Mick Schumacher. "In Monaco or Baku we have the same problems as here. It's part of our job to deal with it. Otherwise we would be like journalists complaining that they spend too much time in front of the computer. "

Formula 1 on TV
Formula 1 will run at Sky in 2021. The station is setting up its own TV station for the new era: Sky Formula 1. Here there is motorsport 24 hours a day. All training sessions, all qualifying sessions, all races always live and without commercial breaks. Sky also broadcasts the Formula 2, Formula 3 and Porsche Supercup races. The program also includes historical races and special programs. You can find more information here