Cars
Formula 1 in Saudi Arabia – Vettel after 17th place: "It hurts!"
Sebastian Vettel (34) didn't really want to believe it at first: "What? Oh man!", The German radioed after his race engineer announced 17th place and the associated end in the first qualifying section for the Saudi Arabia GP .
"I thought it was a very reasonable lap and maybe good enough to get ahead. But that wasn't the case, so I was a bit surprised," Vettel explains his first reaction. "It's a shame, but we're just not fast enough here. It hurts, but when you qualify in 17th when everything went smoothly, there is usually a reason: Obviously the track wasn't made for us. We have a lot here more problems than on other courses. There are a lot of straights and fast corners, we just lose time. "
Small consolation: After all, Heppenheim's Aston Martin team-mate beats Lance Stroll, who lands one position behind him. In the team duel he increases to 14: 7.
According to Vettel, one reason for the Aston Martin misery is the tires: "We struggled to get them into the temperature window. Although it felt a bit better today than last night, we are still far away and if you are is honest, it was already announced. "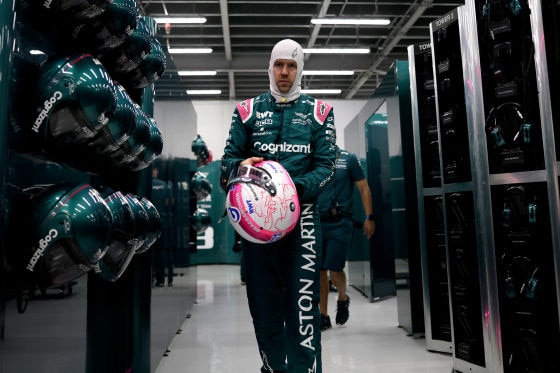 Which doesn't help the Heppenheimer when preparing the tires either: "Before the start of my last lap there was a traffic jam in the last corner, so it was a bit chaotic out of the last corner and the beginning of the lap wasn't perfect because the tires weren't were on temperature. "
He can only laugh tiredly at the behavior of some of his colleagues in the dense qualifying traffic: "It was a nightmare, but also the normal chaos. We can talk about it as often as we can, but if everyone does it differently anyway, it'll do nothing: There is always a two who jostle in line and then everyone gets nervous. This time the two Alpines screwed it up and didn't stay in line. It's always the same and will never change as long as everyone thinks he has right of way. "
Vettel can no longer save his round after the bad start. "But it doesn't matter, we couldn't have won a flower pot today," he says, given the pace of his Aston Martin.
For the race on Sunday Vettel is now hoping for action: "Either nothing happens and gets boring or a lot happens and becomes eventful. If a lot happens, I hope that we can benefit, because in the race trim we are usually a little closer your turn."
The German doesn't think overtaking is impossible despite the tight course: "Turn one is probably the best option, but you have to be a good second faster for that." After Aston Martin's qualification disgrace on Saturday, a rather unlikely scenario.
Formula 1 on TV
Formula 1 will run at Sky in 2021. The station is setting up its own TV station for the new era: Sky Formula 1. Here there is motorsport 24 hours a day. All training sessions, all qualifying sessions, all races always live and without commercial breaks. Sky also broadcasts the Formula 2, Formula 3 and Porsche Supercup races. The program also includes historical races and special programs. You can find more information here