Cars
Formula 1 in Singapore: Quali frustration with Schumacher and Vettel
With five victories, Sebastian Vettel is the record driver in Formula 1 in Singapore: In his last qualifying session on his parade track, however, the Aston Martin star's tire gamble on Saturday didn't work out. Along with team-mate Lance Stroll and Alfa Romeo driver Guanyu Zhou, Vettel is one of just three drivers to use slicks in Q2 on the drying track. A risk that does not pay off for the trio: Stroll is twelfth, Vettel finishes qualifying ahead of Zhou in 14th place.
"We were a bit too aggressive and went on dry tires too early, the track wasn't quite ready for that yet," the German concedes after the session. "It was close and could have paid off, but I realized right away on the outlap that it was the wrong decision. But by then it was too late," Vettel quarrels with the risk variant.
But why did Aston Martin gamble at all? "We puzzled for a long time. Inter's gut feeling said, but then others are already dry and we didn't want to miss this move, especially since you don't have much time to make a decision," explains Vettel. The Heppenheimer is annoyed: "In retrospect, I should have been stronger and insisted on Inter." Nevertheless, he stands in front of his team and emphasizes: "We decided it together."
So Vettel's last shot on Saturday backfires, in the end the Aston Martin driver even slips off the track and has to go through the emergency exit: "I made a mistake and braked myself. I knew that I was on the wet part of the I'll lose a lot of time on the track, so I attacked extremely on the dry parts. I was a bit too aggressive on the brakes and the front tires weren't quite warm either."
Conclusion Vettel: "All in all, it was just a bit too early today. Not much, but just the three to four laps that it would have needed." For his final Singapore GP, that didn't exactly simplify the starting position: "We're quite far behind, so it will of course be difficult because it's not so easy to overtake here," says Vettel, who is encouraged by the training impressions: "Ours Race pace was looking pretty good. Hopefully there will be a little more rain tomorrow and preferably some chaos as well."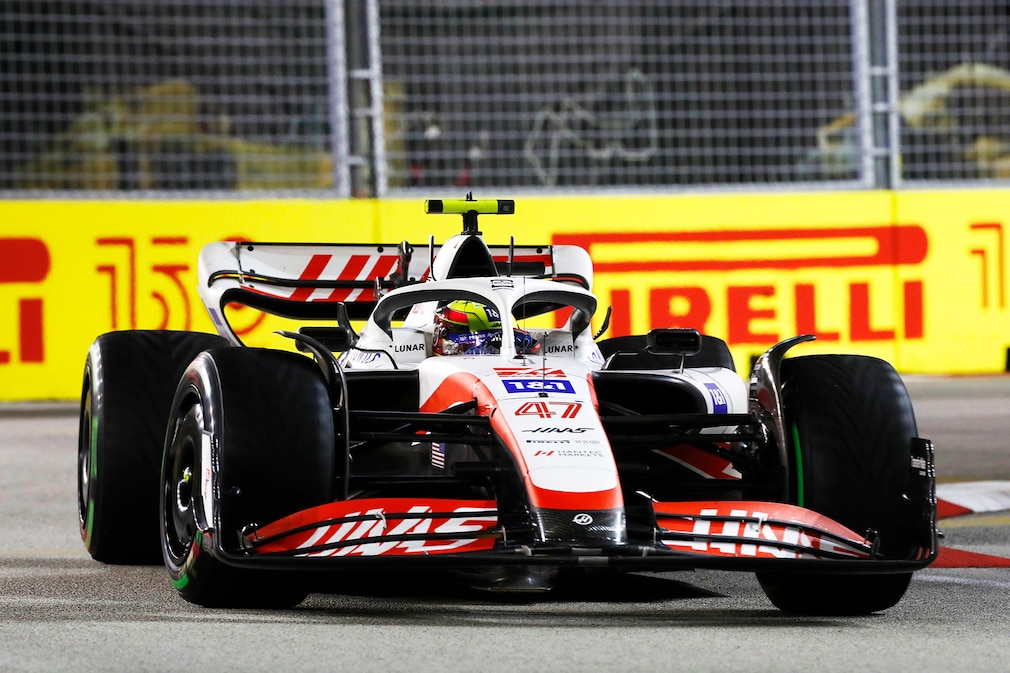 Like Vettel, Schumacher is hoping for rain
Compatriot and friend Mick Schumacher will start one place ahead of Vettel on Sunday. For the German, it is the Singapore premiere after three years of a forced F1 break in Asia due to corona, so Schumi Jr. can live well with starting position 13: "Compared to yesterday, we really made a big step forward today," he says happily 23-year-old about the fact that his Haas once again works well in the mixing conditions.
"Unfortunately, it dried more and more during qualifying than I had hoped. On the last lap, I overheated the tires in the second sector a bit," reveals Schumacher, not sparing with self-criticism: "A few of the tricks I there were maybe not the right ones for these conditions. The rear axle was then already slipping quite a bit and I didn't make up the time as I wanted to."
The gap to teammate Kevin Magnussen, who just about made it into Q3 and finished ninth there, is 0.364 seconds. Nevertheless, the positive outweighs the positive for Schumi Jr. overall on Saturday: "I'm happy with the feeling and the improvement that the team and I have achieved. If it rains tomorrow, there are definitely chances because our car is simply strong in the wet. So let's do the rain dance and hope that a few drops will fall," laughs Schumacher.