Cars
Formula 1 – In the footsteps of Schumi: Opponents believe in Verstappen victory
Ferrari Max Verstappen has already messed up at least one record in Spa – albeit in a different way than Scuderia would have liked. Because even if Red Bull's world championship leader should still win the Belgian GP on Sunday after his engine penalty from 15th place: Michael Schumacher managed this feat in the Benetton 1995 on the Ardennes roller coaster from 16th place.
Charles Leclerc is on this on Sunday. Because the Ferrari driver (like five other drivers also has to return with an engine penalty) cannot hold a candle to Verstappen in qualifying, he starts behind the Dutchman in the first Grand Prix after the summer break. But worse: Leclerc is 0.888 seconds short of Verstappen's pole time.
"To be honest, I would be surprised by the distance today if we were suddenly as fast as them tomorrow," admits Leclerc, looking at the race pace. The Monegasque is rather alarmed: "The gap to Max is a bit worrying. They are here extremely fast and we can't quite explain why. Apparently they have found something for this weekend."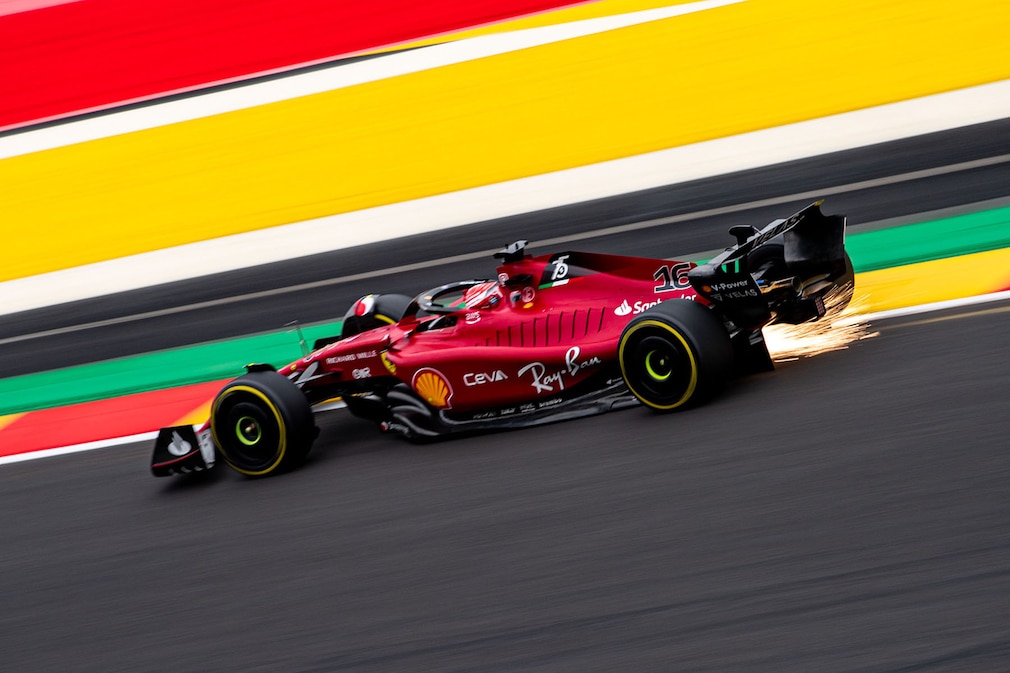 Leclerc, who is already 80 points behind Verstappen in the World Championship, has to admit: "No matter what we would have done today, it would not have changed anything in our starting position (compared to Verstappen; ed.). Our car was today just not on their level."
Not only Ferrari, but also the rest of the competition is amazed at Red Bull's speed in the Ardennes. Mercedes star Lewis Hamilton is already completely disillusioned on the team radio when his engineer tells him the gap to Verstappen: "1.8 seconds?" asks the Brit incredulously.
Silver Arrows teammate George Russell is probably not leaning too far out of the window when he thinks: "I think Max will plow through the field tomorrow and probably win the race quite comfortably."
Nico Hulkenberg sees it similarly. Aston Martin's reserve driver, in his capacity as an expert at ServusTV, says: "Max can still do almost anything tomorrow. The podium is realistic, and with a safety car later in the race, he could even be able to win."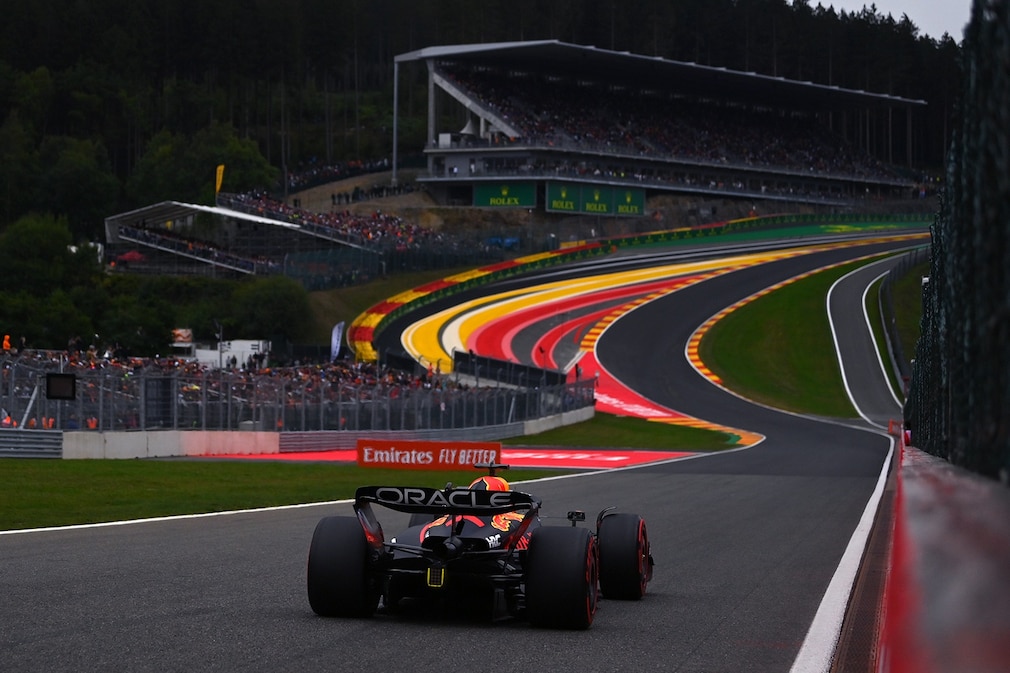 Striking: Even those responsible at Red Bull can't stop beaming after qualifying. "Max's time (in Q3; ed.) was so good that he didn't even have to drive a second run," team boss Christian Horner rejoices and grins: "We were able to save a bit on the engine's kilometer account. To get out so early and to be ready, that's psychologically good."
Red Bull chief adviser Helmut Marko explains: "We are surprised at how great everything went. With this excess speed, under normal conditions it shouldn't be long before Max comes forward tomorrow." The Austrian has nothing but admiration for his world champion: "He's in such good shape, has such a confident demeanor and self-confidence, it will be difficult for the others."
It is true that Spa is considered to be a designated driver's circuit – but that alone can hardly explain Verstappen's declassification of the competition. So where is Red Bull suddenly getting the pace from?
"It's the efficiency. The Red Bull simply works very well here, the relationship between downforce, air resistance and the balance with the long corners on this track, it just fits like a glove," believes Nico Hülkenberg.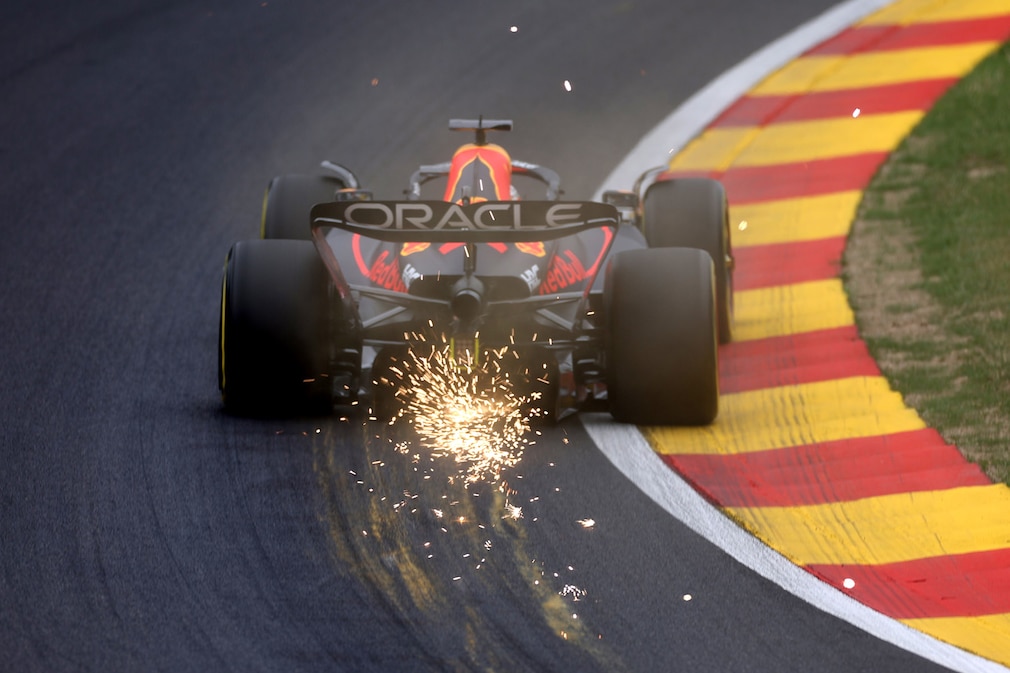 "It's a statement from Red Bull. It's an incredible job and quite a hit to come out of the summer break like this – especially since they hardly brought any updates with them, they just fine-tuned the car," says ex-F1 driver Paul di Resta. The Scot noticed: "For the first time this year, Red Bull has more downforce than Ferrari, which is where their good times come from in the middle sector."
But the problem for the Reds from Maranello is: "Red Bull still has a strong top speed. Ferrari, on the other hand, went at top speed here, they have a similar package as in Canada, for example, because they have to overtake a lot again because of the penalty ", says Di Resta. In Montreal, too, Leclerc had to plow through the field from behind after an engine penalty, but still finished fifth.
At least this catch-up, the experts agree, Verstappen should probably top on Sunday – if it can't be Schumi's 27 years ago.
Formula 1 Belgian GP
Provisional starting grid:
1st row: 1. Carlos Sainz Jr. (Spain) – Ferrari 1:44.297 min.; 2. Sergio Perez (Mexico) – Red Bull 1:44.462
2nd row: 3rd Fernando Alonso (Spain) – Alpine 1:45.368; 4. Lewis Hamilton (Great Britain) – Mercedes 1:45.503
3rd row: 5th George Russell (Great Britain) – Mercedes 1:45.776; 6. Alexander Albon (Thailand) – Williams 1:45.837
4th row: 7th Daniel Ricciardo (Australia) – McLaren 1:45.767; 8. Pierre Gasly (France) – Alpha Tauri 1:45.827
5th row: 9th Lance Stroll (Canada) – Aston Martin 1:46.611; 10. Sebastian Vettel (Heppenheim) – Aston Martin 1:46.344
6th row: 11th Nicholas Latifi (Canada) – Williams 1:46.401; 12. Kevin Magnussen (Denmark) – Haas 1:46.557
7th row: 13th Yuki Tsunoda (Japan) – Alpha Tauri 1:46.692; 14. Valtteri Bottas (Finland) – Alfa Romeo 1:47.866
8th row: 15th Max Verstappen (Netherlands) – Red Bull 1:43.665; 16. Charles Leclerc (Monaco) – Ferrari 1:44.553
9th row: 17th Esteban Ocon (France) – Alpine 1:45.180; 18. Lando Norris (Great Britain) – McLaren 1:46.178
10th row: 19th Zhou Guanyu (China) – Alfa Romeo 1:46.085; 20. Mick Schumacher (Gland/Switzerland) – Haas 1:47.718