Cars
Formula 1: jumping away: light at the end of the tunnel for Hamilton
Formula 1 record world champion Lewis Hamilton has to explain this calculation first: "My team-mate is fourth. That means that the car should be at least third or fourth. And I'm sixth," commented the Brit after qualifying for the Spanish GP on Saturday in Barcelona.
Translated, this probably means: In top form, Hamilton still dares to get more out of the Silver Arrow than his young stable mate George Russell. But at the moment Hamilton can hardly call on his strengths, not even compared to his 13-year-old compatriot.
"I still have problems with the car," admits the seven-time champion. A tenth of a second separates the two Mercedes drivers in qualifying on Saturday. In the qualifying duel it is now 3:3 between Hamilton and Russell.
In the race, however, the newcomer to the team was usually in the lead. On points, Russell is 56:36 well ahead of Hamilton, who had to struggle with the difficult W13 throughout the first five races of the season. "I still don't know how to stop it and what I'll do about it. But I'll keep trying and work hard on myself. I'll keep pushing," says the 37-year-old.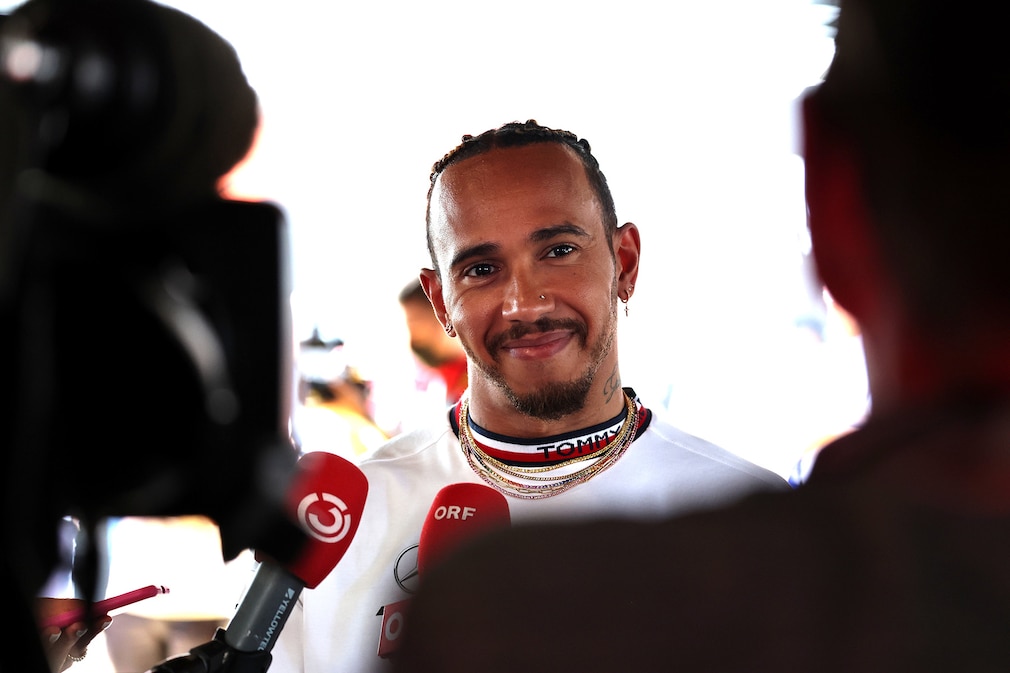 When the knot finally bursts, will the days of Russell Hamilton driving around in front of you be over? Ex-F1 driver and Mercedes insider Paul di Resta assumes so. The Scot doesn't write Hamilton off: "Lewis just doesn't like this car. But something like that is normal and can happen. I think he'll be able to do it."
For the former Force India pilot, it's only a matter of time before Hamilton flexes his muscles again: "Once Lewis gets that momentum, that's the moment when you should be worried as a teammate. Lewis will be safe Don't give up because he usually gets better under pressure."
In any case, Di Resta has already identified a different body language in Hamilton in Barcelona. "Lewis seems a lot happier now. You can see that he already has a different mindset." The main reason for this should be clear: Mercedes has finally gotten better control of the bouncing that the W13 has suffered from – and Hamilton obviously more so than Russell.
In the run-up to the weekend in Spain, the team even completed comparison drives with different underbody configurations as part of a film day in Le Castellet. In Barcelona, ​​Hamilton stated with a satisfied expression after qualifying: "The car no longer jumps on the straights. It still bothers us a bit in the corners, we still have to improve that. But overall it's a positive step and we're getting closer to the top."
Mercedes sports director Toto Wolff also sees it this way: "Of course, our aim is to play at the top and we're not doing that at the moment. But it was okay today. Last time we were a second away, today it was six tenths," he calculates Austrians with a view to the result.
But Wolff also points out: "In terms of qualifying pace, we are of course still miles away. In general, however, we have more of a race car than a qualifying car. I think we made a solid step forward this weekend .It's also important to remember that our rivals have evolved while we had to stop to stop bouncing."
Russell is also happy about the upward trend: "As a team, it was our best qualifying session so far this season. That shows that the things we put on the car are working. Only the tires weren't in the right working window today," says the youngster British. "But we finally have a good basis now. We have to continue along this path in order to find even more performance in the car." If only the sleeping giant on the other side of the garage doesn't wake up…
Formula 1 on TV
In 2022, Formula 1 will run on Sky. Last year, the broadcaster introduced a new TV channel especially for the premier class: Sky Formula 1. Here there is motorsport 24 hours a day. All practice sessions, all qualifying sessions, all races are always live and without commercial breaks. In addition, Sky also broadcasts the support races Formula 2, Formula 3 and the Porsche Supercup. Historical races and special programs are also on the programme.