Cars
Formula 1 Leclerc: Ferrari's messiah with the blows of fate
Once he made life difficult for Sebastian Vettel at Ferrari, now Charles Leclerc (24) has finally arrived at the top of Formula 1. After a win and a second place, the shooting star leads the world championship with twelve points to his teammate Carlos Sainz and 20 World champion Max Verstappen – and is accordingly self-confident.
"I'm very happy with the start of the season," explains the Monegasque before the Australian GP (Sunday, 8 a.m.) and sends a warning to the competition: "What makes me happy is not really the performance, but that I know exactly what I still need to work on and what I need to improve in order to get more performance."
One thing is certain: the goal can only be the title. It would be the first for Ferrari since Kimi Raikkonen in 2007. Fernando Alonso and Sebastian Vettel have tried in vain to get the Prancing Horse to gallop. Leclerc could do what two champions before him failed to do.
In any case, many expect exactly that from Ferrari's crown prince with the angel face. Because Leclerc is not just any young driver. Just like Max Verstappen, he has been traded for years as the next golden boy, in Italy as a savior who should bring Ferrari back to where they belong according to their own teaching: to the top.
Leclerc now challenges Verstappen on the world title mission. A duel that is not new. The two had already dueled in karting. A legendary scene from 2012, when the Monegasque pushed the Dutchman off the track and Verstappen, who was in puberty at the time, complained bitterly about the unfair driving style of his rival on the kart track. But Leclerc countered coolly: "It was just a racing accident." The way he pronounces the word "incident" (namely incident) has now become a dictum in the scene.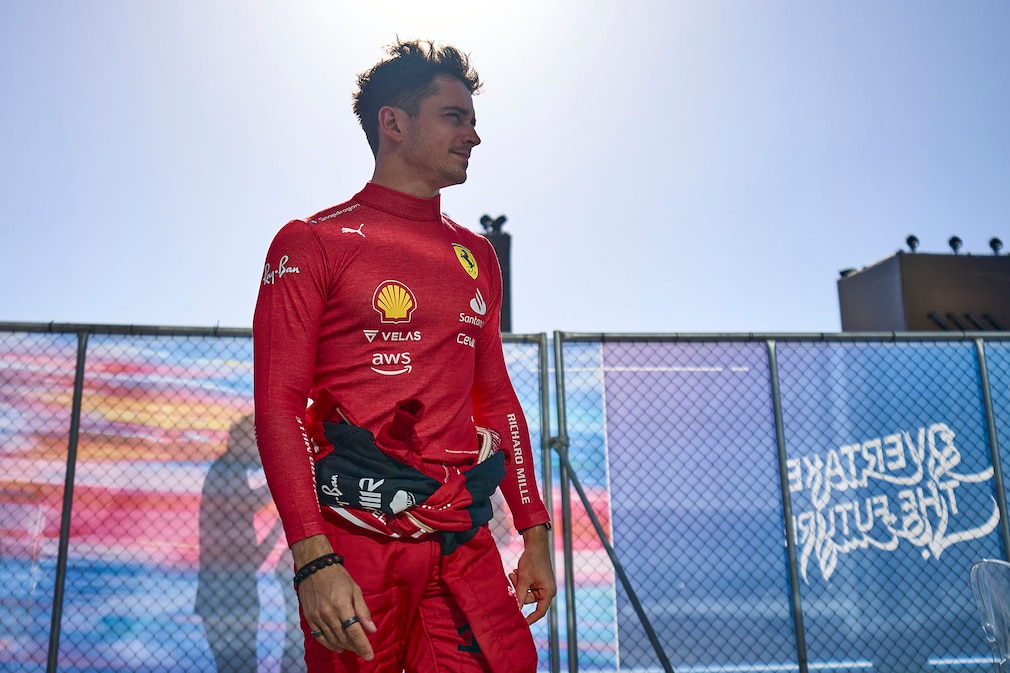 But that's just a side note. Leclerc has always impressed with a special performance. In 2013 he became vice world champion in karting behind Verstappen, in 2016 he won the GP3 title and was included in the Ferrari junior squad. Since then, he has been racing in the fast lane – and has not let himself be slowed down even by severe strokes of fate.
Because unlike Verstappen, who was steered by his father Jos through all the chicanes through the junior classes to the World Cup crown, Leclerc lost his father when things got really serious in his son's career. The week before the 2017 Azerbaijan GP, ​​Hervé Leclerc died unexpectedly at the age of 58. Nevertheless, Charles traveled to Baku, won both Formula 2 races and later won the championship.
It was the second time he had to get over the loss of a loved one. In 2014, his godfather and mentor Jules Bianchi had a serious accident in Suzuka and died a year later from his head injuries. Leclerc took over the role that was actually intended for the young Frenchman: managed by Jean Todt's son Nicolas, he became Ferrari's messiah.
And the big stumbling block in Sebastian Vettel's career. Because when Leclerc became Vettel's teammate in 2019, he didn't stop out of sheer awe. On the contrary. With his raw speed, his innocent demeanor and the political power of those around him, he ended the Heppenheimer's Ferrari career.
However, the internal team rivalry never escalated into a hate duel. Perhaps also because Vettel saw himself more in the role of teacher than in that of a bitter competitor. Leclerc still raves about his ex-teammate's "analytical approach" and praises: "In this regard, I learned a lot from Seb."
Vettel attached great importance to small details, "and that made a big difference on the track in the end. It was very interesting for me to observe that." In addition, Vettel is "a very good person". Leclerc: "I was impressed by his modesty."
The young Monegasse has not only grown as a driver but also as a person on his quick way to the top. But he also knows: Now it's up to him again. The first world title is always the hardest, they say. But at Ferrari they believe in Charles.
"I think he's ready," says Ferrari team boss Mattia Binotto. "But that's what I expected. When we extended his contract to 2024 last year, we did it because we know he can fight for the title. He has the talent and is an incredibly good racing driver."
In the 2022 season he can prove it at the highest level for the first time.

Formula 1 on TV
In 2022, Formula 1 will run on Sky. Last year, the broadcaster introduced a new TV channel especially for the premier class: Sky Formula 1. Here there is motorsport 24 hours a day. All practice sessions, all qualifying sessions, all races are always live and without commercial breaks. In addition, Sky also broadcasts the support races Formula 2, Formula 3 and the Porsche Supercup. Historical races and special programs are also on the programme.